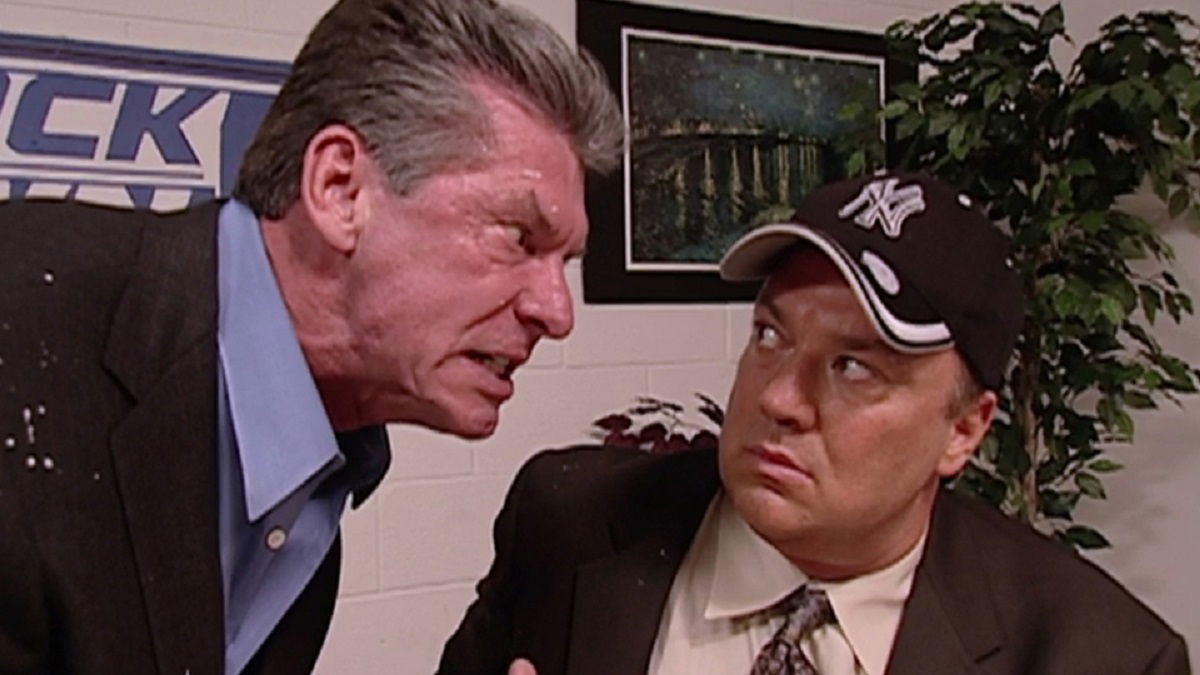 Paul Heyman has revealed the first thing that he said to Vince McMahon upon joining the company back in 2001.
With the legalities over ECW's bankruptcy reigning supreme over Heyman, his decision to join WWE would see him join Jim Ross on commentary.
That wasn't, however, what Heyman wanted to do, as he would reveal on Tetragrammaton with Rick Rubin.
Reflecting on his first meeting with Vince McMahon before his debut on WWE Raw, Heyman said:
"I came to WWE and my first thing I said to Vince (McMahon) in coming in the door was, 'I don't wanna be on television. I'm 35, I had my fun. I wanna be behind the scenes only' and then the whole thing happened with they fired Jerry Lawler's wife and Jerry Lawler quit and I wasn't supposed to get into WWE until WrestleMania because I was too busy dealing with the ridiculous amount of legalities of what was the pending ECW bankruptcy."
With the sudden change of plans in WWE, Heyman went on to describe how things changed for him, saying:
"So I'm going into a personal bankruptcy and a corporate bankruptcy and I'm jumping into WWE and I cut my deal to come in behind the scenes and I get a call from Vince on a Tuesday and he says, 'Are you aware that Jerry Lawler quit last night?'
"And I said, 'Yeah. I heard the whole story. I'm sorry to hear that' and says, 'Well I'm gonna need a little bit of a favor from you' and I said, 'Well, I'm not really in a position to turn down a favor from you in this moment. My company's gone. I'm entering bankruptcy and you're offering me a lifeline in life. So the answer to the favor is yes. Now please tell me what I'm doing' and he says, 'Need you to start on commentary next Monday night' and I'm like, oh my God. I'm back on television. That's exactly where I don't wanna be and then of course I realized, well, I get to play with Jim Ross a little bit.
"I always liked being Jim Ross' color commentator and you know, if I'm gonna have to do anything in the public eye anymore, replacing Jerry Lawler on Raw is not a bad way to debut. That's a pretty iconic position. That's what today, we would refer to as relevant."
Rob Van Dam has previously discussed being caught up in a political tug-of-war between Jim Ross and Paul Heyman.
Ross has also discussed Paul Heyman as a WWE Hall of Fame worthy individual.
Paul Heyman continues to be a vital component of WWE's programming, having played an important part in the Bloodline story through his association with Roman Reigns.
He also discussed Reigns and what the Tribal Chief wanted after The Big Dog in the interview with Rubin.
Transcript from Post Wrestling.
If you want to stay fully updated on all the latest wrestling news, click the red bell in the bottom right of your screen to receive notifications from WrestleTalk.com straight to your device!