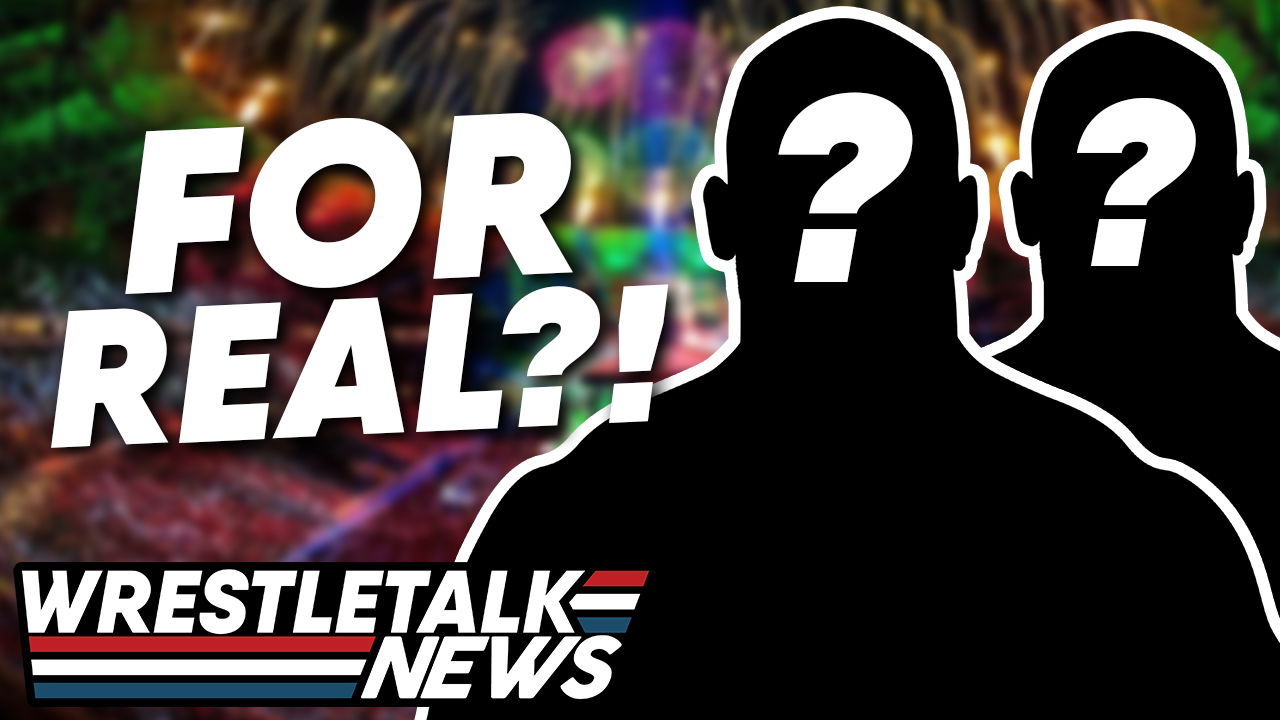 Saudi Arabia – home to the beautiful and progressive cities of Jeddah and Riyadh and wrestling matches from 20 years ago.
WWE, for obvious reasons, hasn't returned to the Crown Prince's stomping ground since Super Showdown in late February 2020 where Goldberg beat the Fiend, a lasting memory we can all cherish forever with no fresh hell to wash it away.
So yes, WWE's time in the Kingdom has been spotted at best – full of backstage controversy, plane controversy, Undy dunking GBerg on his bonce, and matches that would have graced a WWF card 20 years ago.
And now Fightful Select are reporting that another match which had a definite Attitude Era flavour had been planned for one of the Saudi shows to the point where some talent was even flown out.
Fightful revealed that Hornswoggle was reportedly scheduled to wrestle a match against Robbie "The Giant" Araujo who appeared in WWE before as JB-Elf who you may remember commentating the WeeLC match in 2014. 
To the point where WWE actually flew out Araujo for the match, which ultimately didn't end up happening.
This is just another example of Saudi Arabia, or specifically the Crown Prince's, wrestling taste being stuck in the 90s.
Because Fightful are reporting that talent that they had spoken to had also heard that the General Sports Authority in Saudi Arabia wanted wrestlers who had long since passed away to appear on shows.
Let's see if WWE can get into the resurrection game or just find a sumo wrestler again to be Yokozuna because the company are reportedly working towards returning to the country for a show before the end of 2021 – their deal with Saudi goes through to 2027.
Hall of Famer In Tears Over Cut Speech
Your Greatest Rumbles and Crown Jewels aren't the only things that have been cancelled or different during the pandemic – we also had a year's delay on inducting anyone into the WWE Hall of Fame.
Which meant that we had a bumper year in which two classes had to be squidged into the hallowed halls.
One of the names making her way in this year was Molly Holly, who was unfortunately upset by WWE when they gave her the Go Around with regards to her induction speech:
Speaking on Busted Open Radio she said:
"I was told that I would have about 15 minutes to give a speech, so I spent a lot of time and had three friends of mine that are professional writers help me. I practiced it for 60 hours. I have a regular 9 to 5 job, and after work everyday, I would practice it while I was going for a walk. I worked really hard on it."
"Then, a couple days before, they said, 'Oh, never mind. You actually have two minutes to give your speech.' I cried for like four hours.  A lot of times when I used to wrestle full time, they would tell us, 'You have 12 minutes to wrestle', and then right before we walk out, they would be like, 'Nope, nope, you have four minutes.' We were so ready to tell a story of good vs evil, and give the fans their money's worth, now it's just entrances, two moves, and the match. It would be such a heartbreak."
Coming off the back of what Mickie James' revelations about how women's wrestling is viewed which was covered in yesterday's news this should not be surprising, but you would think that at a moment when you're literally celebrating someone's career you might not be like "welcome to the Hall of Fame, nothing has changed".
Impact Management Hints At Signing Released WWE Stars
The recent WWE releases are still at the forefront of the conversation in wrestling at the mo, and the other promotions are starting to show interest in the talent now available.
Impact has already proven a haven for released WWE talent and now according to Executive Vice President Scott D'Amore they've already reached out for another rescue mission.
Speaking on the Wrestling Perspective Podcast, D'Amore said:
"I think you look at what we did at Slammiversary last year with all the buzz, and I think there's an opportunity here. There's some great talent and they've got this hiccup in their career."
"I got mad respect for Samoa Joe and would always love an opportunity to work with him again, both because of his unbelievable talent and his unique charisma and also because he's just a good dude."
"So many of that other talent. you look at it, whether it's Billie Kay and Peyton Royce, whether it's Chelsea Green, you know, there's just so much there and I just got to say, I think there's a chance that some talent's going to move around and you're just going to have to stay tuned and be careful what I say, but maybe some conversations have started."
Big Cass Signs With Impact
And conversations stretch to stars released longer ago than this month as Big Cass, now known as W. Morrissey, debuted for the company at the Rebellion ppv.
It us now being reported by Fightful Select that Morrissey has signed a deal with Impact and will be appearing on a number of upcoming shows.
The report notes that "he signed and will be around for the foreseeable future,"
This is his first major wrestling deal since his release by WWE in 2018 and facing struggles with substance abuse and alcohol. So it's great to see him on the up and up once more.
Bouncebackability, you can't teach that.
Daniel Bryan Praises Kenny Omega
Someone might want to check the lock on the old Forbidden Door, because after Jericho mentioned the A word on Broken Skull Sessions, everyone in WWE is just talking up AEW like it it ain't no thing.
Daniel Bryan was being interviewed by Robbie Fox and said: "I have a lot of respect for Kenny Omega. And it's not just the great matches he's put on. It's also that he looks at wrestling differently than anybody else."
Which then caused interaction from either side of the aisle as Kenny Omega got hold of Robbie's tweet and said: "he gets it. Go figure, right?".
It's all bants. But considering that Daniel Bryan has been pushing to be allowed to work elsewhere while still under WWE contract and AEW have expanded to working with Impact and NJPW, could we? Noooo, could we though? Noooo, but could we?
Seth Rollins Also Talks AEW
Because a WWE star has already appeared on both shows. Seth Rollins…es jacket, twice. 
In their new heel personas the Young Bucks have made some questionable fashion decisions, mostly pleather, but also bought the exact same jacket as worn by Seth Rollins in his current WWE messiah gimmick.
Rollins tweeted saying: "CONGRATULATIONS to my jacket on its successful trip through the FORBIDDEN DOOR!! #EMBRACETHEVISION #RINGLEADER"
As the first crossover star between the two rival companies this is big news, so the Bucks couldn't help but do what they do best, update their twitter bio:
Adding: "What can I say, Tyler? Great minds! ROFL. Sorry we have to beat your friend tho. Punch or fist bump emoji"
I think the worst thing about it is the ROFL. Really has made me irrationally upset. Those bastard heels.
What other jackets would you like to see go through the Forbidden Door? Let me know in the comments, or talk about one of the more important news stories, yaknow.
What are your thoughts on the above story? Let us know in the comments on Twitter or Facebook.