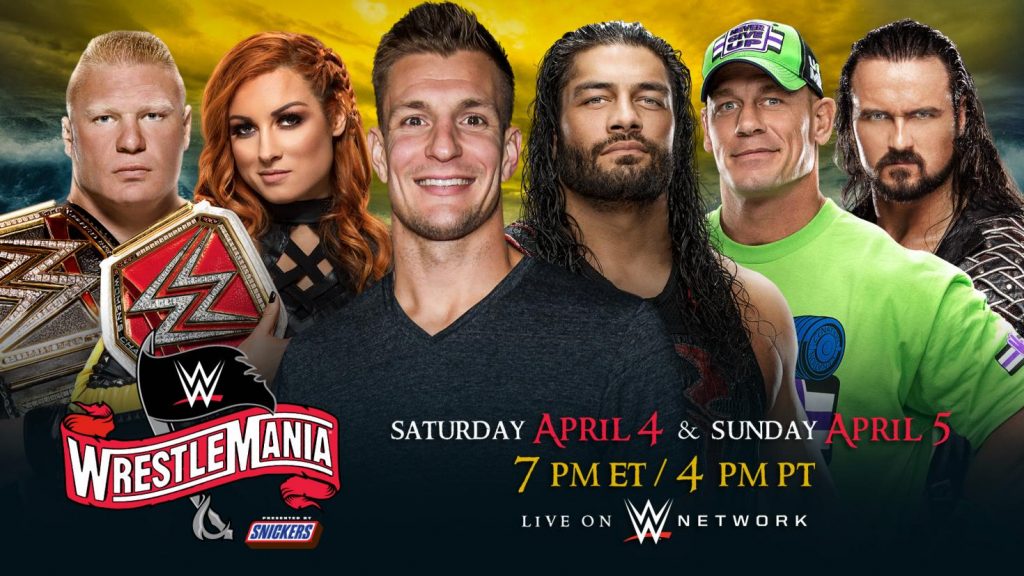 According to Post Wrestling's John Pollock, WWE is planning to pre-tape several shows including WrestleMania over the next week.  The report indicates they'll be taping all Raw and SmackDown episodes through WrestleMania.
One of their sources also indicate that both nights of WrestleMania will be taped as well. However, another said they weren't sure.
This would be in line with what Dave Meltzer tweeted last night when he replied to a fan's comment about it possibly being taped.
If need be, yes https://t.co/b3KA3sRHe1

— Dave Meltzer (@davemeltzerWON) March 19, 2020
As of now, Rob Gronkowski is still moving ahead as the host of the show.  He is also still planned to be a part of Friday's SmackDown.
According to this same report, it appears two matches will be taken off the card. Both the men's and women's Battle Royal's will be canceled.  You'd have to assume because of social distancing.
However, the rest of the match card will remain intact. It's possible some new matches could even be added to the card.
Of course, we already knew WWE was splitting the show over two nights.  In addition, the majority of the matches should be held at The Performance Center.  Some are said to be taking place elsewhere.
How do you feel about WrestleMania being pre-recorded? Let us know on Twitter.