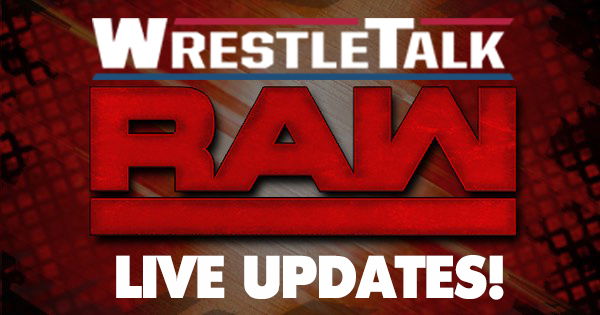 JOIN THE CONVERSATION ON TWITTER BY TAGGING @JDIXONWRITER AND @JRHWRITING
23:10 / 04:10: And on that rather underwhelming bombshell, that's your lot. If you enjoyed our live reporting on Raw then let us know in the comments or on Twitter and we will keep it going. Maybe even beginning with SmackDown tomorrow night, because who needs sleep, right?
Justin Henry: Two guys win! Wait, no, Vince, don't run out there! REMEMBER WHAT HAPPENED LAST TIME.
23:08 / 04:08: Oh no, not THIS again. Rollins and Bálor both pin Bray Wyatt (!), leaving the crowd, the participants and the commentators utterly baffled. Obviously we are having a singles match between the two winners to sort it out next week. We are certainly taking the long and winding route on this year's road to WrestleMania aren't we?
23:07 / 04:07: Tower of Doom – I was wondering when you would show up.
23:04 / 04:04: "It's just about getting a chance at a chance for the big time chance" – Coach. Well thanks, that explains that then.
Justin: Rollins diving onto Wyatt reminds me that four years ago, Shield vs. Wyatts was an absolute big deal, and none of the six men had been "ruined" yet.
23:02 / 4:02: Rollins goes wild, taking out everyone with dives. They are telling a good story here with Rollins desperate to reclaim his position at the top of the card. Shame they are telling the exact same story with Cena.
22:59 / 3:59: Matt Hardy leads the crowd in a round of mocking applause for Bray Wyatt. It's DELIGHTFULLY odd.
22:54 / 3:54: Michael Cole has taken to quoting himself. Wow, he's that guy. "I called it the heist of the century" he says self-importantly of Rollins cashing in MITB three years ago. Yeah, so? Did you hear JR spouting on about his dozens and dozens of far superior and more memorable calls? Of course not. Nobody likes a braggart, Michael. Now shut up.
22:47 / 3:47: It's five-way time. For those who need a reminder, it's Apollo Crews vs. Finn Bálor vs. Seth Rollins vs. Matt Hardy vs. Bray Wyatt with the winner going to the Elimination Chamber.
Justin: Ivory vs. Chyna was the "pinnacle" of Ivory's career. So why is she in the Hall?
22:36 / 3:36: "The evolution of women in WWE starts with Ivory" – Bayley. Hoo, boy! Move over Michael Cole, we have a new front-runner for most idiotic comment of the week. Look, let's address the elephant in the room: Ivory was not a good worker. Ever. She was passable at best, and a mere speck in the WWE landscape. It is not disrespectful to say that, it is just fact. I refuse to pretend someone was good simply because they have not been around for a while. I lived through her WWE run, I have seen all of her WWE matches. None of them are any good. None of them. Cole disagrees, calling her a "trailblazer" and a "pioneer". Please, give me just ONE example of how?
22:35 / 3:35: Sheamus comes off the top rope and Reigns nearly injures himself taking him out of the air with a spear for the win.
Justin: Sheamus almost won with a distraction roll-up. Unfortunately, Cesaro didn't cue any music, otherwise it would've worked.
22:32 / 3:32: Sheamus' matches all follow the exact same pattern. He has to "get his s–t in" in each and every one of them, making them very predictable and samey. Having Cesaro as his partner has done wonders in disguising his shortcomings. That's probably why he is such a target for fans wanting to hijack matches.
22:27 / 3:27: Aaaaand the crowd has turned on the match, as they do with most Sheamus singles matches, and are chanting "Rusev Day".
22:21 / 3:21: Michael Cole sweeping statement of the week: "Sheamus will go down as one of the most underrated superstars in WWE history". Insert your own jokes here, I am reeling from that one.
Justin: Between the mohawk, sunglasses, and jacket, I'm still waiting for Sheamus to dedicate one of his victories to Jodie Foster
22:18 / 3:18: Roman Reigns vs. Sheamus. Time for that memo to be delivered!
Justin: Okay, the ending made it worthwhile. But it's a slippery slope for this company to write yuk-yuks for somebody who's already over as a beast.

22:10 / 3:10: Strowman decides to deck Elias with the instrument, but Elias cuts him off and tries to get in there first with his guitar. He fails. Strowman hits Elias with a powerslam then annihilates him on the stage with the double bass. Okay then.

Justin: No. No. Please don't. Please don't try to make Braun funny. No. Dear God no.22:07 / 3:07: In a truly bizarre segment, Braun Strowman interrupts Elias's new song 'Elimination Chamber Blues', turning up on the stage sat on a stool, playing (and immediately destroying) a gigantic double bass and then singing a song.

Justin: The Rock in 2003. Elias in 2018. We need more heels with guitars that trash talk California, because it's fun.
22:02 / 3:02: I am calling it now, actually: I think Elias will be this year's WrestleMania host. There's nothing better for him to do.
22:00 / 3:00: Elias is here with a new song, and he is perhaps the most over person on the show so far. WWE have something in Elias. He is fairly useless in the ring but that doesn't matter – he ticks every other box.
Justin: And now, the third hour. Or as the target audience knows it as, "bedtime"
21:54 / 2:54: Absolution win it and celebrate like they have just won the lottery. Bliss saves Mickie from a post-match attack in her continued attempt to gain some friends before the Chamber.
21:51 / 2:51: Mandy Rose and Sonya Deville take on the unlikely pairing of Alexa Bliss and Mickie James next. All four are in the Elimination Chamber which is enough in WWE logic for this to make sense.
21:42 / 2:42: The York Foundation cut a promo and Dana Brooke (hey, remember when she completely abandoned this gimmick in the Royal Rumble with no explanation?) declares that "Crews can't lose". She's going to look pretty stupid in an hour or so . . . unless WWE is trolling and Crews wins. Hey, Jinder Mahal was WWE Champion . . .
21:37 / 2:37: The vile Snapchat-esque graphics return atop a replay of Nia Jax's promo from ten minutes ago. I hope this is one of those WWE things that last for a few weeks then is never spoken about again (hey, remember Tout?) because they are driving me crazy.
Justin: As long as we have wrestlers calling kilts "skirts", the spirit of Bobby 'The Brain' Heenan will continue to grace professional wrestling.
21:34 / 2:34: After some awkward scripted exchanges between the Shield (or what's left of them) and The Bar, Roman Reigns threatens to "give Sheamus the memo" tonight, whatever that means. As The Bar are walking away, Rollins – stood behind Reigns – shouts "Nice skirt, fella". Whoa, easy there, tough guy.
Justin: WWE must think having their announcers unnaturally say "The Empress of Tomorrow" has the ability to elevate the stock price. There's no other explanation.
21:29 / 2:29: Nia Jax appears from nowhere as Sasha and Bayley are about to hug, wiping both out with a double clothesline. They sell it for about ten minutes while Nia does a promo with Charly Caruso promising to end Asuka's streak. She won't, folks.
21:25 / 2:25: Bayley wins it! A Bayley-to-Belly from the top is enough to put Sasha down. She needed that win. The crowd response to her victory was fairly muted though, it must be said. The Bayley rebuilding project has a long way to go yet.
21:23 / 2:23: They are having a nice little match here. It's not quite as good as either's matches with Asuka of late, but it is entertaining and the crowd are relatively invested.
Justin: Coach to Corey: "We all know if it's said on a radio show or a podcast, it's true." A nice Moe Howard eyepoke to the newz community.
21:16 / 2:16: Sasha is definitely taking on the heel role here. It's subtle, but it is there.
21:12 / 2:12: Damn, nobody cares about Bayley in her home town. There are some cheers, but only a smattering. What a fall from grace.
21:07 / 2:07: It's time for Sasha Banks vs. Bayley in the latter's home town. Man, I hope they give them time and the crowd is into it. If they can come close to their classic from TakeOver: Brooklyn a couple of years back it will do wonders for both of their careers.
Justin: I guess WWE hasn't figured out how to apply a fireflies-around-the-head Snapchat filter around Wyatt's head yet
21:04 / 2:04: Bray Wyatt promo. Same old nonsense.
Justin: "Which of the other four men gets to pin Apollo Crews? Find out tonight!"
21:03 / 2:03: Seth Rollins interrupts Kurt to moan about his own lack of direction leading into WrestleMania. Kurt offers him a new tag partner but Rollins says no. He says he doesn't want to be on Monday Night Raw he wants to be Monday Night Raw. Rollins wants Raw to become Monday Night Rollins and he wants Brock Lesnar at WrestleMania. He asks to be added to tonight's second chance four-way but Kurt says it isn't fair on the guys in that match. Seth tugs on the heart strings and manipulates Kurt into asking the audience, who approve. So we have a fatal five way main event. Is this Taboo Tuesday now?
Justin: "Ronda Rousey is signing with Raw" is secondary to "Jason Jordan will miss WrestleMania" without a hint of irony. I love this show.
20:57 / 1:57: Kurt also breaks the news that Jason Jordan's neck surgery will cause him to miss WrestleMania. The crowd chant "Yes Yes Yes" and Kurt loses his cool with them, saying they should be ashamed of themselves for taking pleasure in a WWE superstar getting injured. He's got a point.
20:56 / 1:56: Kurt breaks the news that Ronda Rousey will be signing her Raw contract at Elimination Chamber
20:51 / 1:51: Kurt Angle walks alone through the corridors backstage looking worried. I assume he is trying to remember his lines but it turns out he has some "breaking news".
20:50 / 1:50: The Revival batter Luke Gallows for the entire match, working on the knee they injured during a pre-match attack (which I missed because my TV was on the floor), they they pin Anderson. Once upon a time the prospect of a match between these two teams was highly appealing. What happened?
20:48 / 1:48: Can someone explain to me how Gallows and Anderson are babyfaces? Their characters are your typical high school jock bullies. If they were in American Pie they would be giving Jason Biggs wedgies.
Justin: The Nerd-o-meter reminds me that we're probably about two years away from Michael Cole explaining backstories with the use of hand-puppets
20:45 / 1:45: Oh, right, there's a match going on. Sorry, I was too busy standing my TV back upright after throwing things at it when those graphics came on. It's Gallows and Anderson vs. The Revival, if anyone is interested.
Justin: The 'Nerd-O-Meter' makes me hate the 'Uso Penitentiary' thing even more. And I didn't even see the 'Uso Penitentiary' thing. And it still makes me loathe it.
20:40 / 1:40: NO WWE. NO! Bad WWE! Those horrendous on-screen graphics from SmackDown – the ones that EVERYONE hated – have made it to Raw. Gallows and Anderson now have an onscreen Nerd-O-Meter! Oh lord.
20:37 / 1:37: That damn Save Me advert got me again!
Justin: WWE Broken Matt is the Fuller House to TNA Broken Matt's Full House.
20:36 / 1:36: Matt Hardy might want to rethink his referring to the Elimination Chamber as the "Deletion Chamber" . . .
Justin: "And the loser of the match, The Miz" – JoJo. What did Miz ever do to JoJo? Jesus.
20:32 / 1:32: After doing his best Chris Benoit impression with some clunky chain wrestling out of a figure four leglock and into a crossface (not an STF), Cena hits an AA from the top to win. Miz enters the Chamber first.
20:31 / 1:31: "The expression on that young man's face in the WWE Universe told the entire story" – Michael Cole. It is this sort of thing that makes WWE's ridiculous idiosyncratic buzzword speak sound so completely ridiculous. You mean "crowd" or "audience", Michael.
Justin: I wish I could go back to 2006 and bet my life-savings on, "One day, The Miz is going to be kicking out of the finishing moves of WWE main eventers."
20:27 / 1:27: Boy, this is not a match that needed two advert breaks. I am in no way a Cena hater – actually I am a fan of his work – but his output over the past 12 months has been really low-end by his standards. This match has done little to change that.
Justin: Wait, Cena's main evented WrestleMania "15 straight years"? Is WWE laboring under the delusion that everyone fell asleep after the mixed tag last year?
20:21 / 1:21: Cena is getting a kicking. All selling, little action. Now the commentators are talking about Cena not having a road to WrestleMania. They are talking like he won't be on the card unless he wins the Chamber. It's such nonsense. It does all but basically confirm – to me at least – that Cena and Undertaker is happening.
Justin: I never thought in 2018 that Cena and Miz would resurrect the Bossman/Repo Man "roll over and knee the heel in the nuts" spot, but here we are.
20:14 / 1:14: With Cena down and seemingly about to lose at any moment, it's just like a Money in the Bank cash in . . . Seems like a perfect time for an ad break then!
Justin: Maybe in the next Superstar Shake-Up, Curtis Axel can go to SmackDown and be Charlotte's Executive Consultant
20:13 / 1:13: The Miztourage attack Cena, then Miz accepts the challenge. Kurt Angle is not happy about this. Not happy at all. He just about remembers his lines and makes the match RIGHT NOW with Bo Dallas and Curtis Axel banned from ringside. Wait, what was he so annoyed about? He just did exactly what Miz wanted.
20:11 / 1:11: Cena challenges Miz to a match tonight, here in "Miz country". He declares that the loser of the match enters the Chamber first. See, I told you people can book whatever the hell they want around here.
20:08 / 1:08: Miz claims he will win the Elimination Chamber and will headline WrestleMania against Brock Lesnar as the IC Champion, where the title "deserves to be". What does he think this is, WrestleMania VI? Cena, as he tends to do, mocks Miz's chances.
20:06 / 1:06: Cena claims that if he does not win the Elimination Chamber he does not have a road to WrestleMania . . . It's odd logic. Does he think he won't be booked if he fails (which he will)? I think we all know that in WWE you can book your own matches. Cena guarantees he is going to win the match. Here comes The Miz to disagree . . .
20:04 / 1:04: "WrestleMania can bring a legend back from the dead" – John Cena. Gee whiz, I wonder who or what he could possibly be talking about?
20:03 / 1:03: We open with John Cena, resplendent in green. 'Big Match John' has recently become 'Jobs A Lot John' as WWE continue to phase him down. His defeat to Elias last week meant little – it was just a backdrop for yet another Braun Strowman rampage. Cena wants to talk about WrestleMania.
19:58 / 00:58: UK viewers – does anyone else jump when the door opens at the start of that Save Me advert? It catches me unawares every single time.
19:46 / 00:46: Hi all, James Dixon here. I will be with you for the next three hours or so for WWE Raw . . . Unless I get so tired / bored that I pass out of course, but with a few decent matches advertised (Sasha Banks vs. Bayley and a four-way to decide the final Elimination Chamber entrant) I have hopes that this will be an entertaining show. Just please, no nonsense about Ivory being a "great" wrestler . . .