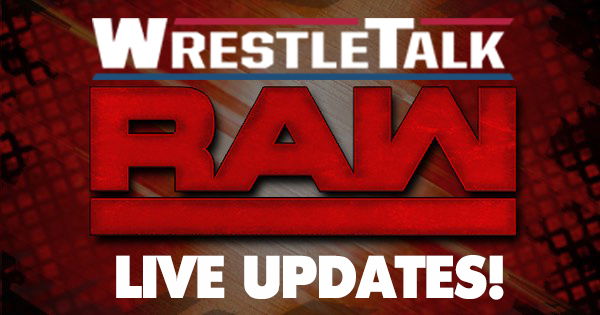 23:03 / 4:03 – Sasha draws a submission from Alexa via Banks Statement, and we get a big scrum to end the show. When it seems as though Absolution is going to double-team Alexa, Mickie makes the save, establishing three duos for Sunday. And speaking of duos, I'm off to regain the feeling in my legs.
23:01 / 4:01 – Cole: "Mickie James might be talking to herself" after cameras caught an annoyed Mickie admonishing Mandy Rose after a sloppy suplex. Not the smoothest of sequences. Sasha gets the hot tag, and her and Alexa pick up the pieces deftly enough.
22:58 / 3:58 – "Create separation" says Cole. He has the energy of Robert Gibson post-hot tag.
22:57 / 3:57 – Alexa's got a great new move, where she charges her cornered foe while screaming like a banshee, and then just stops and slaps her opponent. It's the little things.
22:55 / 3:55 – Cole's not too tired to work in one last "build momentum". And that's why he's been the lead Raw announcer for ten years, kids.
22:48 / 3:48 – Bliss refuses to fight Mickie to start, so she tags out to Sonya. Naturally, Cole calls them "new-found friends", having not watched SmackDown since the days of him serving as lead announcer.
22:44 / 3:44 – So it's Sasha Banks, Mickie James, and Bayley against Alexa Bliss, Sonya Deville, and Mandy Rose, the six Women's Chamber entrants, as the go-home match. Sasha and Bayley are back to play whimsical friends, so you know that one of them is going to try and slit the other's throat before long.
22:37 / 3:37 – And now for the six-woman tag, which I can only assume is the main event. Unless they're throwing in another gauntlet match as a bonus. Be still my heart.
22:35 / 3:35 – Dueling Wyatt / Hardy promos. I see they waited til the dead zone to promote this match.
22:33 / 3:33 – Pay-per-view hard sell time. I'm glad I'm not a boozer, because the "Empress of Tomorrow" drinking game would've landed me in ICU by now. And hey, the first mention tonight of Matt Hardy and Bray Wyatt. Only took till the last half hour. And why is Michael Cole promoting a SmackDown pay-per-view? Doesn't he remember when their guys jumped Raw's guys in cold blood back in October?
22:28 / 3:28 – Out of nowhere (like an RKO meme, minus the humor), Apollo pins Cesaro after a corner miss. That was rather abrupt.
22:26 / 3:26 – The announcers go on about Dana Brooke's wrestling sabermetrics, and Graves namedrops the Elias Sports Bureau, without making the obvious "Elias" joke. Well, we're all tired.
22:21 / 3:21 – At first, I thought Cesaro's music was the sirens of ambulances coming to pick up the fans passed out from dehydration. Anyhow, he and Sheamus are facing Titus O'Neil and Apollo (minus Crews). Apparently, Crews can't lose, but Apollo can lose Crews.
22:13 / 3:13 – We're treated to a Ronda Rousey video package, which is totally stealing the thunder from Asuka's interview segment (this is sarcasm, by the way).
22:10 / 3:10 – Ah, no match, but Asuka's doing an interview with Renee, which Nia Jax interrupts. Renee's done more interviews in two hours than a police detective conducts in a year. And a Samoan Drop and a few leg drops are enough to incapacitate Asuka for a while. That draws a bigger pop than I was expecting.
22:04 / 3:04 – And here's Asuka to do something! But first, commercial #5,278. And I'm gonna do my best to soldier my way through this last hour. Feel free to follow me on Twitter to lift my spirits.
22:01 / 3:01 – Video for Jeff Jarrett's Hall of Fame bid. You know, it's been a polarizing pick, but he's a six-time IC Champion whose career spanned many eras and changes, and he was a damn fine in-ring performer. He deserves it as much as anyone.
22:00 / 3:00 – Cole: "Still to come…" Frig, I forgot this wasn't a two hour show. RIP everyone taking part in the third hour.
21:59 / 2:59 – Coach: "You can't always listen to the crowd." One bet who fed 'em that line.
21:58 / 2:58 Just had a thought: Curtis Axel's 2015 Royal Rumble entry continued into this match, so he has the honor of being involved in the two longest matches in WWE history.
21:55 / 2:55 – Charly interviews Braun, calling it a "dominating" performance. You might even say it was a "dominant" performance. "I don't fear the unknown; the unknown fears me!" to a mighty cheer. C'mon, Vince, do the right thing. Here's your monster main eventer, right here. And just like that, it's back to the ring to kill The Miztourage. Then he drags Miz out of the entrance way to inflict more punishment, because he's a colossal jerk and the people eat it up.
21:53 / 2:53 – Miz manages a Skull Crushing Finale (!), but of course Strowman kicks out by benching him through the ropes. And a simple powerslam finishes for Strowman. After one hour and 47 minutes, it's mercifully and sadly over.
21:50 / 2:50 – The parade of dejected interviews continues with Balor, while I'm more enamored by the Strowman dropkick on the other side of the split screen. How is he not champion right now? Of both brands?
21:49 / 2:49 – Strowman throws Miz around with testosterone-fueled gusto as I realize that Bo Dallas is at ringside, and Strowman used to belong to a cult led by his brother. Small world.
21:45 / 2:45 – Strowman chases a horrified Miz through the crowd and drags him back, tossing him over the rail as we hit another commercial. Now I'm sad that I'll be missing out on those four minutes of action prior to the resthold.
21:44 / 2:44 – BRRRRRRRRRRRRAAAAAAAAUUUUUUUUNNNN! Well, the crowd summoned a bit of strength for that introduction, at least. Getting virtual coma patients to rise up and cheer bodes well for Strowman's future prospects.
21:42 / 2:42 – Balor lands a flip dive onto The Miztourage to put an end to their interference, which woke the crowd up. Sadly, their presence is too much, and Miz downs Balor with the Skull Crushing Finale, ending Balor's night after 30 minutes. And the crowd knows who's coming up next…
21:40/ 2:40 – Now the announcers are ragging on Fergie at the All-Star Game. C'mon now, we can't all be Mean Gene at WrestleMania 1.
21:38 / 2:38 – Elias on WrestleMania 34: "The world will see what WWE stands for." Cole: "I assume he means Walk With Elias." Just as I'm getting ready to rip Cole a second corn-chute, he namedrops Bruno Sammartino and Waldo Von Erich. So he's definitely running the gamut tonight.
21:34 / 2:34 – Miz snaps Balor's arm over the bottom rope in a suitably-vicious spot. Even Cole's transitions to commercial break after labored and lethargic. Get that man a Five Hour Energy, stat!
21:31 / 2:31 – Coup de Grace finishes Elias. Miz is out next, as I'm fully expecting this to go an hour. Miz jumps from behind, using Axel and Dallas as a distraction. This match needed a little more pure heelin' to wake the crowd up.
21:28 / 2:28 – Elias counters a roll-up into a Fujiwara armbar in a smooth transition. Balor eventually works his way free and hits the double stomp to the giblets. This crowd is just waiting for Strowman. It's like an impending piss when the portojohn is 300 yards away.
21:23 / 2:23 – Balor takes Elias down with a series of running forearms, then takes him off the middle rope with a a pseudo-Pele kick. Outside the ring, a charging dropkick sends Elias into the barricade. Back inside, Elias gets an electric chair power bomb for two, as this crowd might finally be out of steam. They only outlasted Rollins by 11 minutes.
21:21 / 2:21 – The crowd is so into Balor that they chant "WE WANT STROWMAN". Geez, what a rough night for Finn. First, Jeff Jarrett gets the honor of being the first Bullet Club member to make the WWE Hall of Fame instead of him, and now this. An eye-opener, really.
21:18 / 2:18 – Back from the latest of commercial breaks as Elias works an armbar on Balor. Elias has to work his "Walk with Elias" catchphrase in now, because he didn't get a pre-match spiel. Well, that's enterprising on his part. Renee, meanwhile, interviews her brother-in-law Seth, who says tonight means nothing if he doesn't win Sunday. With that (sound) logic, why didn't he just submit five seconds into his first match? He'd be fresh as a daisy then.
21:12 / 2:12 – After one hour and five minutes, Rollins' run ends after Elias hits Drift Away. The crowd is unhappy to say the very least, letting out a tidal wave of dejection. A deserved standing ovation for Rollins after that effort. Finn Balor is out next, which is a suitable replacement for Rollins' guts and grit. As far as Elimination Chamber goes, may as well put Rollins over on Sunday now. They just spent an hour making him into "More than Just a Guy", so perhaps WWE should strike while the iron's hot.
21:10 / 2:10 – Rollins sells the knee off of an awkward landing, but fights back with chops and clubbing blows. A superkick floors Elias, and Rollins collapses on top of him a la Shawn Michaels at Survivor Series 2003 for a count of two.
21:08 / 2:08 – Back from break where Rollins endures a half-crab, and we learn that Rollins has now surpassed one hour. Meanwhile, Renee interviews a humble John Cena, who puts Rollins over strongly without resorting to catchphrases. Did Hunter lock Vince in a closet a few hours ago or something? This is like an anti-Raw, I mean that in a good way.
21:05 / 2:05 – Just a reminder, give me a follow on Twitter as I provide this stream of consciousness review. Perhaps I'll include some of your entertaining tweets in my diatribes here. Can you pass that up?
21:03 / 2:03 – Rollins misses a Phoenix Splash, takes an AA, avoids a second, hits the ripcord knee, then follows with a Curb Stomp….for the pin! Rollins has beaten Reigns and Cena clean in a one hour stretch! This might have been the greatest hour in Raw history. Ohh, but here comes Elias, who immediately covers for two. Heel 101.
21:01 / 2:01 – Rollins with the AA on Cena, following a roll-through and alley-oop into the fireman's carry! The man is not human! Of course, now he'll tear his ACL following a sneeze, because I've jinxed him.
21:00 / 2:00 – Rollins makes the ropes off of another STF, then falls to the floor like a discarded science class skeleton. Crowd is totally buying Rollins as a stud, which proves that WWE now has two means of booking main event babyfaces: have them gut it out for an hour, or have them overturn a huge vehicle.
20:58 / 1:58 – And now Cena kicks out a superplex/Falcon Arrow combo. Double geez! Ahh, but Cena avoids the Curb Stomp, applies an STF, and Rollins makes the ropes. I'm running of geezes.
20:57 / 1:57 – AA gets two, and I was buying that as the pin. Geez!
20:56 / 1:56 – Rollins powers out of an AA, hits a step-up enzuigiri, follows with a frog splash, and only gets two. Cole says that Rollins has just passed the 50 minute mark, and I think that's accurate.
20:54 / 1:54 – Rollins is sent shoulder first into the post, but avoids a Cena charge, sending Big Match John into the ring steps. Both men avoid the count on 9 after teasing a double count-out. The crowd wasn't sure whether to cheer or not. They're silent for the yeah/boo punch spot, so that's a clue.
20:51 / 1:51 – Rollins refuses to submit to the STF, and comes back with the Sling Blade for two. Graves isn't sure what's bothering Rollins, his hip or his knee. My money's on the body part that Rollins has been selling for more than a year.
20:50 / 1:50 – Rollins is unconscious, and it's not even the third hour yet.
20:47 / 1:47 – Cena's now intentionally trying to win by countout, using the same strategy I employed on Tecmo World Wrestling. It worked for me, not so much for Big Match John.
20:45 / 1:45 – Rollins refuses to stay down, and is now throwing hands with Cena. Say this much, the crowd's invested in the slow parts, and getting back up for the spikes in the drama.
20:42 / 1:42 – Hey, that's different; Cena just executed a fallaway slam into a cutter for two. It almost makes me miss the "He didn't get all of it!" springboard stunner. Kind of.
20:41 / 1:41 – Back from the fourth commercial of the night, and Rollins counters an AA into a DDT for two. Graves rhetorically asks, "How much is too much?" At least I assume it was rhetorical.
20:38 / 1:38 – You know what, I'm turning around on this match. Maybe this can go a long way toward re-educating the crowd away from spot-spot-spot-spot. Or they'll forget all of this in a week, whichever.
20:36 / 1:36 – Cena's holding a scissored sleeper. I hope Stipe Miocic and John Howard got paid handsomely for choreographing this match.
20:34 / 1:34 – Ahh, there goes the shirt. Cena's pecs look healthy and youthful.
20:32 / 1:32 – You're not going to believe this, but Cena avoided being pinned during the commercial break. In fact, four minutes later, and he still hasn't removed his shirt. Maybe he had the same anti-droop surgery that The Rock had 20 years ago.
20:27 / 1:27 – Hey, Rollins cleanly pins Reigns after a wild pinfall sequence! The crowd is so happy that Reigns got pinned that they've forgotten that he's going over Sunday when it matters. And just as the crowd was singing goodbye to someone they perceived to be an overpushed golden boy, herrrrre comes John Cena! Oooh, and Rollins nearly catches him with a quick pin! And of course, another commercial.
20:25 / 1:25 – Rollins with a pair of suicide dives, as he frightens me with the prospect of another commercial break. But a Superman punch nails Rollins back inside, getting a two count.
20:23 / 1:23 – "This is still the first match in our gauntlet", says Cole, almost apologizing to the modern attention span. I think the Freebirds Hall of Fame speech was paced better.
20:20 / 1:20 – Reigns no-sells a buckle bomb by springing out with a Superman Punch. Hey, another commercial! This gauntlet match is brought to you by Brand X trucker pills. For when you're in it for the long haul.
20:19 / 1:19 – Rollins' dive prevented by a "cinderblock-like right" from Reigns. If it were truly that blunt, I'm sure Jack Tunney would've forced him to wear a pad over it by now.
20:17 / 1:17 – There's such a deliberate pace here that I'm thinking Stanley Kubrick's directing tonight's broadcast from beyond the grave. This match is going to go an hour, isn't it?
20:15 / 1:15 – Whew, nobody was pinned during commercial. Man, WWE always takes a risk with those mid-match commercial breaks. I mean, what if a fall does happen during commercial? They sure dodge a lot of bullets doing that…
20:09 / 1:09 – Reigns with Wrestling 101, working a headlock like it's the third match of a 1988 house show in Cedar Rapids. Technically, it makes sense, since Reigns would have to go through five guys after Rollins to win the match. Psychology makes me happy.
20:07 / 1:07 – Reigns and Seth Rollins kick off the gauntlet. Cole says "build momentum". Everyone, drink.
20:05 / 1:05 – Reigns says John Cena can't beat Brock Lesnar, having skipped watching Extreme Rules 2012 to binge watch an entire season of True Blood.
20:04 / 1:04 – "It's the biggest Elimination Chamber match in history," says Michael Cole of the 7-man Chamber, ignoring the 12-man Chamber from 2015 that featured tag teams.
20:01 / 1:01 – Hey, a chorus of boos for Roman Reigns. That never happens! Reigns will take part in a gauntlet match between the seven Chamber match entrants, in which the winner earns the right to not win the Elimination Chamber match on Sunday. Man, pattern recognition has ruined watching wrestling for me.
20:00 / 1:00 – Moment of silence for Parkland shooting victims.
19:46 / 0:46 – Hey everybody, Justin Henry here. My buddy James Dixon is a bit busy this evening, so I have the privilege (more or less) of bringing you live coverage of Monday Night Raw. Feel free to prod me awake once we reach the third hour. Tweet at me as well, I'll be on there for the duration of the show.