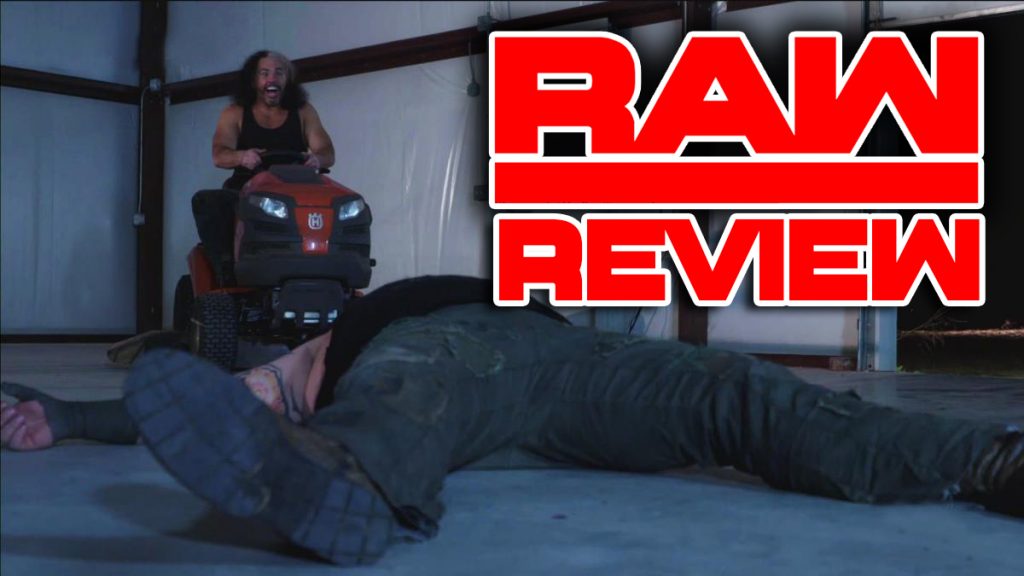 Anyone who says wrestling is stupid is just wrong.
What's stupid about two grown men having a fight by a pond, playing hide and seek, attempting to run each other over with lawnmowers and then one of the men being thrown into a pond?
I mean, that happened to me like four times last week, mate.
What can you say about the Ultimate Deletion. We all went in with different levels of optimism, and I genuinely have no idea if it was as good or bad as I had hoped.
It certainly wasn't bad though. It was just 15 minutes of utterly ridiculous TV, and I had to watch it at least 18 times before I was sure I wasn't tripping on my carton of week old apple juice. That actually happened.
Total nonsense. Brilliantly entertaining. Wrestling.
I could write about it forever, but you're probably already bored so I better crack on with the rest of the show.
Kurt Angle started the show for the first time ever. His glistening bald head was a refreshing change from Kurt Angle starting last week's show, and also Kurt Angle starting the show the week before that.
"Roman is suspended, he's not here tonight."
Oh look who it is, Roman Reigns. Oh Roman, you naughty boy, now the only option is for three people in actual stab vests to come and arrest you.
Were they genuinely expecting Roman to whip out a sword…to go with his shield…sorry.
After he was handcuffed, phase two of making Brock look like a heel started. He attacked a defenseless Roman Reigns, alternately suplexing and smacking Roman with a chair.
I think the idea was to make Brock look like an opportunistic heel, but the crowd just loves seeing Roman getting eaten by big sweaty men, so once again, I'm not sure it worked.
Anyway, as everyone knows how the 'Mania match is going to go, this all seems like WWE just making the most of Brock still being employed. And to be honest, who doesn't love watching Roman getting squashed?
Next up was the women's main event. Asuka and Alexa had a decent match which ended in Alexa being counted out…predictably. Unfortunately for her, there was a woman, who is not like most girls, waiting in the wings to try to kill her.
Nia Jax came out and so came about one of the most Scooby-Doo-esque chase scenes of all time. The (in the kindest way possible) big monster Nia chased Alexa until the latter finally escaped.
Alexa then told Kurt that Nia should "be arrested." Clearly she'd been watching earlier in the night, and thought she'd try her luck.
Unfortunately for Alexa, WWE aren't particularly consistent in their punishments, and instead made a Wrestlemania match between Nia and Alexa at 'Mania. Nia will look so good with that belt.
Braun Strowman announced that he would need to find a partner before facing The Bar at Wrestlemania, but did not announce who he was going to choose.
He beat Cesaro in a decent match, but all that was secondary. I think everyone is very excited to see who Strowman picks as his partner. All the rumors suggest Elias, which in my opinion, would be epic.
Due to a lack of matches, The Revival beat Titus Worldwide, giving both teams exactly zero momentum. Excellent.
Mark Henry was announced for the Hall of Fame 2018. Good, well deserved.
Next we had one of the most awkward segments for a long time between Bayley and "IT'S BOSS TIME!" herself, Sasha Banks.
The proceeded to have a chat, the like of which I haven't seen since I was 12, standing in the school playground. The whole thing came across as two moody teenagers, and I'm just losing interest in the whole feud.
I guess the only intriguing thing is which woman will turn heel. Banks would be the obvious choice, but a more interesting…oh wait, I said obvious didn't I. It'll be Banks.
The pair then lost a tag match in which they continued to argue against Mandy Rose and Sonya Deville. Frankly, I just want this feud to end so that they can go onto more meaningful feuds, against stars like Dana Brooke.
The lime green attitude machine then came out to call out the deceased dude, frequently calling the funeral director a coward. The crowd really got into this…probably more because they want to see 'Taker, rather than everyone suddenly becoming a Cena fan again.
However, instead of The Undertaker coming out, Kane, The Undertaker's 100% real life brother, came out and choke slammed Cena. This will of course lead to more "you're a coward" remarks from Cena next week, and with a limited amount of time until 'Mania, it can't be long until we hear the gong.
Because the feud started a few weeks to early, we're going to have quite a few Miztourage vs Finn Balor or Seth Rollins in their various guises.
Because it's a triple threat, the 'Mania match will be no DQ, meaning the Miztourage will have plenty of opportunity to interfere. This match should still be one of the best on the card, but it does feel like WWE are dragging their bums a bit.
Anyway, Finn Balor pinned The Miz with a roll-up, before everyone started fighting each other. Seth Rollins came in for the save and curb stomped The Miz, leaving him lying in between Seth and Finn.
Hopefully, if you're me, this means The Miz retains at 'Mania.
Boo all you like, you booing boo faces, but I just think he makes the belt worth something!
Good show, sort of wish Wrestlemania was tomorrow, but a good show. I just wonder what's next for Matt…