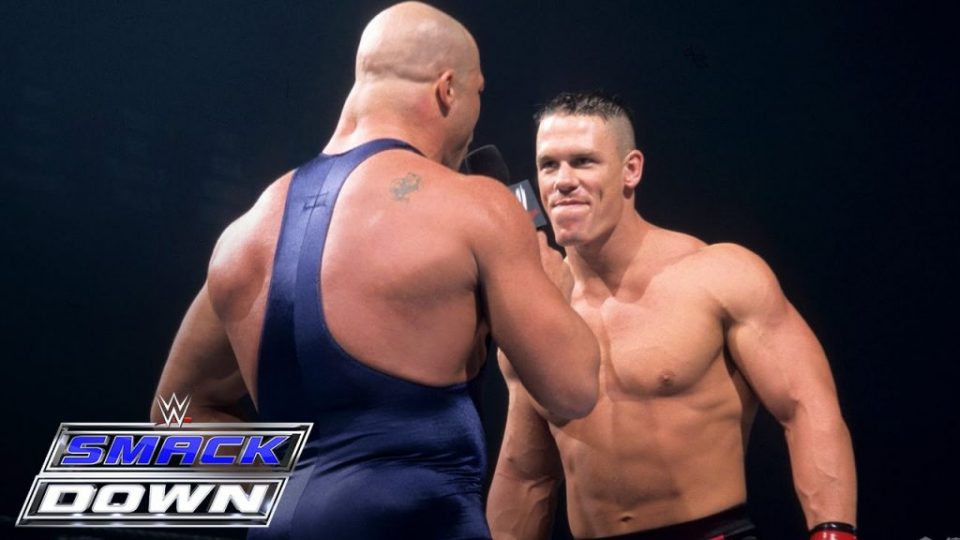 WWE announced a docuseries following the period of time that followed the conclusion of WWE's rivalry with WCW. The Ruthless Aggression era saw the ascension of future stars such as John Cena, Brock Lesnar, and Randy Orton
The first episode on starts on Sunday, February 16. The series will then continue with a new episode every Monday starting on February 17.
Below is the full schedule for the series.
Episode 1 – It's Time To Shake Things Up
Available Sunday, Feb. 16 at 10 a.m. ET
As The Monday Night War comes to a close, WWE reckons with the challenges that arise from its acquisition of WCW and the departure of established Superstars like "Stone Cold" Steve Austin and The Rock, as well as makes the bold decision to split its roster between two brands.

Episode 2 – Enter John Cena
Available Monday, Feb. 17 at 10 a.m. ET
A new, if polarizing, Superstar emerges in the form of John Cena. After enjoying initial success, Cena struggles to find himself as a performer and realizes he's on on the brink of being fired — that is, until his adoption of new persona launches him to new heights.

Episode 3 – Evolution
Available Monday, Feb. 24 at 10 a.m. ET
No faction ruled the Ruthless Aggression Era more than Evolution, the dominant union of Triple H, "Nature Boy" Ric Flair, Randy Orton and Batista. Find out what brought the four legends together and, for the first time ever, learn about the obstacles that threatened to derail Evolution from the start.

Episode 4 – The Next Big Thing
Available Monday, March 2 at 10 a.m. ET
Follow Brock Lesnar's meteoric rise in WWE and get the full story behind his controversial and headline-making decision to abruptly leave in 2004 — at arguably the pinnacle of his young career — to pursue endeavors outside sports-entertainment.

Episode 5 – Civil War: Raw vs. SmackDown
Available Monday, March 9 at 10 a.m. ET
Go in depth on WWE's groundbreaking decision to split its roster between two brands, Raw and SmackDown, from the myriad behind-the-scenes challenges, to the intense competition that erupted between the brands and their Superstars.