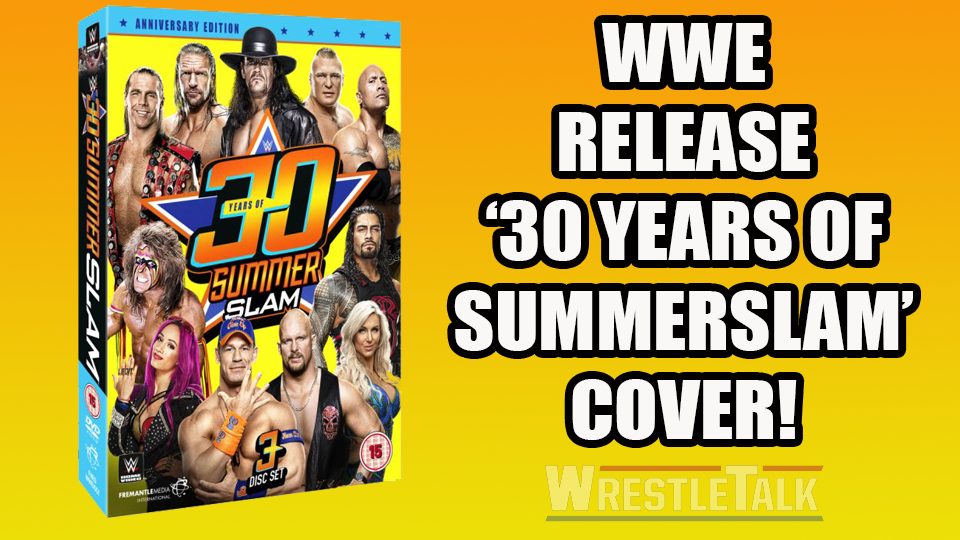 It's hard to believe that SummerSlam is thirty years old in 2018. It seems like only yesterday that your writer was sitting down in his Teenage Mutant Ninja Turtles pajamas and watching The Mega Powers meet The Mega Bucks at the inaugural edition. Fine, it was yesterday ok? There's no rule stating a grown man shouldn't wear Turtles jammies, I don't care what anyone says.
Now, WWE has decided to commemorate the anniversary with the release of their '30 Years of SummerSlam' 3 disc DVD box-set. Furthermore, they have now issued a very stylish cover for the circulation which depicts some of the biggest stars in the event's history… and Roman Reigns.
Whilst there are some surprising and notable exclusions, the listing of matches includes but is not limited to:
Demolition vs The Hart Foundation – WWF Tag Team Championship Match (SummerSlam 1990)
Bret Hart vs The British Bulldog – WWF Intercontinental Championship Match (SummerSlam 1992)
Bret Hart vs Owen Hart – WWF Championship Match (SummerSlam 1994)
The Undertaker vs Mankind – Boiler Room Brawl (SummerSlam 1996)
The Rock vs Brock Lesnar – WWE Undisputed Championship Match (SummerSlam 2002)
Sasha Banks vs Charlotte Flair – WWE Women's Championship Match (SummerSlam 2016)
'30 Years of SummerSlam' is released in the United Kingdom on August 27, with a worldwide release still to be determined. United Kingdom fans can pre-order the title now from WWEDVD.CO.UK.
You can tell us your thoughts about this release, what you would have liked to have seen included, and your favorite SummerSlam memories right now on Twitter and Discord.