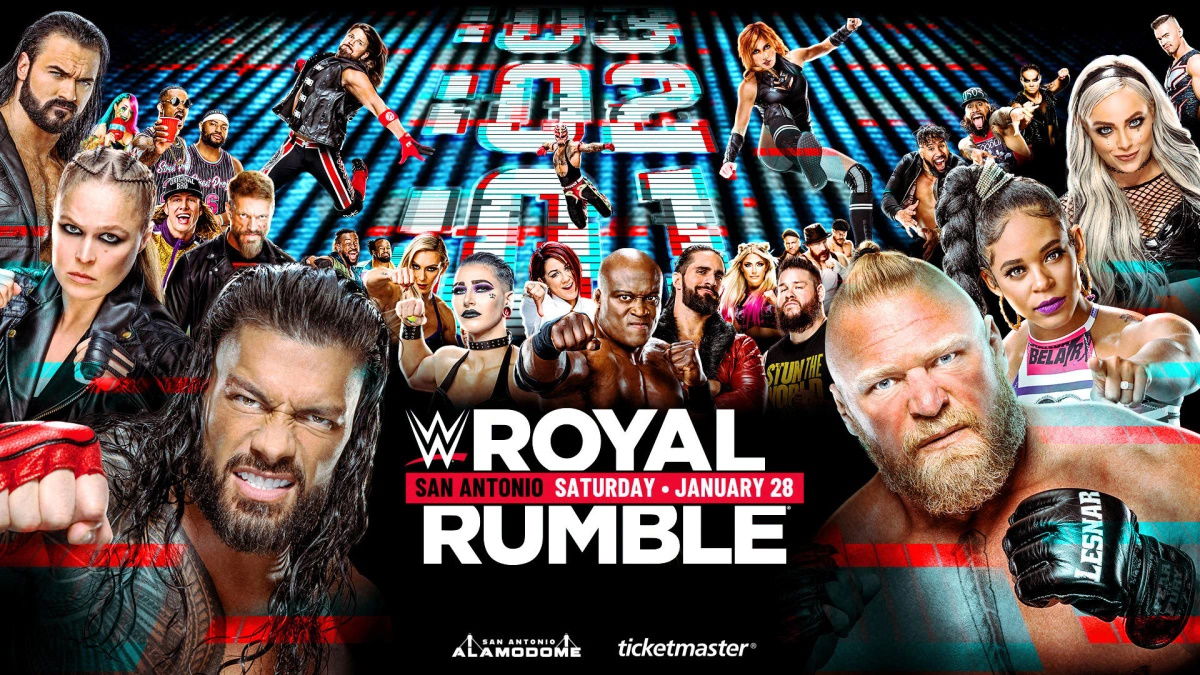 An "asses in the venue" mentality saw WWE executives inflate the attendance for the January 28 2023 edition of Royal Rumble at the Alamodome.
As previously reported, the record-breaking Royal Rumble brought in over $7.7 million in ticket sales.
Wrestlenomics has now taken a deep dive into the figures for the event and shared communications between WWE and staff at the Alamodome in San Antonio.
According to the report, Royal Rumble sold 44,569 tickets and generated $7.3 million in net ticket sales revenue for WWE.
The $7.7 million in tickets sales reported by WWE likely includes service fees.
A total of 2,662 tickets were given away for free according to audit records
42,498 fans were scanned into the building at the gate.
The announced attendance for the Royal Rumble was 51,338 and Wrestlenomics has revealed communications between WWE and Alamodome staff and an "asses in the venue" where "anyone with a heartbeat" counted towards attendance.
As Wrestlenomics states:
"WWE and other live event promoters announcing inflated attendances is not a new phenomenon, certainly.
"For one prominent example, WWE's biggest live audience in its history is supposed to have been for Wrestlemania 32 in 2016, when an announced 101,763 people were claimed in attendance at AT&T Stadium in Arlington, Texas.
"However, the count of fans actually admitted through the turnstiles, according to the local police department, was 80,709 — still, among WWE's highest attendances ever, if not the highest, in terms of actual spectators.
"And for one more example, we may never come to a consensus about just how many fans attended Wrestlemania III at the Silverdome in 1987."
In the run up to the Royal Rumble, WWE's Director of TV Event Relations Steve Rubin contacting Alamodome staff to "determine the event's eventual announced attendance."
Email excerpts were shared by Wrestlenomics showing how the figure was reaching:
WWE Director of TV Event Relations (Wed. 25 Jan, 6:55 PM CT):
Hello all, Gathering up all the pertinent information for WWE TV attendance figure for the TV broadcast on Saturday. This is an "asses in the venue" number. If you have a heartbeat we count you.
Therefore, looking for the following information:
1. Total suite capacity for the venue. This would include standing room in the suites and any killed suites on the south end.
2. Total venue staffing number for the venue on site for the show. This would be everyone…venue staff, operations, housekeeping, concessions, security, parking, etc.
Don't need an answer right now but will need it before Saturday.
Alamodome Event Services Manager (Wed, 25 Jan, 7:06 PM CT):
RE: Royal Rumble total attendance (including staffing) request
We will work on this and have it to you by Friday.
Alamodome Box Officer Manager (Thu, 26 Jan, 1:26 PM CT):
I can speak for the Suite portion of this question…
With suites 1-8 and 45-52 not in use, and the Press Box not being used for Ticketed Patrons (which we do sometimes do for concerts like Elton John and Bad Bunny), the total Suite capacity including SRO's for Saturday is 694 persons.
There was then a line of communication to improve the count, with empty suites and the press box being tagged as a possible way of doing this:
WWE Director of TV Event Relations (Thu, 26 Jan, 1:35 PM CT):
What would the total capacity be if suites 1-8 and 45-52 and the press box were fully ticketed?
Alamodome Box Office Manager (Thu, 26 Jan, 1:40 PM CT):
Press box would be 130 and the 8 suites combined including SRO's would be another 318 persons (130 + 318)
WWE Director of TV Event Relations (Fri, 27 Jan, 10:05 PM CT):
Any update on the total venue staff number for tomorrow's show for our TV attendance figure?
Alamodome Event Services Manager (Sat, 28 Jan, 6:59 AM CT):
Total number 725 do u need breakdown?
That 725 number wasn't quite what the WWE executive wanted, however:
WWE Director of TV Event Relations (Sat, 28 Jan, 7:41 AM CT):
This seems very low. Does this include everyone? Concessions? parking? security? Housekeeping? Ops? Anyone with a heartbeat.
Alamodome Event Services Manager (Sat, 28 Jan, 7:45 AM CT):
Let me check again when all managers arrive. Will get back to you around 9:30am.
Alamodome Event Services Manager (Sat, Jan 28, 7:19 PM CT):
As we discussed earlier the revised number with Traffic, SAPD, Pritchard is 1,280.
The Pritchard is question likely to be "Pritchard Sports & Entertainment Group", the housekeeping and janitorial contractor for Alamodome.
As Wrestlenomics breaks down all the numbers, they conclude:
"Information culled from Alamodome personnel seems to add 1,280 venue staff, 694 toward suites that were actually opened, 318 toward suites that were closed, and 130 toward the vacant press box.
"Add that mix of actual and imagined 2,422 people to the highest count of tickets distributed found in the records we obtained (47,834), and we can come to a total of 50,256. WWE likely added in counts of its own talent and staff as well, which probably explains the aforementioned total still being short of the 51,338 figure WWE celebrated on television."
Regardless of the actual attendance figure, Wrestlenomics does conclude that the gate made it the "among the most lucrative" event that wasn't called WrestleMania in pro-wrestling history.
Think you're a wrestling mastermind? Well you can prove it by taking quizzes in our brand new quiz section! Don't forget to tweet us your results!