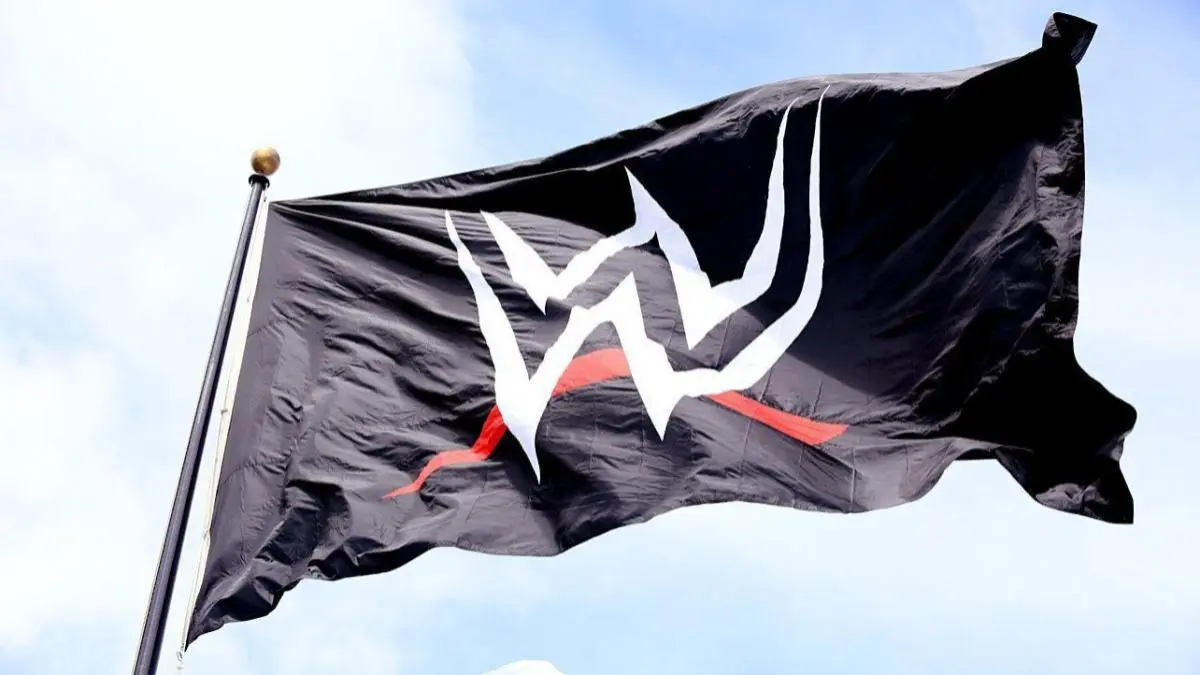 An update on WWE potentially scrapping a championship, confusion about whether SummerSlam will be TV-14, WWE accused of stealing an indie star's gimmick, and more.
Happy Thursday, and what better what to start the day than getting caught up on all the latest wrestling news – I'm Liam Winnard for WrestleTalk.com, and this is our news bulletin for July 21, 2022.
I am in fact still ill, which means no audio version again because I can't talk for more than five seconds without my lungs exploding 🙁
Update On WWE Scrapping Championship
When Cora Jade threw her NXT Women's Tag Team Championship belt in the trash on Tuesday, most people assumed it spelled the end of that particular title altogether, especially with the main roster having completely forgotten about its own women's tag division.
However, it turns out that might not actually be the case.
Now more than an entire day after Jade trashed her belt, WWE.com is listing the NXT Women's Tag Team Championship as held by Roxanne Perez (Jade's former partner) and Vacant.
If this is accurate, it looks like Perez will remain champion, but she'll have to find herself a new tag partner.
Although having said that, WWE.com isn't known for being accurately updated in a timely fashion, so perhaps things will change, but this is all we have to go off for now.
Let's remember that NXT had a 20-woman battle royal this week, and there were still about 10 women on the roster who didn't make it into the match, AND more trainees who haven't debuted yet.
There are more than enough women on the brand to have a tag title rather than just a singles title, so maybe they've gone the route of keeping the tag belts around.
SummerSlam TV-14 Confusion
Fans got excited a few days ago when Andrew Zarian reported that WWE Raw was going to be changing from a PG show to TV-14 on July 18.
It turns out that was premature and the date hasn't been confirmed, but it looks like we've now had yet another tease that's been taken away from us.
Yesterday, it emerged that Peacock had listed SummerSlam as TV-14, which again, got many people rather excited.
However, as word spread, the rating was actually changed back to PG. And then everyone was sad again.
It's pretty clear that a change to TV-14 for WWE, at least on the NBC side of things, is imminent – it's just a question of how much longer we'll have to wait.
WWE Accused Of Stealing Indie Gimmick
This past Tuesday on NXT, we saw the in-ring debut of Axiom, which is the new masked gimmick for former NXT UK Heritage Cup Champion A-Kid.
Chelsea Green and Deonna Purrazzo pointed out this is very similar to a gimmick Purrazzo pitched while she was in NXT, but there's actually now another wrestler who's taken an issue with it.
That wrestler is Razerwyng, who has worked for the likes of Beyond Wrestling and Chikara.
"Mom, can we get some Razerwyng?"

"We have Razerwyng at home."#CawCaw pic.twitter.com/8RagyLtRdb

— RAZERWYNG •レザーヰング (@Razerwyng) July 20, 2022
Razerwyng took to Twitter to point out that Axiom's mask is extremely similar to his own, and he doesn't think it's a coincindence.
As you can see, you can't really say they don't seem suspiciously similar at the very least.
Razerwyng did make sure to stress that he doesn't have an ill-will towards A-Kid in this situation, and joked that this is WWE's attempt to get back at him for him calling out Glenn Jacobs (Kane) and Linda McMahon for their takes on abortion rights.
Other Stuff
In other little bits of news…
Last night's AEW Dynamite ended with Chris Jericho beating Eddie Kingston in the barbed wire everywhere deathmatch. The match notably saw Anna Jay turn heel and re-align with Tay Conti to assist the Jericho Appreciation Society in helping Jericho get the win.
Dynamite also saw the return of Jungle Boy, and seemingly a babyface turn for Luchasaurus, who showed remorse and didn't attack Jungle Boy on behalf of Christian Cage.
Another interesting note was Cole Karter's appearance. Karter was Troy 'Two Dimes' Donovan in NXT who was releases few weeks ago for failing a drugs test. He was unsuccessful but impressive in challenging Ricky Starks for the FTW Championship. Karter has actually wrestled on Dynamite once before in 2020 which was Anthony Ogogo's AEW debut.
Cody Rhodes won the ESPY for 'Best WWE Moment' for his return at WrestleMania 38.
Ric Flair said that he personally went to meet Vince McMahon to thank him after being added back to the WWE intro video package.
When Goldberg was asked by Bleacher Report if he'd be happy with his loss to Roman Reigns at Elimination Chamber earlier this year being his final match, he replied, "hell no".
WWE announced DJ Valentino Khan will be back to perform at SummerSlam.
Talking about his relationship with Vince McMahon from his time in WWE, EC3 said: "There wasn't one, really. Talked to him a couple of times. I would say the man I wanted him to be and expected him to be, the leader that I heard he was from the past, I did not see. I saw more of a shell of that, sort of a feeble old man, as opposed to the leader that you'd wanna run through a wall for."
Road Dogg caused a stir by referring to the AEW TNT Championship as the "jabroni title" and saying AEW TV looks like an indie show with nice cameras.
And Seth Rollins told Digital Spy he doesn't think there'll be a Shield Reunion until they're inducted into the Hall of Fame.
Be sure to stay tuned to WrestleTalk.com throughout the day to keep up with all the news from the world of pro-wrestling, and I'll see you tomorrow morning for another round-up.
To make sure you stay updated with all the latest wrestling news, add WrestleTalk.com to your Google Discover feed and follow us on Twitter!