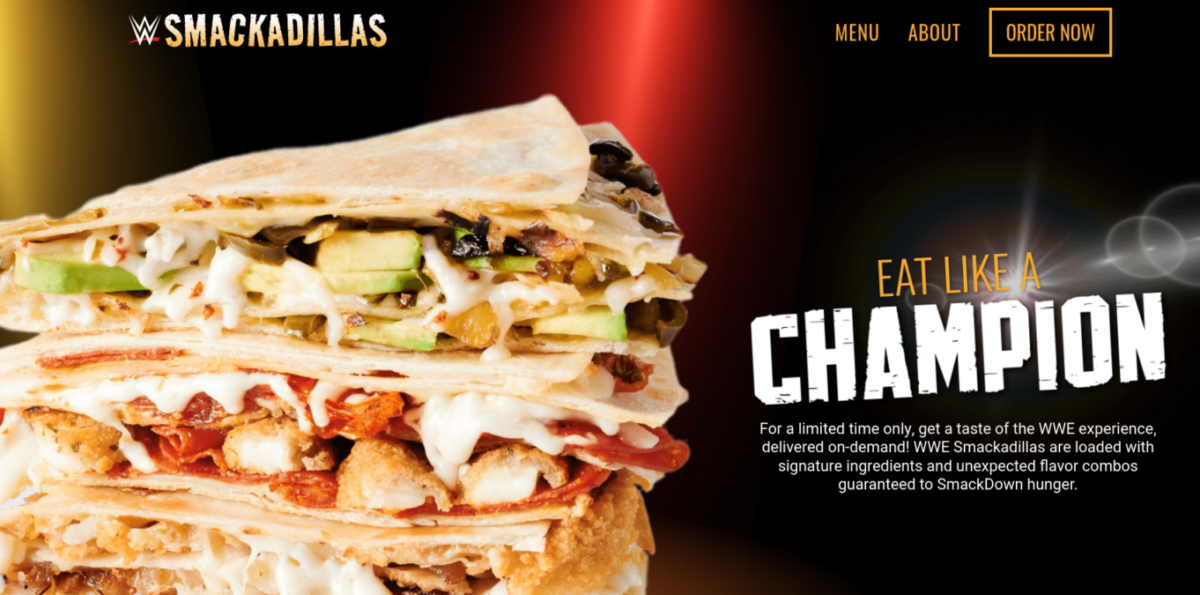 WWE plans to lay the SmackDown on your hunger if you're in the Dallas area this WrestleMania season.
Filing trademark of the word, "Smackadillas" WWE also launched a Smackadillas Twitter account, and website previewing the offerings that are available.
WWE Smackadillas is brought to fans via Nextbite, a company specializing in ghost kitchens, with the website noting:
"WWE Smackadillas is a virtual restaurant created by Nextbite, the only company helping neighborhood restaurants thrive by using their existing kitchens to give you even more delicious options."
Similar to another popular ghost franchise brand, Mr. Beast Burger, fans would be ordering from a specialized themed menu and have their orders serviced by one of several identified partner restaurants and subsequently delivery partners.
WWE Smackadillas seems to be offering specifically quesadilla based options with the "Chicken Vs. Ranch" featuring "crispy chicken tenders, ranch, bacon, Pepper Jack cheese, avocado, with a side of ranch for dipping or drizzling." and a meat-less choice in the "Spicy Superstar" featuring "spicy serrano pepper, onion & pickled jalapeño relish, avocado, Chihuahua cheese, Pepper Jack cheese, with a side of poblano queso for dipping or drizzling" among several other listed choices.
Even the fries get a WWE style makeover being listed on one menu under the category of "Tag Team Partners" as "Figure-Four Fries" and desserts being listed under the category, "Finishing Moves."
Not specified is whether or not partner restaurants were provided themed packaging or anything to distinguish these from your run-of-the-mill quesadilla order other than the names on the menu.
There are many partner restaurants already listed as live and accepting orders with delivery serviced by DoorDash, GrubHub and UberEats within 50 miles of Downtown Dallas so if you manage to get your hands on a WWE Smackadilla, tweet us! 
To make sure you stay updated with all the latest wrestling news, add WrestleTalk.com to your Google Discover feed and follow us on Twitter!