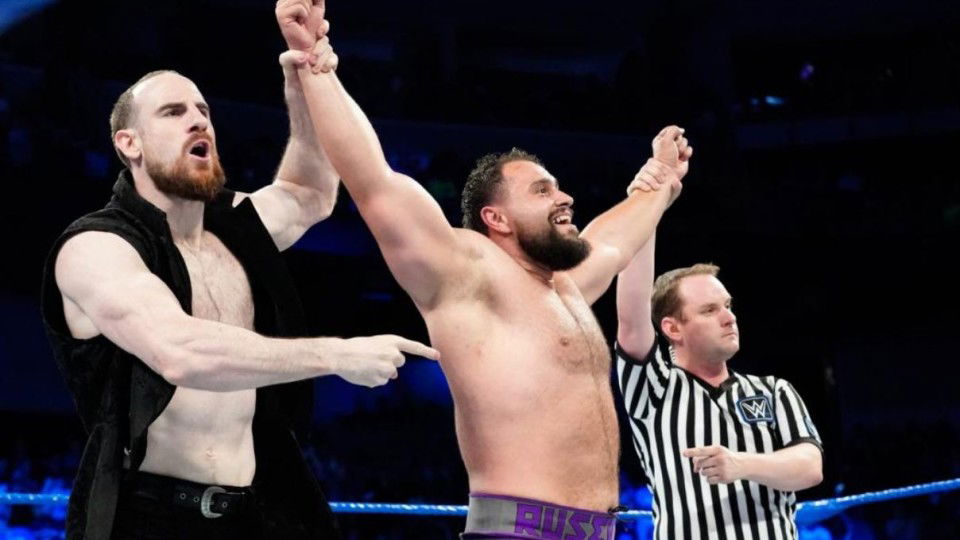 Have you ever seen a less enticing SmackDown Live main event than Brie Bella vs Maryse?
Actually, let me rephrase that.
Have you ever seen a less enticing match in your whole life? Good lord WWE, are you trying to make us hate SmackDown because we aren't interested in Raw anymore?
As long as it's very short and the rest of the show is incredible, you might just get away with it. Thankfully, most of the card does look pretty good, so you may as well turn off the moment you hear "BRIEEEE MOOOODE".
Tag tournament final
First and foremost, there's the final of the SmackDown Live Tag Team Championship Number One Contender Tournament (SLTTCNOCT)…bit of a mouthful, that one.
Rusev Day take on The Bar, in what should be a very fun match if what we've seen of this tournament so far is anything to go by. Rusev and Aiden English beat both the Usos and SAniTy to qualify, with English repeatedly saving Rusev from being pinned, and allowing the Bulgarian to get the three count over Eric Young.
The Bar saw off the Colons and Gallows and Anderson to make it to the final, so neither has had the easiest road. Simply because they haven't challenged for the titles on the blue brand yet, you'd expect the Bar will pick up the victory, but it's a match in which the winner really doesn't matter as fans will be pleased with the outcome either way.
The winner will go on to face The New Day on Sunday at Hell in a Cell, in what will be a fun match whatever the outcome of tonight's fight.
Fire and Flair on SmackDown Live
In another advertised match for tonight, SmackDown Women's Champion, Charlotte Flair, will take on Sonya Deville in the lead up to her grudge match with Becky Lynch. Expect Becky to make some kind of distraction, either during to give Deville the win, or after, attacking her opponent for Sunday.
This feud, already hot, has reached boiling point over the last two weeks, and it is one that fans are incredibly invested in. Almost every human on earth wants to see Becky pick up the title many thinks she should have had a long time ago, so tonight should give us a clue as to her mindset heading into Hell in a Cell.
Jeff's trip to Nak-America
The final match is the latest in a string of Jeff Hardy vs Shinsuke Nakamura bouts. If rumour is to be believed, take a long hard look at Jeff, because we may not be seeing him on SmackDown for a very long time.
It's widely known that he has been working through several injuries at the moment, and a brutal beat down at Hell in a Cell should be a good way of writing him off TV so he can heal the 93 injuries he's currently suffering from.
Either way, it's always a fun match with these two, so it's difficult to complain…oh wait, no it's not, because it's Brie Bella vs Maryse in the main event.
Talk to us in the comments below or on Twitter here. You can also join us on Discord to chat with Oli, Luke, the magazine team, the website writers and each other here!