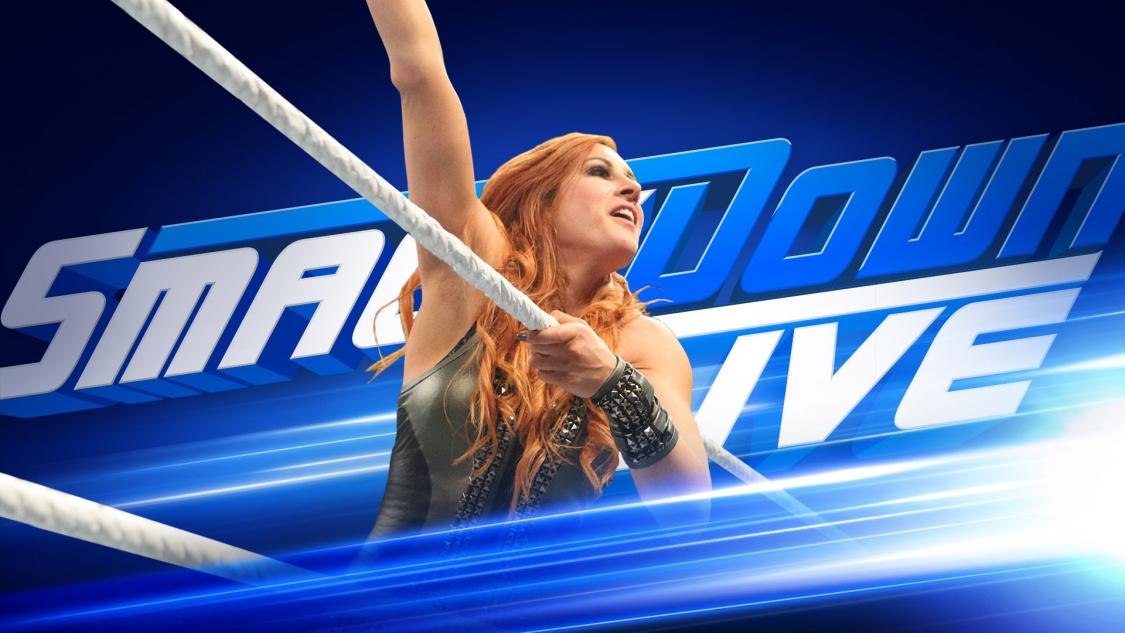 WWE Championship to be defended inside Hell in a Cell
Well this should be good.
AJ Styles, Randy Orton, Jeff Hardy, Mustafa Ali and Samoa Joe all come to the ring to say they deserve a shot at the title, and so of course start fighting. Daniel Bryan says none of them deserve it, but that's not gonna cut it.
Triple H appears on the big screen to inform him that he will in fact defend the title inside the Elimination Chamber against the five men in the ring. Yummy.
Oh hello, @TripleH! #SDLive pic.twitter.com/vV9jXpHA6i

— WWE (@WWE) January 30, 2019

New WWE Championship belt
Daniel Bryan (the new version) cuts a fantastic promo about how he is saving the earth, which is course makes him evil because caring about the world is bad, apparently.
He then admits that he's a hypocrite for carrying around a leather belt, and therefore throws it in the bin, he then reveals the new design, which is made of 100% sustainable hemp.
I secretly quite like the design.
THIS is the new symbol of excellence.

Say hello to the new 100% SUSTAINABLE HEMP #WWEChampionship! #SDLive @WWEDanielBryan pic.twitter.com/2C8yszzAko

— WWE (@WWE) January 30, 2019

Usos new number one contenders
The Usos are the new number one contenders for the tag titles after winning a four way elimination match featuring New Day, The Bar and Heavy Machinery.
The New Day were the first team to be eliminated, with Kofi Kingston falling victim to Heavy Machinery's bulk. Their trash compactor double body slam was too much for Kingston and that was that for the power of positivity.
Then both Heavy Machinery and The Bar were eliminated in quick succession. Tucker Knight was hit with a Brogue Kick for the pinfall, but Sheamus could not celebrate for long as he was then pinned following a splash from either Jimmy or Jey.
They will now go on to face Shane and Miz for the tag titles at Elimination Chamber.
They don't SET The Bar(ricade), they throw Superstars INTO The Bar(ricade)! #SDLive @WWESheamus @WWECesaro @WWEUsos pic.twitter.com/VrEYcJyQ15

— WWE (@WWE) January 30, 2019

Huge debut
A huge moment on SmackDown Live, as we have the long awaited main roster debut of the Miz's dad, George.
Shane plays the Miz a video of their path to the tag titles, then invited George to the ring. He proceeds to tell the Miz that he loves him, and his proud of him. You know what, this was weird, but oddly heart-warming.
We now have a four-way elimination match to decide the number one contenders for the tag titles…
SURPRISE, @mikethemiz! Your dad is HERE! #BestChampionshipCelebration #SDLive pic.twitter.com/flgA5CKiS5

— WWE (@WWE) January 30, 2019

Andrade attacks Rey Mysterio
Rey Mysterio comes out for a match with Samoa Joe, but before Joe can come out, here comes Hornswoggle's favourite Zelina Vega to spoil the fun.
She asks Rey whether he's able to focus on his matches anymore, given how Andrade has had the better of him over the last few weeks. This allows Andrade to attack Rey from behind, once again going for the "Three Amigos" suplexes as a mark of disrespect to the late great Eddie Guerrero.
Rey is left on the ground after a Hammerlock DDT, and the feud continues…
Poor Joe. He was looking forward to his match.
#VivaLaRaza? #SDLive @AndradeCienWWE @reymysterio pic.twitter.com/am7C8lb1wp

— WWE (@WWE) January 30, 2019

R-Truth is STILL US Champ…
Oh I dunno what's going on anymore. So R-Truth stacks Rusev up in about three minutes to retain, and then Nakamura attacks Truth after the bell.
Rusev then continues the attack, seemingly turning heel in the process and form some kind of alliance with Nakamura?
Maybe we're getting a new League of Nations…yay.
…and we're getting ANOTHER #USTitle defense RIGHT NOW!

NEW #USChampion @RonKillings defends his newly-won gold against @RusevBUL on #SDLive! pic.twitter.com/wlCI6QRAu4

— WWE (@WWE) January 30, 2019

R-Truth new US Champ…
Erm.
R-Truth just beat Shinsuke Nakamura to become the new US Champion.
BUT WAIT!
Here comes Rusev, and now we have another match for the United States Championship. Truth vs Rusev.

Charlotte Flair heel turn?
Did Charlotte just turn heel? Becky cuts a promo about being proud that she worked her way up from nothing, pausing to let the crowd cheer her every other second, but is then interrupted by Charlotte Flair.
Charlotte comes out and patronisingly congratulates Becky on her Rumble win, which Becky reacts to by punching Charlotte hard in the face.
A brawl then breaks out and both women are restrained. Great stuff, and it sure looks like that WrestleMania main event could be a triple threat as has been reported.
So, was that a Charlotte heel turn? Or is she just a badass tweener?
.@MsCharlotteWWE ambushes @BeckyLynchWWE from behind on the ramp to start off #SDLive! pic.twitter.com/KbfVPAvfVc

— WWE (@WWE) January 30, 2019

Becky Lynch is awesome
So, the show starts with a great video package reminding us that Becky Lynch has once again been the greatest person on earth over the past few days.
Winning the Rumble and then tearing Ronda to shreds on Raw…and she's here to open the show for the blue brand.
Hello and welcome to our coverage of SmackDown Live. I'm afraid Liam has school tomorrow and is very sleepy after the Rumble weekend so it's Randy in the hotseat tonight.
Raw was actually pretty good last night, what with Becky Lynch appearing and other fun things. Shame to hear that Dean is on his way out, but I guess there's plenty of talent to fill the considerable hole he will leave.
As for tonight, it looks like we've got a celebration with Miz and Shane, which should be bearable, a US Title match between R-Truth and Shinsuke Nakamura for whatever reason, and we'll find out Asuka's next challenger.
More importantly, we'll see what's next for Becky Lynch, who last night challenged Ronda Rousey to a match at WrestleMania 35. Will Ronda show up on Raw? Or will Becky continue to prove that she's the greatest person on the planet?
All that and so much more, or at least, a bit more, to come.