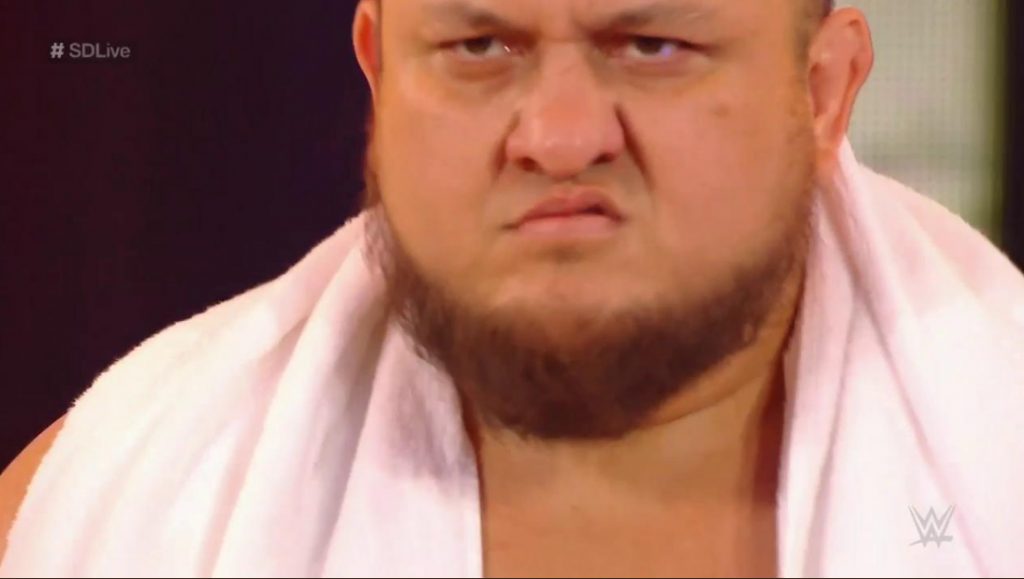 Time for the undeserving main event that was announced earlier in the evening: Samoa Joe vs Jeff Hardy. Why not Rey vs Almas?
Anyway, not a particularly exciting match, and Joe wins after locking Jeff in the coquina clutch.
The real drama came after the match, when a brawl ensues involving everyone in the SmackDown men's Survivor Series team, because nothing says unity like a massive fight.
Daniel Bryan manages to smack Shane McMahon, so I guess we'll be seeing that match somewhere down the line. Yay.
And that's that for SmackDown. A fun show, and much better than Raw.
AJ comes out to respond to Paul Heyman's "that's a spoiler" promo by saying "that's a spoiler".
Good one AJ. You sure showed him!
We're about to hear who is in the SmackDown women's team for Survivor Series.
So, it's going to be…Asuka, Carmella, Sonya Deville (not Mandy Rose), Naomi and…Charlotte Flair.
But wait! Charlotte hasn't come out! Oh the suspense is killing me.
Out comes Mandy Rose, who asks Paige why Sonya was chosen over her. It may have something to do with the fact that you have one move and it's a high knee.
Naomi beats up Mandy because she mentioned her husband Jimmy Uso…which apparently makes assault ok.
"What's going on with Charlotte?" say the commentators.
I just don't know.
Going after the GLOW? Not wise, @WWE_MandyRose!#SDLive @NaomiWWE pic.twitter.com/T3puvRfWbS

— WWE Universe (@WWEUniverse) November 7, 2018
But where's Zelina V- oh who cares. Apparently she's off on other commitments for Almas, whatever that means.
Thankfully, these two are amazing, and therefore have a really good match with plenty of very stiff looking shots thrown in there for good measure.
The finish comes, as you would expect, following a 619 from Mysterio and a splash to pick up the pinfall. Rey Mysterio is in the men's Survivor Series team.
Also, Randy Orton RKOs Mysterio for whatever reason and then walks off. Thanks Randall.
And here comes the best thing in the world. No, it's not free pudding, it's Becky Lynch.
The crowd and everyone in the world loves her, but a surprise is in store for the SmackDown Live Women's Champion.
The surprise comes in the shape of one Nikki Cross, former (current?) member of SAniTy to make her main roster debut. A match between the two women is made!
Look who wants to take on #SDLive #WomensChampion @BeckyLynchWWE…@WWENXT's #TwistedSister and #SAnitY's own @NikkiCrossWWE! pic.twitter.com/pd8XkjcDJo

— WWE (@WWE) November 7, 2018
WHAT A DEBUT!
By which I mean, that was pointless. Becky makes Nikki submit in about 5 minutes, making sure Nikki has the same start to life on the main roster as her SAniTy teammates.
Almas and Mysterio on the way to the ring to have a great match.
Despite this, Shane McMahon is still announced as a member of the SmackDown Men's Survivor Series Team, just to make sure new, young talent can't be in it.
The New Day are on their way to the ring.
As are the Usos. Whoever wins this match will be the captain of the SmackDown Tag Teams at Survivor Series.
And it's the Usos that pick up the win, carrying on their momentum after defeating AJ Styles and Daniel Bryan in consecutive weeks.
One Uso is on the top turnbuckle, Kofi tries a hurricanrana on him, but it's reversed into a powerbomb. The Uso then hits Kofi with the splash for the win. Good, solid match.
The @WWEUsos were willing to do ANYTHING to win this one, and they did just that! #SDLive pic.twitter.com/6T0jLTtqlt

— WWE (@WWE) November 7, 2018
So, we're starting off with a recap of the WWE World Cup, which, if you forgot, Shane McMahon won.
That's right, he is simply the greatest…
Let's see what he has to say about his historic feat.
Oh well that's nice, he's not actually the best in the world. Everyone else in the building is though, which is very kind of him to say!
So, it looks like the plan to turn him heel after winning the trophy has been scrapped.
Anyway, Survivor Series is two weeks away, so let's choose two captains that hate each other to help us.
How about, Daniel Bryan and the Miz? Great idea everyone, good job.
Morons.
How is THIS going to work?!? @WWEDanielBryan AND @mikethemiz will co-captain the #SDLive Men's #SurvivorSeries team! @ShaneMcMahon @RealPaigeWWE pic.twitter.com/zxg6uSFFL8

— WWE (@WWE) November 7, 2018
Shane McMahon is the best wrestler in the world, and he'll address that tonight on SmackDown Live.
Although this show actually finished about three hours ago and I know everything that happened, I'm going to be giving you all the "live" coverage of the show.
So, sit back, relax, and think about all the happy things in the world, because actually, this episode is really quite acceptable unlike Raw.
Enjoy.