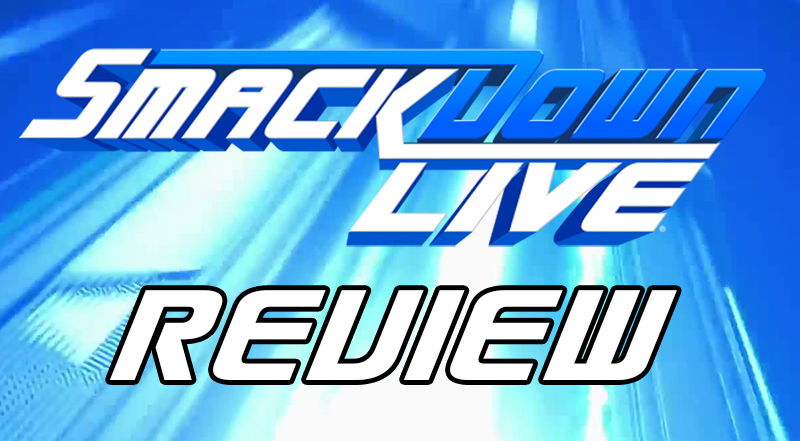 I hope everyone enjoyed the 33 minutes and 10 seconds of wrestling we were given last night on Smackdown Live.
Three whole matches, that was it. Honestly, I would have felt a bit short changed if I had attended. I know they get to see 205 Live afterwards, but still.
I know there wasn't a lot to be decided before Sunday's Backlash show, but given that Raw is just packing Mondays with ridiculous house show matches at the moment, surely Smackdown Live could do the same.
Now, I'm absolutely not complaining about the content of the matches we saw, because actually, they were all decent TV matches. Furthermore, it was nice to see the women main event the show, with what was actually the longest match of the night at just over 13 minutes.
The show opened with Paige announcing that the third installment of the AJ Styles vs Shinsuke Nakamura match at Backlash will now be a No Disqualification match, because of the likelihood that someone is going to get their testes caved in.
Later in the night, AJ came to the ring for an interview with Renee Young (we missed you Renee), after Nakamura had allegedly asked AJ for an apology for the way their match at The Greatest Royal Rumble finished.
After being interrupted by Samoa Joe, who promised to come after AJ once he is done with Roman on Sunday, Nakamura's music hit, only for him to sneak up behind AJ for yet another low blow.
Now, I'm not an expert in being hit in the balls, but if it had happened to me several times within a few weeks, and the culprit each time was the same man, who is incidentally my colleague…I would probably start wearing testicular protection.
It can't be that hard to find AJ. Your manhood must resemble a bag of over-ripe plums by now, and yet you still refuse to wear any kind of protection that may reduce the pain caused by the Phenomenal Ball-arm (copyright Luke Owen). Less WWE Champion, more WWE Champi-stupid. Am I right??
This Sunday should be the last in the saga, and one would expect Nakamura to finally win the belt. Either way, it looks like AJ is heading for a feud with Samoa Joe afterwards, and I am very okay with that.
One thing I will say for SmackDown is that despite the lack of matches and lack of time to build towards Backlash, they are at least building feuds and working on story lines. Something that cannot be said for Raw.
Big Cass came to the ring and cut an impassioned "I'm better than everyone in this room, including Daniel Bryan who is a nerd" kind of promo. I had completely forgotten how bulbous and sweaty he is, it's pretty frightening.
He called out Daniel Bryan, but out came a little person dressed as Bryan, who Cass proceeded to beat up, because he's just a big, mean man.
I can honestly not pick a winner for Sunday, but I think Bryan can lose and not be damaged. Cass losing so soon after his monster heel return would be incredibly damaging to his character, and Bryan has always said he's keen to put over younger stars.
SmackDown really nailed their backstage segments this week. Rusev Day were having a cosy little chat, when out of nowhere came Lana, but unfortunately didn't capitalize with an RKO. She mentioned that something needed changing, and that something was holding Rusev back from becoming a star.
Now as little as I want to see Rusev and English split up, seeing Lana back st Rusev's side just looks right. Their partnership induces memories of Rusev at his most impressive, and when WWE took him seriously. If this hint at a Lana return builds to something, then I am happy to see the 'Ravishing Russian' (from Florida) again.
Poor Tamina.
But anyway. Wrestling also happened.
Xavier Woods beat Seamus after The Bar insulted pancakes or something. The classic way of getting a feud started, but these two teams could have a very nice feud. It does now look as though there will be no tag team defenses at all on Sunday, which does seem a bit weird but I'll get over it as long as the tag divisions are pushed after the PPV.
Jeff Hardy, who for the love of jelly babies, has to retain on Sunday, teamed with his Backlash opponent Randy Orton to defeat The Miz and Shelton Benjamin in a decent tag match.
Randy (obviously) then hit Jeff with an RKO because he does that every week to every member of the roster. I can't pretend that I'm particularly excited about this match. Jeff will do so much more with the belt and can have far more interesting feuds, and taking it off him so soon after winning would be such a waste.
The mid card does now seem to be set however, with The Miz, Shelton, Randy, Jeff and probably Rusev making it up. An acceptable if not uninspiring group, but I am willing to be proved wrong.
The main event of the night was a six-woman tag match between Asuka, Becky and Charlotte vs Carmella and the IIconics – Billie Kaye and Peyton Royce.
This was a very good match, with each person getting in a decent amount of offence before Asuka picked up the win for her team by putting Peyton in the Asuka lock.
If we're using WWE logic here, this means Carmella will be retaining against Charlotte on Sunday, probably via IIconic interference.
Generally, I am opposed to screwy finishes, but I think this would work, as it would not only give Carmella more heat, but it could be the foundations of a very nice little faction.
So that was the Smackdown Live Backlash go home show. Not much wrestling, but very good character work. What did you think? Let us know in the comments.