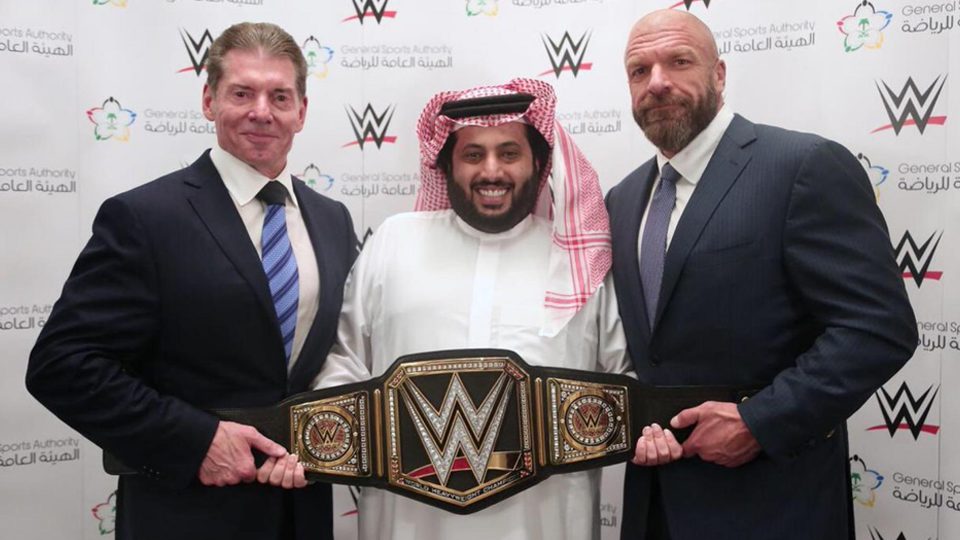 The controversy surrounding WWE's relationship with Saudi Arabia continues as a lawsuit with the support of 'secret witnesses' has been filed.
There are several lawsuits that have been filed like this one, but the key difference here is the secret witnesses, one of which is a former WWE star and one of which works for the Middle East Broadcasting Network, the TV company involved in the controversy.
Back in October, a "hostage situation" was described as the WWE stars who had competed at Crown Jewel were unable to fly home and thus missed the next day's episode of SmackDown.
The story WWE told was that it was due to mechanical difficulties with the plane, but several lawsuits, including this one, have called that into question.
Here is an excerpt from the lawsuit filing. CW-2 is a confidential witness who was a WWE star from 2012-April 2020 and performed on the show. Via POST Wrestling:
CW-2 recalled that he was initially told the charter flight he was scheduled to leave on was delayed because the plane needed to be pulled around. After they boarded, they were removed from the airplane after 20-30 minutes. CW-2 explained that he spoke with a stewardess on the flight about the delay, who told him that "it seems someone doesn't want us to leave the country."

CW-2 further explained that the pilot sounded "distressed" when he informed the passengers that the flight was unable to take off. CW-2 recalled that then they were told that it was because of mechanical issues, but he recalled seeing a "ton" of guards wearing black "militia" attire and wearing guns that were blocking their exit and "staring at the wrestlers."

CW-2 became aware that something was wrong and explained that a number of the other personnel were referring to the event as a "hostage" situation. CW-2 explained that he asked the Senior Director of Talent Relations, Mark Carrano, about what was going on and that Carrano told him that Crown Prince Mohammed bin Salman and McMahon had gotten into an argument over late payments in connection with the June 7, 2019 Super ShowDown event.

Carrano also informed CW-2 that McMahon had cut the live feed for the Crown Jewel event and that this had made the Crown Prince "very mad."
The other witness, who's an employee at the TV network, says that WWE wanted a $80,000,000 licensing fee with a projection of $100,000,000. When the network disagreed with this monstrous sum, WWE reduced it to $50,000,000 which was still way out of the $15,500,000 limit the network had set.
It was also alleged that WWE had threatened its talent that their positions on the roster would be in jeopardy if they refused to travel to Saudi Arabia in the future.
Source: Wrestling Observer Radio