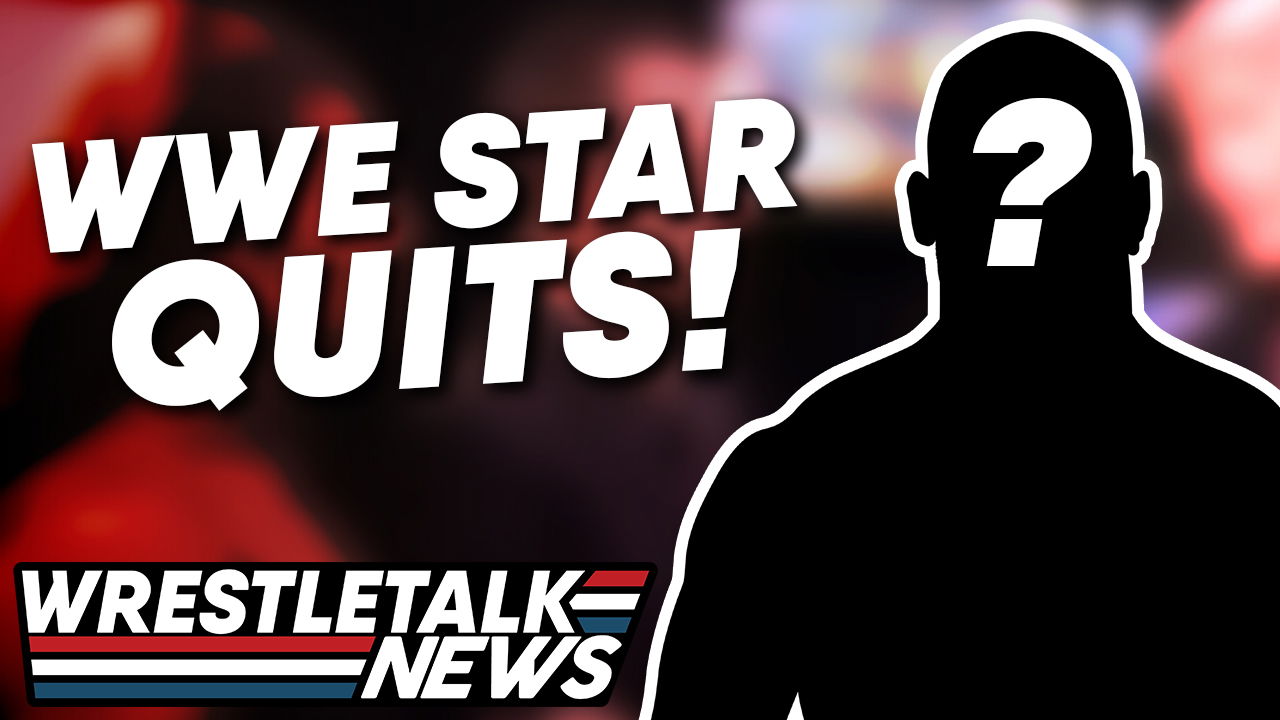 "I'm WWE superstar Lily telling you to support WrestleTalk, give them a subscribe."
Wow, huge thanks to WWE superstar Lily there for doing the intro to the show. Cost me a god damn fortune on Cameo. So subscribe here for daily wrestling news videos. I know a third of you aren't right now, and if you do and we pass 800,000 subscribers, I'll dress up as Maki Itoh for you filthy marks.
Because WrestleMania happened over the weekend, I'd like to wish everyone a Happy New Wrestling Year! A time for new starts, new feuds, and people about to get ruined on the main roster.
Because this week isn't just the post-Mania week, it's also the start of a new Era for NXT on Tuesday nights, no longer going up against AEW Dynamite on Wednesdays. Thankfully, the real winner from the Wednesday night wars was us, the fans. Because now we can watch both shows unopposed.
Last night's first proper Tuesday Night NXT saw a big title change, some main roster cameos and a former IMPACT star debut – which Tempest will cover in his NXT in about 5 minutes review up in a bit – but there was also a major angle on the show: where Roderick Strong quit the promotion.
Roddy debuted for NXT almost five years ago in October 2016 as Austin Aries' tag partner in the Dusty Rhodes classic, but it wasn't until his Ring of Honor mates Adam Cole, Bobby Fish and Kyle O'Reilly jumped ship to NXT that his career really took off – with whom he became a two time tag team champion, and one time North American Champion.
But following the Undisputed Era faction split at TakeOver: Vengeance Day, he handed in his 'resignation' to NXT General Manager William Regal on last night's episode, with his real life wife Marina Shafir beside him. 
But before you can say – Roderick Strong to AEW confirmed – this is almost certainly kayfabe. The last update on his WWE contract status had him signed with the company until the end of next year, along with Fish, O'Reilly and Cole. Which will presumably be a very interesting collective negotiation, especially with a bunch of their best friends and Cole's real-life girlfriend Britt Baker over in AEW.
So if Strong is staying with WWE, what next for him? He could simply be taking some time off, although that's not a very pro wrestler thing to do. Perhaps he wants to heal up from an injury. Or he could be set for something far, far worse: a main roster call up. 
There were no big debuts on Monday's Raw, so perhaps this could be timed for a call up on SmackDown. What do you think Roddy will do next? Let me know in the comments down below, where I'll be replying to people FROM OUTTA NO HAIR saying please, god, let it be SmackDown.
But it's not just a new schedule for NXT, we are also bringing back NXT Podcast reviews over on the WrestleTalk Podcast channel! Tempest and Chopper will be reviewing the show live today, so make sure to subscribe there using the link in the video description below or the i above my head. 
Triple H would be so proud of you…
After Raw Women's Champion Rhea Ripley, SmackDown women's champion Bianca BelAir and NXT Women's Champion Raquel Gonzalez all posed together in the ring on last night's episode, NXT daddy Triple H was faced with a dilemma. He's got three champions to point to there for the compulsory picture, and only two hands to do it with.
So he tweeted "We are NXT Forever, proud" with a picture of him with his arms round the champs.
I know what we're all thinking looking at that photo, so I'm going to say it.
CM Punk vs HHH?!
Triple H vs CM Punk confirmed.
CM Punk has been promoting his new film Jakob's Wife in interviews, which means every single press outlet is going to ask him at least once about a wrestling return.
We need those clicks.
So when Uproxx asked him about what it would take for him to come back, he pointed out "The wrestling world doesn't necessarily need CM Punk" – as everyone's doing well without him. It's not like Hulk Hogan in the 90s, where he could show up and demand full creative control.
But he did say if the time, the place and the situation were right, he would be interested. If it were AEW, he said that would be with Kenny Omega for the "biggest possible match". But if he made his return to WWE:
"Unfortunately, ironically enough, for me to go back to WWE, who's the biggest match for me? It's probably Triple H. That's ironic because it's nothing I'm interested in. It's just what it is. Am I going to be a businessman and say that's the match, that's the big-money match? Well, it's not my money, so it's not for me to say."
Punk sure does sound like he definitely still loves wrestling there. 
Punk's stance from a few years ago where the creative had to be spot on, and the money had to be a – quote – "big bag" seems to have softened recently. Now he's happy to do one or the other, saying in interviews he'd come back if the story excited him. Or, seemingly here, taking the Goldberg approach, he'd just come back for the biggest payday possible, even though he's not interested in the actual match: which would definitely be Triple H in WWE given Punk's shoot podcast interview on the Game.
Who would you want Punk to wrestle if he returned to WWE? Let me know why it's Roman Reigns for the affections of Paul Heyman in the comments down below.
McMahon Family Pay Revealed
Hunter doesn't need that dollar dollar though, as his, and the rest of the McMahon family's pay has been revealed in a recent SEC filing ahead of WWE's annual shareholder's meeting on May 27th. Which I can't wait for. Honestly, I personally consider their quarterly earnings reports as bigger than most B-level pay-per-views.
Vince McMahon received an annual salary of $1.4 million, and qualifies for a 100% target bonus of that. I'd love to see how Vince assesses Vince's own 2020 performance there. I think you did great, pal. Really grabbed those brass rings. Now get me a steak!
Triple H gets paid $1 million a year, and his wrestler performance deal runs until March 30th next year – just a few days before WrestleMania 38. So you'd expect that to be extended. 
And Stephanie gets paid $750,000 a year, and her talent agreement runs until October 6th this year.
And they sure earned it going by Monday's episode of Raw.
WWE Raw Rating
Despite everyone widely agreeing Monday's Raw was the worst Raw After Mania of all time, the show did its second best viewership of the year, pulling in just over 2 million viewers. The best performing of 2021 was the January 4th Legend's Night episode.
It'll be interesting to see how next week's show does, however, as the terrible creative might have turned away any new viewers tuning in after Mania.
WrestleMania 37 Backstage News
Speaking of, loads of news has come out from the weekend's two night pay-per-view, with Wrestling Observer Radio reporting multiple matches had their finishes changed during the weekend, possibly up to four. One of these was the Fiend vs Randy Orton – which originally called for Bray to win – but this was changed just hours before Night Two started, despite talent saying that was a bad idea.
That wasn't the only thing that was scrapped, as the much reported Becky Lynch return – which Becky herself heavily teased on social media – didn't happen either.
Ringside News claim the creative team had prepared for Lynch's return, which was going to be interrupting a Bayley segment. But it was decided Becky's comeback was better saved for another time – like not in front of fans, I guess – and Bayley was just beaten up by the Bella Twins instead.
One thing that never changed however, according to Fightful, was the brilliant Night Two main event of Roman Reigns vs Edge vs Daniel Bryan for the Universal Title. It's funny that. The match with the longest booked plan in place was also by far the best.
Reigns was always planned to win from early on, presumably even before Bryan was added – which was discussed for over a month before he was internally added to the story the week of Fastlane.
It was a masterstroke, as Fightful adds the Universal title main event was a collaborative effort, with all three competitors giving ideas, with Heyman also being "instrumental" in the layout – much like how he was for Brock Lesnar and Goldberg matches in the past. The warring headbutts while Bryan and Edge had Roman in a double submission was apparently Bryan's idea. 
Michael Hayes was the match's producer, who also deserves credit, and the main event was very well received backstage, with Reigns in particular getting a lot of praise for his performance. And quite right so, it was fantastic.
Quickly, elsewhere in wrestling news – Reginald has revealed he missed WrestleMania because he was sick. Triple H has revealed WALTER has been producing backstage in NXT, presumably giving the young, developing talent feedback like "needs more chops."
Andrade has announced his first non-WWE appearance, a signing at the Wrestling Guy Store in California on the 2nd May, while also tweeting a video package of his work in CMLL alongside current ROH star RUSH – further hinting at an impending wrestling return.
Heath Slater has claimed on the Angle Podcast he was offered a contract to return to WWE following his release last April "but it was like half of what I was making." AEW also wanted him for a "three week thing", but he had already signed with IMPACT by that point.
Which is a near miss for Slater, as it appears the AEW locker room has become incredible toxic, with Britt Baker tweeting out the incredibly offensive observation: "I swear I just saw a fireball in the sky."
Sadly triggering dinosaur wrestler Luchasaurus, who simply replied: "Stop."
What are your thoughts on the above story? Let us know in the comments on Twitter or Facebook.