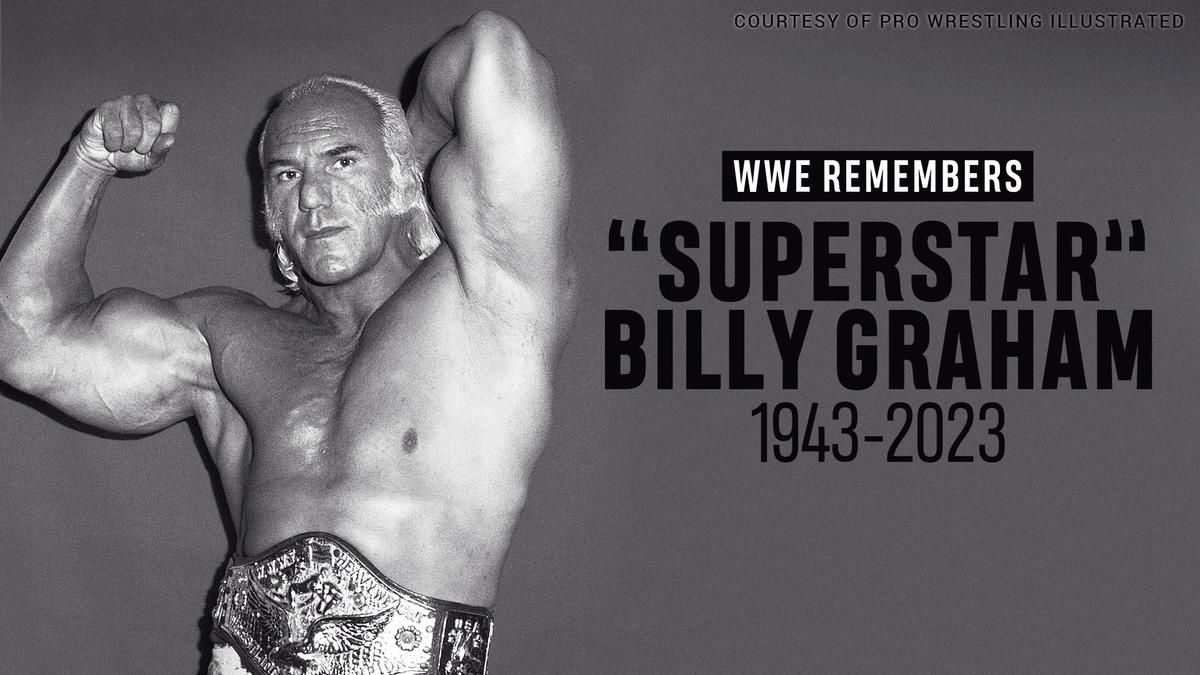 Following yesterday's (May 17) news of 'Superstar' Billy Graham's passing, has have now issued a statement paying tribute to the Hall of Famer's life and legacy.
Below is WWE's tribute to Graham in full:
WWE is saddened to learn that WWE Hall of Famer "Superstar" Billy Graham has passed away.
A former WWE Champion, Graham's flashy fashion style, over-the-top interviews and bodybuilder physique created the archetype for a generation of Superstars that followed in his footsteps.
Born in Arizona, Graham grew a passion for the world of bodybuilding and created his own weights out of cement to begin building his physique. He trained so diligently that he was eventually able to bench press 605 pounds, just 11 pounds shy of the world record. Graham's first taste of fame came when one of his photo shoots with Arnold Schwarzenegger was featured in Joe Weider's "Muscle and Fitness" magazine.
When the man born Eldridge Wayne Coleman entered the sports-entertainment industry in 1970, he changed his name to Billy Graham in reference to the evangelist. He added the nickname "Superstar" when he joined the AWA in 1972. With a combination of in-ring ability and a bodybuilder's physique, he established himself as a pioneer of the genre. Graham also continued to compete in bodybuilding and strongman competitions and won accolades for his sculpted and shredded 22-inch biceps.
Graham began emulating boxing icon Muhammad Ali in his interviews, coining the iconic line, "I'm the man of the hour, the man with the power, too sweet to be sour!" Alongside his equally outlandish manager, The Grand Wizard, Graham spouted that kind of poetic prose weekly on television, using his gift of gab to make himself a box-office attraction who would sell out every arena he main-evented.
To make himself stand out even more, Graham dyed his hair and goatee different colors, and honed a distinctive look that featured outlandish earrings, skintight T-shirts, and long, colorful tie-dyed tights. The WWE Hall of Famer's blend of standout style, sculpted body and in-ring dominance laid the foundation for future stars such as Hulk Hogan, Ric Flair, Jesse Ventura, Scott Steiner and more.
Graham's greatest WWE achievement came on April 30, 1977 when he accomplished the near-impossible feat of toppling Bruno Sammartino from his WWE Championship perch. Superstar held the title for nearly a year, successfully defending sports-entertainment's richest prize against icons like Dusty Rhodes, Gorilla Monsoon and "High Chief" Peter Maivia before being dethroned by Bob Backlund in controversial fashion.
In 1987, at 44 years old, Graham retired from the ring and transitioned to being a manager and then a color commentator.
"Superstar" Billy Graham was inducted into the WWE Hall of Fame by Triple H in 2004. Two years later, Graham's inspirational story and influence on the sports-entertainment industry were featured in the WWE documentary, "20 Years Too Soon: The 'Superstar' Billy Graham Story."
WWE extends its condolences to Graham's family, friends, and fans.
Graham, real name Eldridge Wayne Coleman, passed at the age of 79, after being placed on life support just days prior.
Coleman's wife Valerie said that doctors wanted to remove him from life support on Monday, however, she refused.
The unfortunate news of Graham passing was first learned via a tweet from fellow Hall of Famer Ric Flair who tweeted:
The Superstar Billy Graham Just Left Us 🙏🏻 THANK YOU FOR ALL YOUR INFLUENCE On My Career!
Tributes from current wrestlers also poured in including Santos Escobar and Zelina Vega who posted their condolences to Twitter.
The Wrestling Observer's Dave Meltzer also posted a heartfelt tribute and message of support to Coleman's wife Valerie on Twitter, saying:
I am so sad. My entire life, and tons of others from Flair to Hogan to Jesse to tons you wouldn't know and tons you would changed because of him. Valerie, I just wish you the best, you're a saint and more people than you know are aware of it
We send our condolences to Coleman's family, friends, and all those affected by his passing.