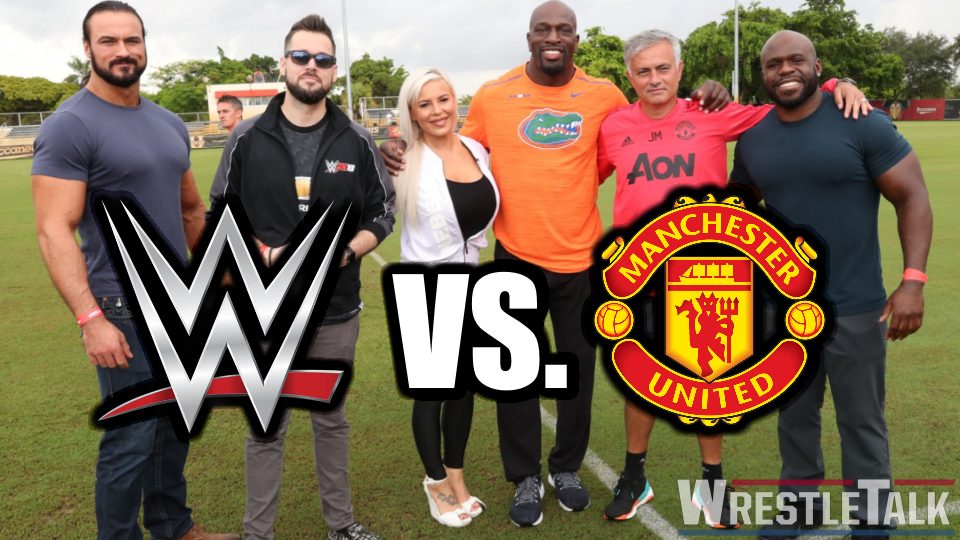 WWE superstars left the ring and entered the pitch on Monday, when they visited members of Manchester United Football Club during the 'Red Devils' preparation for their match against Real Madrid later this evening.
It was great to welcome some @WWE superstars to training today!

We hope our lads taught you a few tricks! ? #MUFC #MUTOUR pic.twitter.com/JnsUomJJI0

— Manchester United (@ManUtd) July 30, 2018
Titus O'Neil, Apollo Crews, Dana Brooke, Mike Rome, and Drew McIntyre visited Barry University, where they were able to mingle with United players. Manchester United are currently spending their pre-season partaking in the International Champions Cup. The team presented their visitors with Manchester United jerseys, followed by taking on one of the team's goalkeepers, Joel Pereira, with penalty kicks.
Apollo Crews stated:
"We always do the entertaining and everyone comes to see us, but at the end of the day, we're still fans of certain sports, so it's cool for us to come out here and meet some of the players we are fans of or the teams that we are fans of."
WWE will be in Manchester on November 5 and 6 during their international tour. Maybe then, the tables will turn and Pereira can become the newest member of Titus Worldwide.
Related Content:
Would you like to see Manchester United visit the WWE in November? Let us know in the comments below or on Twitter here. Feel free to join in on wrestling chat by joining the WrestleTalk writers on our Discord chat!