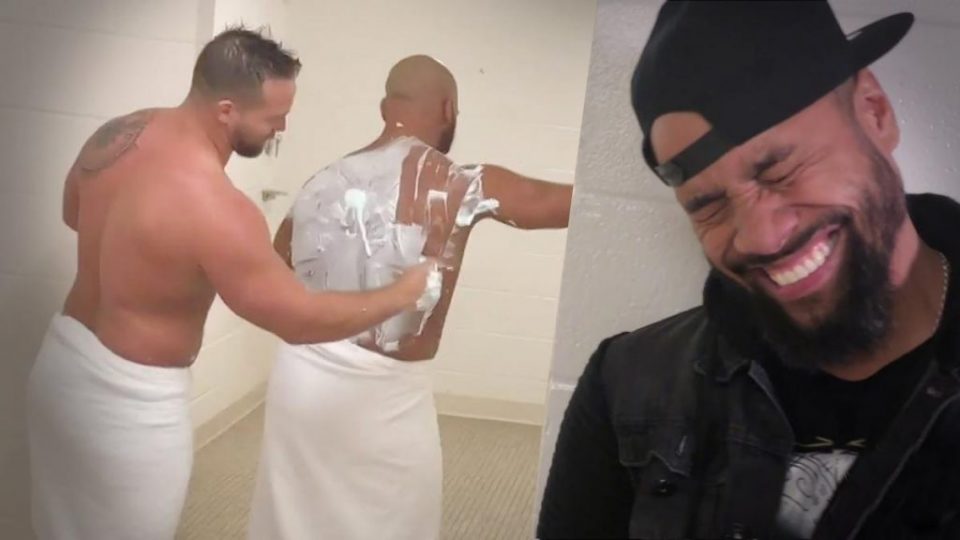 It was perhaps inevitable that The Revival would be subject to burial and humiliation on television the moment they turned down contracts in the region of $500,000 per annum last week.
Sure enough, the duo were forced to endure a skit on Raw where The Usos walked in on Dash Wilder shaving Scott Dawson's back in the shower, which they were openly mocked for.
Later on in the show, the former Raw Tag Team Champions were cleanly beaten by current title holders Zack Ryder and Curt Hawkins, which given that duo's win/loss record over the years was intended as another slight against the want-away tandem.
Unfortunately for the workhorse duo, the punishment looks set to continue based on this bizarre cryptic threat delivered to them by WWE in WWE.com's Raw preview. Pay particular attention to the final paragraph, which is highlighted in bold:
You shave my back

Okay, so the headline shouldn't have been that The Revival shave each other's backs in the shower, but the mildly embarrassing footage obtained by The Usos was still enough to unman the "Top Guys" when all was said and done.

The Usos now have a psychological edge in this young rivalry, and in order to catch up to their rivals, the former Raw Tag Team Champions have to either develop thicker skin or finish out their business between the ropes in a way they couldn't this past week against Zack Ryder & Curt Hawkins in what was otherwise a very impressive performance.

In other words, this could be the beginning of a whole new Revival or the first humiliation of many. The choice is up to them.
This is clearly a message from WWE higher-ups to The Revival, basically warning them to sign a new contract or else the next 12 months of their career will see them endure more of the same humiliation. It's going to be a long year for them.