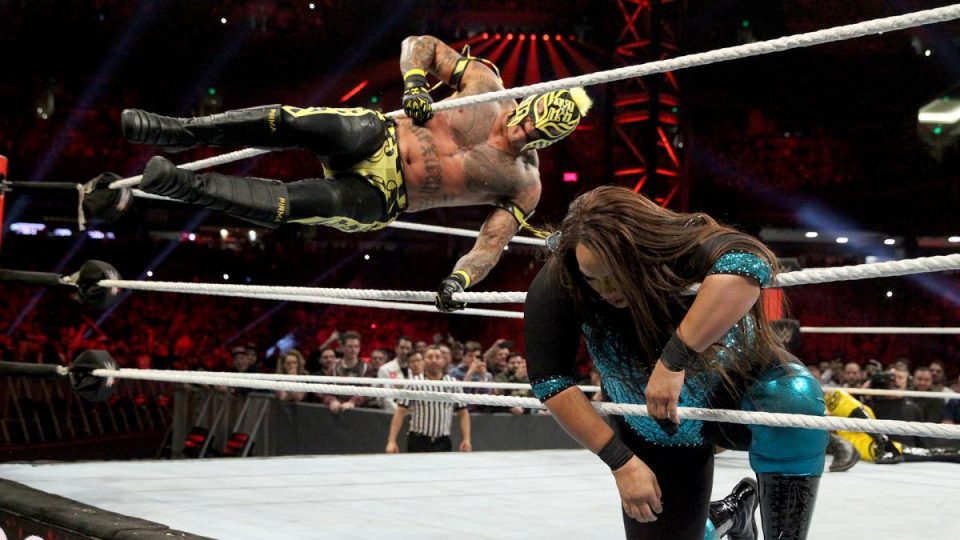 The seemingly-random appearance of Nia Jax as the #30 entrant in last night's men's Royal Rumble match may in fact not be quite so random after all.
Dave Meltzer on Wrestling Observer Radio suggested the move appears to be the first step in WWE's new strategy to slowly introduce inter-gender wrestling to the promotion having shied away from it since becoming a PG product.
Fan criticism over the samey Mixed Match Challenge and the drastic numbers the show pulled are a factor in this new ethos, as is the prevalence of male v female matches on independent shows around the world.
WWE never wants to be behind the curve so it makes sense that they would eventually follow suit. The argument in favour is that pitting men and women against each other in the same match shows true equality.
It is not exactly a new phenomenon, mind you, as Chyna back in the Attitude Era regularly wrestled against men and even held the WWE Intercontinental Title.
Inter-gender wrestling will not be to everyone's tastes and will need to be done slowly and carefully before it becomes commonplace, hence the brief but memorable Jax appearance in last night's Rumble bout.
Jax is a performer who can realistically go toe-to-toe with members of the male roster as she is comperable in size to some of them and bigger than others, such as Rey Mysterio, who she had some interaction with. As fans become more accepting of seeing women beating up men and indeed men fighting back against women, it is expected that this will become more commonplace in the promotion over time.
The new attitude towards this marks a stark contrast to previous company rhetoric, in which high ranking officials such as Triple H have been adamant in their refusal to consider inter-gender wrestling. Even very recently, NXT UK female talent has been told they cannot wrestle against men on independent shows now that they are under WWE contracts.
This is not the only thing changing in WWE's presentation of women. In recent weeks the company have presented some of its female roster in segments designed that remained very much PG but were designed to titillate. Namely a stage hand walking in on Alexa Bliss getting changed and catching her without a shirt on, Otiz Dozovic drooling over her later that night and the Mandy Rose-Naomi storyline on SmackDown. Again, these segments are not a random accident but WWE testing the waters to see how far it can push the envelope without receiving a backlash so that it can attempt to boost flagging ratings.
Do you want to see inter-gender wrestling in WWE? Let us know in the poll below:
[totalpoll id="48433″]