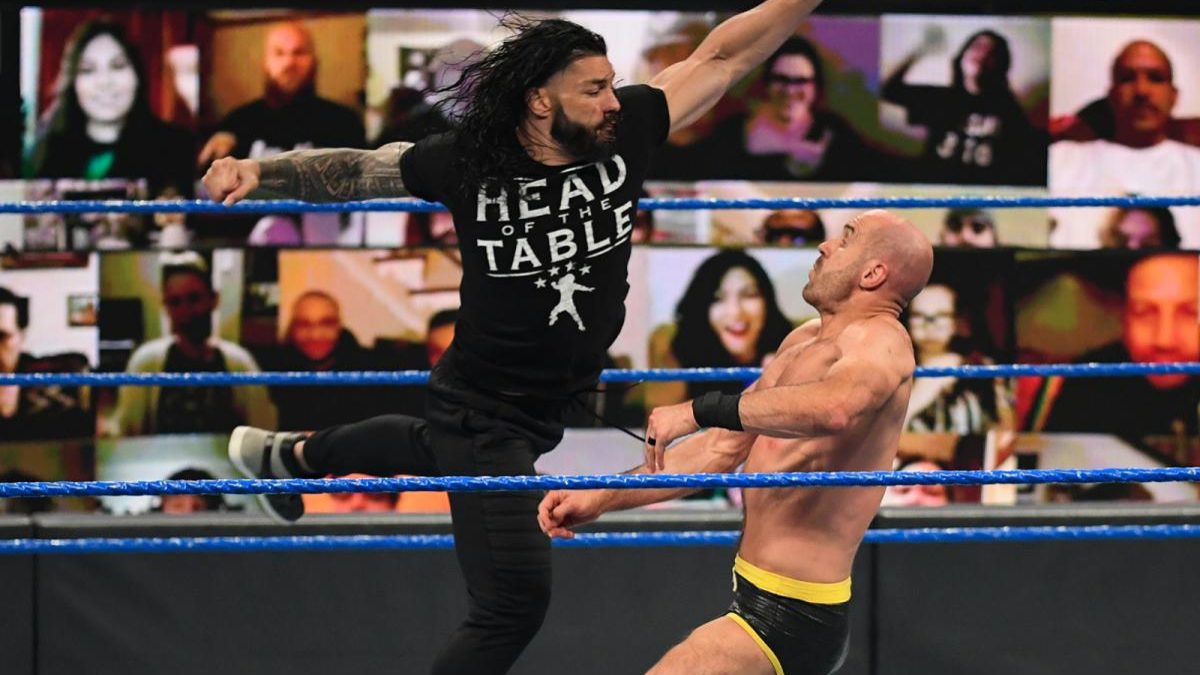 Today WWE presents its 2021 Backlash pay-per-view, this time called WrestleMania Backlash because that makes it sound bigger or something.
Let's take a quick look through the card, but first, a quick reminder that WrestleTalk.com will have live coverage of the show from the start of the pre-show at 6pm ET.
So far, six matches have been announced for the main show and none for the pre-show, but don't be surprised if that changes.
If there are any more announcements, we will of course keep you up to date on the site.
Anyway, let's take a look at the matches that have been confirmed thus far…
---
Damian Priest vs. The Miz – Lumberjack Match
This program has been going ever since the Royal Rumble in January, and on every occasion Priest has had the upper hand excluding one handicap loss to Miz and John Morrison.
An extra wrinkle has been added in that, for the last couple of weeks, Miz has accidentally cost Morrison and inadvertently helped Priest pick up wins.
There's not really a clear reason why this is a lumberjack match, but you'd imagine the idea is Miz will try to run away from Priest but won't be able to.
Given that Priest has actually been booked somewhat competently since his move to the main roster, it does seem likely he'll pick up the win here.
The bigger question is whether Morrison will have anything to do with it.
---
Bianca Belair (c) vs. Bayley – SmackDown Women's Championship
This will be Belair's first title defense since winning it from Sasha Banks at WrestleMania, and it's almost certainly going to be a good one.
Bayley could have done with a couple of wins here and there, but she's still got the record reign with the title and that's been just enough to keep her hot enough for this match.
Bayley is one of the most consistently good workers in WWE, and Belair's athleticism means she rarely has a bad match too.
It might not be the most interesting bout on the card, but in-ring wise, it could very well be one of the best.
Having said that, it's as predictable as the sun rising tomorrow morning.
---
Dolph Ziggler & Robert Roode (c) vs. Dominik & Rey Mysterio – SmackDown Tag Team Championship
The storyline heading into this one is that if the Mysterios win, they'll be WWE's first ever father-son tag team champions.
One question – why on earth was this not on WrestleMania?
The Mysterios have both picked up singles wins over Ziggler on the last two SmackDowns, so there's no real heat other than the potential history-making moment of them winning.
But I once again pose the question, if they are going to win, why on God's green earth was this not on WrestleMania?!
And if they don't win, I'll be even more confused.
---
Rhea Ripley (c) vs. Asuka vs. Charlotte Flair – Raw Women's Championship
It's a meme at this point that Charlotte Flair gets added to big title matches to make them three-ways, but this time it does actually make a decent amount of sense.
She was angry about missing WrestleMania (who wouldn't be given how that whole thing went down), got suspended for ONE ENTIRE WEEK, then Sonya Deville reinstated her, and pow, she has a title shot just like that.
So there are a few different factors at play here – will Deville get involved, will Pearce shout at her for said involvement, will Asuka and Rhea have another really awkward few minutes of working with each other?
In all seriousness, it's a little unfortunate that Asuka has been booked horribly for what seems like forever, or this would feel like a much bigger match than it does right now.
It might seem a bit soon for Ripley to lose the title, but is it really a good idea to EVER bet against Charlotte Flair?
No, it isn't.
---
Bobby Lashley (c) vs. Braun Strowman vs. Drew McIntyre – WWE Championship
It's the night of the Raw championship three-ways, which is a bit annoying, because three-ways are rarely good.
In wrestling that is.
Anyway, anything other than a Lashley retention here would be a bit weird, because Strowman being champion would be a bit of a joke, and McIntyre winning it again seems a little too soon.
This seems very, "Oh yeah, we need a WWE Title match on the show, erm…", and this is what they threw together.
It very much feels like Strowman is only there to make this different from all the Lashley vs McIntyre matches we've had recently, and hopefully he'll be the one dropping the fall.
---
Roman Reigns (c) vs. Cesaro – Universal Championship
This is a bit of a one-match card, and this is that match.
Cesaro is finally getting a one-on-one top title match in the main event, and it happens to be against the most over guy in the company.
It feels like the last couple of weeks could have been spent giving Cesaro some more decisive wins instead of fluke ones, but the storyline with Reigns and the Usos does plant the tiniest seed of doubt over Reigns retaining.
Will Reigns retain? Probably, yes.
But maybe, just maybe, he won't…
But he probably will.