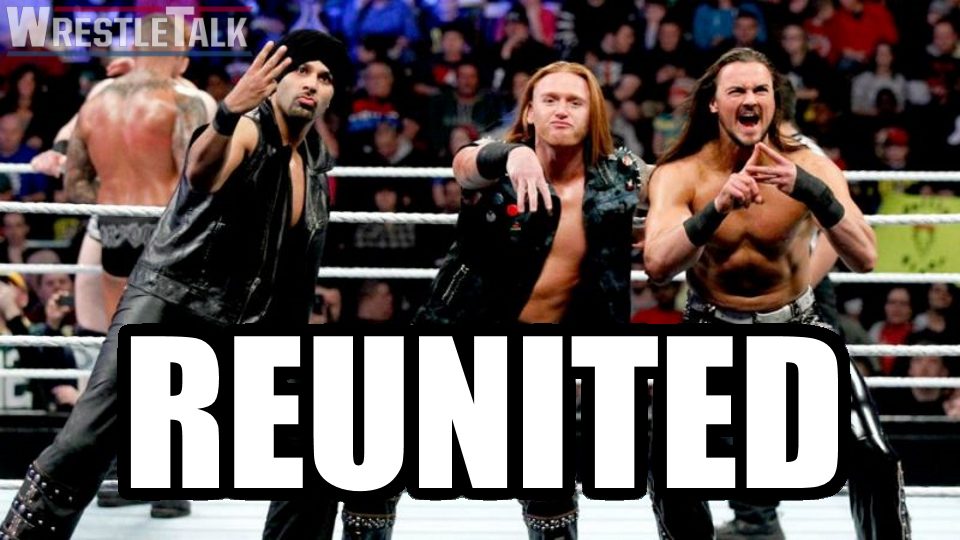 Well… sort of.
In the latest edition of WWE's YouTube series 'WWE Playback,' Heath Slater, Jinder Mahal, and Drew McIntyre, along with former band mascot Hornswoggle (albeit via FaceTime), reunited to re-watch the latter's 'WeeLC' match from the Extreme Rules 2014 pre-show.
'Swoggle took on El Torito, who was the mascot of tag team Los Matadores – Diego being played by Primo Colón and Fernando by cousin Epico.
The match was essentially a shrunken down version of the TLC match. There were smaller ladders, smaller tables, smaller chairs, a smaller referee, ring announcer, commentators, and everyone thought it was just going to be a bit silly, and possibly even insulting.
But, in actual fact, it was a good match. Yes, there were a lot of outside shenanigans with 3MB and Los Matadores, but the action itself was very entertaining.
The commentary was really good too. They basically just substituted themselves in for the actual commentators to great effect. For example, the small version of Michael Cole constantly reminded us we can subscribe to the WWE Network for just $9.99 a month. It was fantastic.
Dave Meltzer even gave the match a three-star rating. It was rated higher than, or equal to, five out of the seven matches on the main show of Extreme Rules 2014.
This was the first time we've really seen 3MB together since they disbanded on June 12, 2014, when both Mahal and McIntyre were released.
Since then, Slater has won the WWE SmackDown Tag Team Championships with Rhyno; McIntyre reinvented himself on the independent scene before returning to WWE and becoming NXT Champion; and Jinder Mahal enjoyed a 170-day WWE Championship reign last year, and also a short WWE United States Title reign this past April. Not bad for a group of enhancement fodder.
You can watch their reactions to the 'WeeLC' match here, along with highlights of the bout (I fully recommend you do so):
Would you like to see 3MB fully reunite as a stable at some point? Let us know in the comments below or on Twitter here. You can also join us on Discord to chat with Oli, Luke, the magazine team, the website writers and each other here!