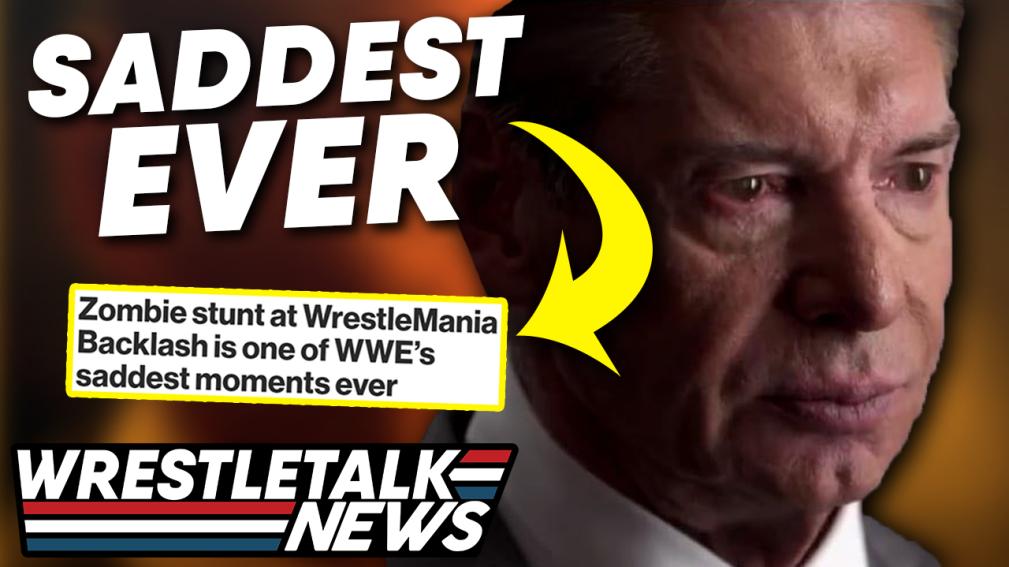 Only WWE could put on arguably it's best pay-per-view of the pandemic era, and also do the worst match of the year on the same night. Because at WrestleLash BackMania on Sunday evening, The Miz faced Damian Priest in a lumberjack match, but the lumberjacks were zombies, as part of a promotional deal for Netflix's new Batista movie Army of the Dead.
It was so bad and critically panned, even mainstream news outlets are calling the company out, with the New York Post writing an article headlined "Zombie stunt at WrestleMania Backlash is one of WWE's saddest moments ever."
The backlash, pun intended, even reached the star of Army of the Dead himself, Batista, who shot back at a fan complaining about the zombies:
"Wtf you telling me?!! You think I booked a bunch of f****** zombies. I'm on a damn plane! Shouldn't you be tweeting Vince?! SHRUGGING EMOJI"
Because that's what you want from a promotional tie-in deal for your movie. Everyone saying how s*** it is. 
Do you think the zombie match was one of WWE's saddest moments ever? Tell me all the other terrible angles over the years in the comments down below, because I'll be replying to as many people as I can for the first 15 minutes after this video goes live FROM OUTTA NOWHERE.
Injuries At Backlash?
This wasn't the only bad news to come out of the zombie apocalypse, as according to the Wrestling Observer, The Miz picked up a knee injury during the match, though the severity is currently unknown. Miz was absent from last night's episode of Raw, as was Braun Strowman, who according to WWE themselves, is suffering from broken ribs following his big meaty meat man match against Bobby Lashley and Drew McIntyre. This may be a kayfabe injury, but Braun was seen nursing his ribs towards the end of the triple threat.
And one person who fans might have thought was legitimately injured was Cesaro, whose arm was bruised up during his main event match against Roman Reigns. Because news just in: pro wrestlers really good at pro wrestling.
In what was reportedly a happy accident, Ringside News and Dave Meltzer both write Cesaro wasn't injured at all, but that "The bruising of Cesaro's arm was not from a prior injury but called "lucky bruising" in the sense the match was about working the arm, and in a ring accident, it ended up bruising." 
Creative Changes For Backlash & Raw
Interestingly though, that Universal Title main event nearly wasn't the main event of Backlash. According to PWInsider, the final decision over what would close the show – between Reigns vs Cesaro or the WWE Title triple threat – wasn't made until around 5.30-6pm EST, around the time the Kickoff Show began. These last minute changes carried over to Raw, where a final script wasn't ready as of 5.30pm EST yesterday, an hour and a half before the show started.
New Raw & SmackDown Sets Coming
But it seems WWE are planning one thing in advance, as Andrew Zarian of the MatMen Podcast, who was the first to report that NXT was moving to Tuesday nights, is reporting new sets are being designed for both Raw & SmackDown. With the ThunderDome potentially coming to an end soon as WWE looks to begin touring in the summer, WWE may be looking for a fresh start with fans in attendance. 
Make WrestleTalk.com your homepage for all the latest, breaking wrestling news – like a SmackDown wrestler teasing a team-up with Alexa Bliss, and finding out what happened to stables in WWE. But now it's time for a review of last night's WrestleMania Backlash Backlash episode of Raw, in about 5 minutes.
WWE Raw Review
The show opened on Bobby Lashley coming down to the ring with five women by his side. Personally, I prefer the old version of the Hurt Business. Where him and MVP could gloat about retaining the WWE Championship at WrestleLash – and to issue an open challenge… to anyone not called Braun Strowman or Drew McIntyre.
Which hopefully means Raw is actually going to change up the exact same matches they've been doing for the last several months!
This is not what I meant.
AJ Styles took on Elias after tagging together last week. I don't know why, and I don't really care. This match had no investment, and ended when Ryker caused the DQ and Omos chased him away – implying AJ and Omos are babyfaces now?
Angel Garza squashed Drew Gulak and then stuffed a rose in his mouth. A squash match that had two weeks of build might actually mean WWE officials really are high on Angel Garza backstage.
Akira Tozawa rolled up R-Truth to win the 24/7 title. I hadn't missed that title not being around.
Eva Maire is still coming soon. Kevin Dunn, meanwhile, is coming now.
Still the best thing on Raw, Riddle played Parent Trap trying to get Randy Orton to apologise to the New Day backstage – which led to a Randy vs Kofi Kingston match.
Seeing Randy and Kofi reignite their long-running feud was fun, and, surprisingly, Kingston actually won thanks to a Woods distraction. Orton stormed off rather than getting angry, so it was Riddle's turn to lose his cool, shoving Xavier down to the ground. This is a really neatly building tag team feud.
Alexa Bliss then hosted the dogecoin of wrestling, the new tag team champions Natalya and Tamina, in her playground chatshow segment. They walked away because she was being too weird. I really want the Fiend back.
Nattie and Tamina then retained against Nia Jax and Shayna Baszler in barely a minute thanks to more Bliss spooky spookiness, firing off pyro on the turnbuckle, blinding Reginald, with the champions capitalising on the distraction. This sucked.
In classic WWE style, they have indeed started a title feud by having the champion decisively beat the challenger clean, barely an inconvenience. 
Ricochet stole Sheamus coat and little hat again before their match. But as soon as the bell rang, and how many times do I say this about WWE, the in-ring action was awesome. Ricochet and Sheamus had an even better match than the BackMania pre-show, which Ricochet once again lost, this time from a Brogue Kick. I expect Ricochet to get another match next week.
All the blonde Raw women (and Naomi) were standing in a row next backstage, all to be pushed aside by Charlotte saying she should get another title shot because she was never pinned.
Which span into her vs Asuka in a really good TV match, with Rhea coming down to watch at ringside, and so WWE could cut to commercial.
They also kept cutting to a black screen. Not because of any supernatural Bliss interference, but reportedly because Charlotte suffered multiple wardrobe malfunctions during the match.
Ultimately, Charlotte got in Ripley's face, and Asuka got yet another distraction roll-up win. This is such 50/50 booking. Or, 33.3 recurring / 33.3 recurring / 33.3 recurring booking, I guess.
What's lamer, zombies or Mace and T-Bar doing gruff voices? Let me flip a coin to see. 
Oh no, wait, that's Mace and T-Bar's thing now, who flipped a coin to decide whether they'd end Bobby's legacy. It's ironic that the coin flip is now part of their characters, as they'll never draw a dime with this gimmick.
Especially if they're used as fillers in lumberjack matches. You can take the guys out of Retribution, but you can't take the undercard purgatory out of the guys.
This was for yet another Damien Priest vs The Miz and/or John Morrison match. And with the Miz actually selling death by zombies, it was Morrison who took him on in another lumberjack stipulation. 
The neverending Priest vs Miz/Morrison feud is depressing enough. But looking around the ring was just as discouraging. Mace and T-Bar, Nikki Cross, the Viking Raiders. Remember when they made their return from injury after WrestleMania?
There was no real reason for the lumberjacks to be there, and they weirdly helped the heel Morrison a lot. Shelton and Cedric started brawling, Priest hit a crazy superplex onto everyone on the outside, and then Hit the Lights to win. 
I want him to move on, but I'm scared the zombie gimmick from Backlash is actually a metaphor. That when you think this feud is dead, it'll just rise up and continue to eat your brain.
Thankfully the main event segment was really well worked, and actually felt like something new on Raw.
Multiple people had said they'd be the one accepting Bobby's open challenge throughout the night – Priest, Sheamus, Shelton, Mace and T-Bar. And just when you're thinking it's going to be some multi-man No. 1 contenders match, out comes Kofi Kingston in a great sleight of hand, as you never expected him because he'd already wrestled, but he's a perfect challenger to Lashley.
And then, in another twist, MVP pointed out he never said this was for the title – which he never did, so that's actual smart heel booking.
And then, in another nother twist: Kofi won.
Not clean, mind you. Drew stopped MVP from using the cane behind the referee's back and whacked Lashley for Kingston to get the pin. But it was still a refreshing surprise.
There's suddenly a much needed new direction for the WWE Championship: which could either be Kofi vs Bobby at Hell in a Cell. Or, given how many people put their names forward, an Armageddon 2001-style six man Hell in a Cell match!
What did you think of Raw? Let me know in the comments down below and vote in the poll on a pole match on the community tab where 65% voted for WrestleMania Backlash Backlash (Raw is very repetitive).
This was another mostly boring, uninspiring episode – with some really bad stuff on. But it also still has RKBro building nicely, and I'm optimistic about the WWE title picture. This week's Raw is 3 out of 5.
What are your thoughts on the above story? Let us know in the comments on Twitter or Facebook.