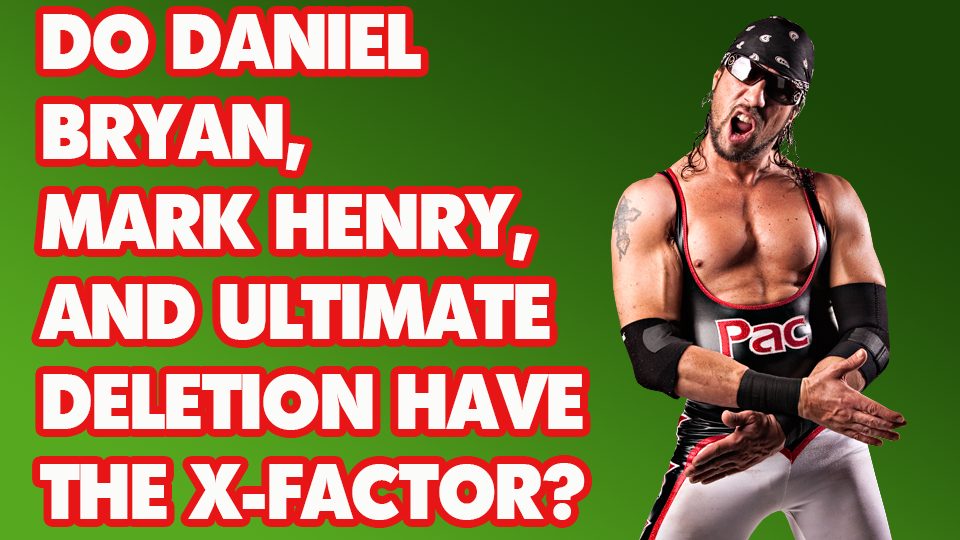 Roman Reigns and AJ Styles have had their say on various subjects this week including WrestleMania, Brock Lesnar, and the return of Daniel Bryan to a professional wrestling ring. Now it's the turn of Sean Waltman who had a few interesting things to note on his '1 2 360' podcast, which is well worth a listen if you ever get a chance.
https://www.youtube.com/watch?v=I_tO49Yu93s
The man who found initial fame as the 123 Kid and then X-Pac, let's just forget Syxx ever happened, was joined by Nick Hausman of WrestleZone.com to talk about, among other things, the Daniel Bryan clearance, the Ultimate Deletion, and Mark Henry's induction into the WWE Hall of Fame. It's the former subject we pick this interview up on:
"I'm just really really happy for him. All I could do was have a feel-good moment for Bryan. I totally can understand, because I deal with some of those issues. I know how scary that could be, just the prospect of what's in store for the future and things like that. I just had to quit doing what I love doing and not on my own terms. And so I'm really happy that it turned out this way, instead of Bryan having to leave WWE to do what he wants to to be happy… trust me, I don't think they just ran and just jumped right into the deep end of the pool right away. That's just what we saw… actually, it's exactly the right time. Not a moment too late and not a moment too soon because they had to make really really sure and have a lot of different opinions on this, you know? And people can selfishly want to see him back in the ring and in a match but let's make sure he can do it and not cause any permanent damage."
Waltman's joy at hearing the news that Daniel Bryan will be returning to the ring is infectious. Having overcome adversity including, drugs, alcohol, and homelessness, the former star was in a better position than any of us to know what Bryan was going through.
Changing the subject, Waltman spent a portion of his professional wrestling career around newest WWE Hall of Fame inductee, Mark Henry. Most memorably, they collided when D-Generation X and the Nation of Domination went to war in the mid-90s for those old enough to remember the storyline as well as the infamous impression of the late, great, Owen Hart. It was during this angle that Waltman himself received harsh backlash for dressing up like Mark Henry in every way one can imagine:
"There were so many people that were congratulating Mark on Twitter and I didn't neglect to.  I purposely avoided it so people didn't bring up me dressing up in blackface like Mark… Not that I'm afraid. I just didn't want to insert that into the Hall of Fame conversation. He was fine with it but I'm not fine with it now. That's all. And there was nothing bad meant by it but the things I know now I'm a little embarrassed by it."
Whilst the world of professional wrestling is congratulating Mark Henry, one questions why Waltman isn't in those hallowed halls himself. He is best friends with Triple H, a part of one of the most memorable upsets in WWE history, a member of arguably the most successful faction in recent memory, former WWE Tag Team, Light Heavyweight, Cruiserweight, European, WCW Cruiserweight and Tag Team Champion not to mention the numerous other titles he's held that WWE won't acknowledge, his claim is a just one.
Last on the agenda are Waltman's thoughts on this past week's Ultimate Deletion match between 'Woken' Matt Hard and Bray Wyatt on Raw. With rumors abound that Vince McMahon believed it would be a complete flop, the ultimate underdog seemed to disagree:
"I thought it was excellent, it was so wacky, silly, crazy, and different. And I am sure some people are crapping all over it, I was just really entertained. I loved when the drone had the big hologram pop up out of it, that was classic. It was well put together. I really like the match they put together for that."
You can listen to the full interview here.