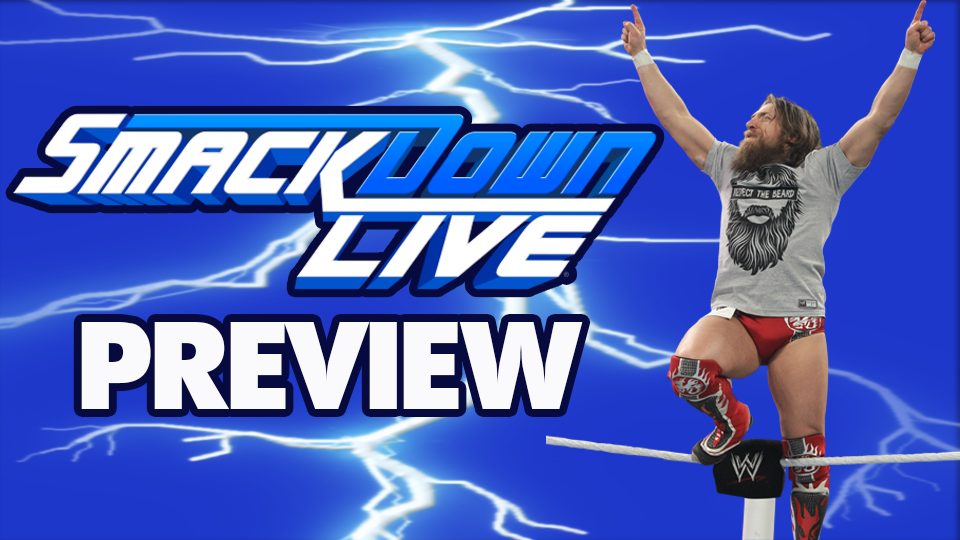 The WrestleMania countdown clock has 17 days left on it and Smackdown Live still have their portion of the show to fill with only AJ Styles vs Shinsuke Nakamura, Charlotte vs Asuka, and a supposed singles outing between Kevin Owens and Sami Zayn representing the blue brand thus far.
Expect tonight's edition to add to that.
HOLY YES BALLS!
As I was writing this, WWE announced that Daniel Bryan has been cleared for an in-ring return. I mean, wow.
This is insane news that many people never expected to ever happen, so it's incredible they didn't wait until tonight to announce it.
But seriously, this is F***ing (fudging) insane news. YES! YES! YES! YES!
Anyway…
The main focus of the show will be Daniel Bryan's handling of the renegade duo, Kevin Owens and Sami Zayn, following their brutal yet enjoyable attack on Shane McMahon last week. With Bryan's loyalties in question, it's going to be a scream to see whether reward or punishment awaits the best friends as we surely work towards some type of tag team match at 'Mania.
As the outsider, Daniel Bryan is the most fascinating part of this storyline because we simply do not what part he will play on April 8 (although that might just have changed).
Tonight will shed some light on Bryan's involvement in this storyline as it marches towards its conclusion.
After events this weekend at Madison Square Garden, we will finally get an answer to whether WWE Champion AJ Styles is legitimately injured or not. In this writer's opinion, the feud with Shinsuke Nakamura needs some physicality or a teased heel turn to stop it playing second fiddle to the Commissioner's 'Mania involvement.
Whilst WWE will save the real hardcore sell for the WrestleMania go-home show, it really wouldn't hurt to start pulling the pair apart with some physicality. It's amazing what one misplaced shot can do for interest and tension levels. We don't need a full blown heel turn by either man at this point, but something more gripping would be nice.
Asuka changed the face of Smackdown Live's women's division when she turned up to challenge Charlotte at Fastlane, not before time either. WWE now need to focus the storyline on two things with Asuka already established as an unbeatable force.
The first being the reaction of the other women in the division, especially Carmella with heavy rumors that she will cash in her Money in the Bank contract at WrestleMania to create longevity for the females going forward. Will we see 'The Princess of Staten Island' become more involved in the Smackdown Live Women's Championship picture? She certainly needs something huge to get her on the right track.
Secondly, Charlotte Flair's impending heel turn. She's been about as bearable as chicken pox as a babyface and there's no better time or person to turn her against than Asuka. It's unlikely a face vs face bout will be welcomed in New Orleans and the women of the blue brand need a killer villain the light up the league. Interest in the match will double if the switch is made and hopefully the switch begins tonight.
Expect WrestleMania matches concerning both the United States Championship and Smackdown Live Tag Team Championships to be resolved tonight. With the probable outcome being Randy Orton vs Bobby Roode vs Jinder Mahal and The Bludgeon Brothers vs The New Day vs The Usos, I am interested to see if WWE will take the risk of adding Rusev to the former, because as we all know, every day is Rusev Day.
The Rusev Day gimmick has taken off more than WWE or the Bulgarian could have imagined. It's just wrong that the company is seemingly punishing him for pushing himself when they had nothing for him. Plus, his presence would counteract that of Jinder Mahal. A 6-man would be too much, making it look like WWE are throwing names onto the card for the sake of it, but I think we would all be fine with this addition.
Also, did I mention that Daniel Bryan has been cleared for an in-ring return?
YES! YES! YES! YES! YES!