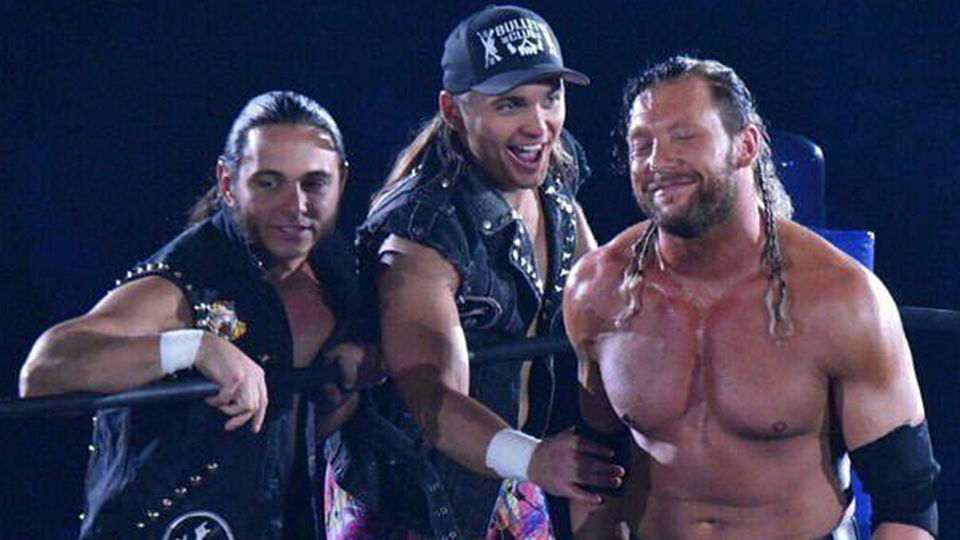 In the latest episode of Wrestlers on the Road Ordering Room Service, the Young Bucks went into detail about their departure from New Japan Pro Wrestling. Kenny Omega was their guest on the show and they all discussed their negative feelings towards their former employers.
When discussing watching Omega's main event matches, Nick Jackson said that he did not care and was "over it" while watching his match with Hiroshi Tanahashi at Wrestle Kingdom 13. This sparked the conversation about their departure from New Japan. Matt Jackson said,
"I felt betrayed. I felt betrayed, I found out they were taking us off New Years Dash… It was eery, it was bizarre, we were depressed, it was sad but we were moving on to this new big thing but it still felt like we didn't get the closure we deserved. We didn't want to leave because once we leave, once we walk out those doors that is it. Our New Japan career, maybe that's the last time we'll ever do it."
Clearly the Young Bucks were upset by not being allowed to say goodbye to the New Japan fans. When AJ Styles, Karl Anderson, Doc Gallows and Shinsuke Nakamura left in 2016, they were all given the opportunity to say goodbye to New Japan, despite leaving to go to WWE. In contrast, The Elite were leaving to start their own promotion, one that they had hoped could work with New Japan.
Kenny Omega, who left New Japan after dropping the IWGP Heavyweight Championship at Wrestle Kingdom 13, also chimed in saying he took his treatment personally.
"I think the part that was strange for me was that I had always made my intent clear that being a part of Japan or having roots in Japan was important to me. I was there to help them and anybody at any point in time for the long run and I even had it written into my contract with AEW to do so… When I think about the business of it I don't have any gripes with it like okay it was a bad business decision like you made a bad call. I do take it personally though, you know. I take it personally because like a lot of the fans were just crushed that suddenly [we weren't there] and I think it was very irresponsible to do that and they tried to cover for it by making a new version of me, when they just should have let everyone be themselves."
Nick Jackson also mentioned that the Young Bucks had it written into their contracts to be able to work with New Japan and Ring of Honor.
"We did too. Even after all this had happened we had meetings with ROH and New Japan to say 'hey we are open to work with you guys, let's do this' and nothing happened. Even after all that."
New Japan president Harold Meij recently mentioned that they were open to working with any promotion but it appears that was not the case. Regardless, it is clear that there are still hard feelings being kept between AEW and New Japan Pro Wrestling.
What do you take away from The Elite's exit from New Japan? Let us know on Twitter or on Discord!