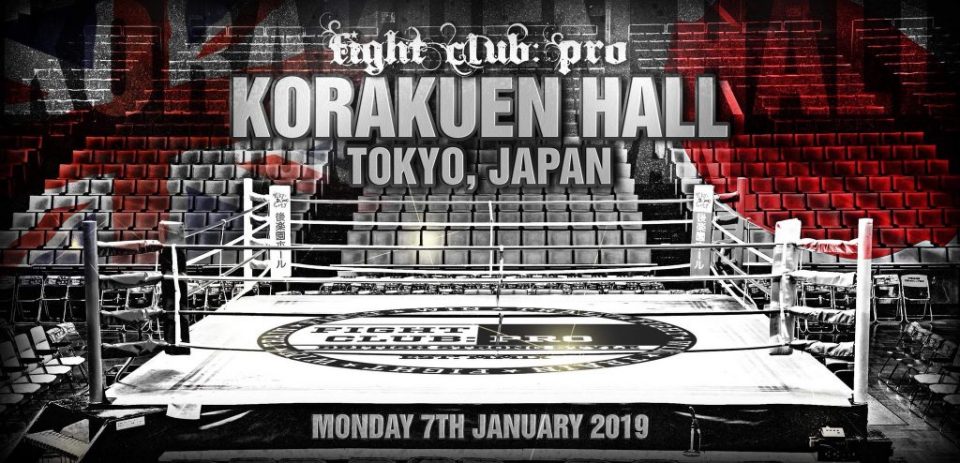 EVENT INFO:
Date: January 7, 2019
Location: Korakuen Hall, Tokyo, Japan
Attendance: 1,000
QUICK RESULTS:
MAO & Mike Bailey def. The Hunter Brothers (12:28) [**3/4]
Chihiro Hashimoto & Mika Iwata def. DASH Chisako & Millie McKenzie (11:49) [***1/2]
Daisuke Sekimoto & Yuji Okabayashi def. Aussie Open (14:11) [***1/2]
El Lindaman & T-Hawk def. CIMA & Seiki Yoshioka (13:37) [****]
Akira Tozawa & Meiko Satomura def. CCK (18:24) [**3/4]
Jimmy Havoc def. Drew Parker, Masashi Takeda and Rickey Shane Page in a Death House Match (14:19) [****]
Remember when Fight Club Pro ran a show in Korakuen Hall? That was a wild time huh? Here's what happened.
---
Moonlight Express vs. The Hunter Brothers
The DDT connection is in evidence here. They'll be teaming up with FCP this year after a deal with wXw fell through for obvious reasons. It is downright weird seeing the Hunter's in Korakuen Hall. They do some really fun stuff here with MAO playing along with British style in a borderline confused manner. The problem with the Hunters is that some of their offence is throwback stuff and some of it is state-of-the-art and it often makes for some tonally weird sequences until they decide on one or the other. Meanwhile Moonlight Express are tearing up Japan at the moment and could be a good shout for tag team of the year in 2019.
There are some minor misunderstandings when someone is out of position or forgets where they are and it is blindingly obvious. It's a pity because when they are on the same page the action is terrific. The bridging set up for the Shooting Star Knees is well done. MAO takes a horrible bump from a super rana. I have no idea what went wrong there but he ended up not flipping and landing face first. Washing Machine puts Jim away. This tried too damn hard. The match was fine at times but went wrong too many times. Too many instances of one guy forgetting where he was supposed to be and that wonky bump was one of many awkward moments in what should have been a killer match. MAO & Bailey want a rematch in the UK.
Final Rating: **3/4
---
Sendai Girls Tag Team Championship
Chihiro Hashimoto & Mika Iwata (c) vs. DASH Chisako & Millie McKenzie
This is the match Sendai Girls have put on as part of their copromotion with FCP.
There is some top level talent on show. Chihiro is the singles champion too and the ace of the promotion. Iwata is only about three years into her career but already boasts a fantastic feud with Hana Kimura where they beat the s**t out of each other. DASH is probably the weak link. Someone who's been a tag specialist down the years and isn't really a threat to the top tier of Sendai Girls. That said her pairing with Millie is strong and they both have an aggressive approach, aiming to isolate and destroy Iwata. It doesn't work and Iwata effectively fends off the double teams and mounts her own offence. It doesn't bode well for when Hashimoto eventually tags in! When Big Hash does get in there the challengers find a different approach. DASH actually superplexing Millie onto the champ. The apologetic bow is wonderful. The challengers go after Hashimoto in a big way. Double teams, sneak attacks, flash pins etc. Keeping the champ off her game by mixing it up. They might have had no joy with Iwata but they come close to pinning Hashimoto. In the end they don't have enough and Millie gets out suplexed by Chihiro. The German planting her after landing on her neck off another. Great little match with a simplistic but well told storyline.
Final Rating: ***1/2
---
Aussie Open vs. Strong BJ
Kyle is hench now but standing opposite Sekimoto must be a bit of an eye opener. Then he makes the mistake of chopping Okabayashi. Youthful enthusiasm is sometimes misplaced. Aussie Open are quite adept at comedy here. Especially the Kyle ducking chops corner spot. It would be easy to go that way but I'm sure they also want to show off their abilities against a top tag team. Okabayashi looks to be having a lovely time. He throws a lot of chops.
The match relies a little too much on Aussie Open being a heel team and it undermines their potential to go toe to toe with an exciting tag team. I had big expectations for this as a contest and hopefully Aussie Open get to do it again at some point as babyfaces. It feels like Aussie Open don't land many of their best spots as cleanly as they could either, which is a shame. Sekimoto submits Kyle with the Torture Rack. Okabayashi jacking Davis up in the same move at the same time is pretty damn impressive. Good stuff here. I hope for a face vs. face rematch one day.
Final Rating: ***1/2
---
T-Hawk & El Lindaman vs. CIMA & Seiki Yoshioka
This is a Strong Hearts exhibition. Yoshioka has been recruited from the ranks of Wrestle-1. It would be neat if Strong Hearts recruited one guy from every promotion they visit.
T-Hawk is on inspired form here. Clearly operating at that ace level after capturing the Wrestle-1 strap. He's energised, quick to the punch and lands everything so clean. He looks like the best version of T-Hawk possible. It's been a long time coming but T-Hawk is finally living up to the potential he had in Millennials. Once they get going the match hits an absolutely belting pace. It's unrelenting stuff and a perfect showcase for OWE. Night Ride finishes and T-Hawk was excellent here. We came in cold to this as an exhibition but, like every other time they've done this, it made me want more OWE. I'm hoping their TV gets either English commentary or subtitles or something so I can actually follow it.
Final Rating: ****
---
CCK vs. Akira Tozawa & Meiko Satomura
Not a bad comeback match for Kid Lykos! Well, technically third after two matches in Big Japan the two days leading into this.
Meiko means business! It's very weird seeing 205 Live's Akira Tozawa just randomly guesting for FCP here. Having had no association with the promotion beforehand at all.
He's the draw for the native fans despite being an invading factor in the actual storyline. The Schadenfreude lads (Aussie Open) turn this into a numbers game and the referee is highly ineffectual at dealing with it. The first half of the match is very interference heavy until Tozawa gets a comeback on Aussie Open on the floor. Then CCK switch it up and use a lot of double teams. The match does not benefit from Brookes' standard super planning and Lykos is clearly a little rusty having missed four months with injury. He's a little out of position at times, which leads to some very weird moments. The bulls**t returns for the conclusion with Brookes pulling the referee out and Aussie Open wading into the ring. This is the kind of thing I don't enjoy in wrestling. The point where the rules are infringed, blatantly, it should be over. You need to be sneaky about it. That's the whole point of being a heel. Blatant cheating makes no sense to me. It's a shame because in flashes the match is really good. Tozawa looks energised and thrilled to be back in a Japanese ring and Meiko is good as always.
Final Rating: **3/4
---
Death House 3
Masashi Takeda vs. Drew Parker vs. Rickey Shane Page vs. Jimmy Havoc
Jun Kasai was originally scheduled in this match but he was injured and got replaced by Takeda. Havoc coming out to AFI makes him so much more sinister. He lost so much in PROGRESS when he stopped using that music and he must know it because why else would he continue to use it everywhere? The first two Death Houses were tag team contests. This one is a four-way dance.
Takeda shows what is required here by taking a bump on a light tube and it quickly becomes a game of who can do the dumbest stuff. Takeda is not the kind of man you want to have this competition with. He breaks a light tube across Page's jaw in the most horrifying spot of the first five minutes. Havoc breaks out his dumb thumbtack chair gimmick and the fans rightfully laugh at him for it. As per usual there's quite a lot of blood. It's not quite at Takeda's usual level of madness but RSP takes two horrific bumps into the tubes on the ropes, which you almost never see.
Rickey laying in a pool of his own blood is the most disturbing aspect of the contest. The crowd get very invested in the violence. Japan is a place that digs you if you bleed for your art. It's where Havoc and Page are most likely to get over long-term with their antics. Cameraman Paul gets a receipt for being murdered with the light tube in Wolves and nails RSP with a tube! That was such a great callback.
The finish to this is insane. A top rope Canadian Destroyer through a light tube bed. RSP eats the tubes and the pin. Havoc wins. Parker is left lying in barbwire on the floor with a smile on his face. Havoc has one last word; he wants Takeda in England and we do this again in Wolverhampton! Yes!
Final Rating: ****
---
Summary:
A very enjoyable show from Fight Club Pro and a bizarre curio with them running Tokyo. You don't see a lot of UK promotions doing that! It's a nice mixture of FCP guys and local talent. The Strong Hearts match is really good and a few communication issues aside the night generally came off very well. A few issues in the opener and more in the CCK match, where the interference was overdone. Otherwise good.
For more reviews from Arnold Furious check out his archive of work over at RearViewReviews