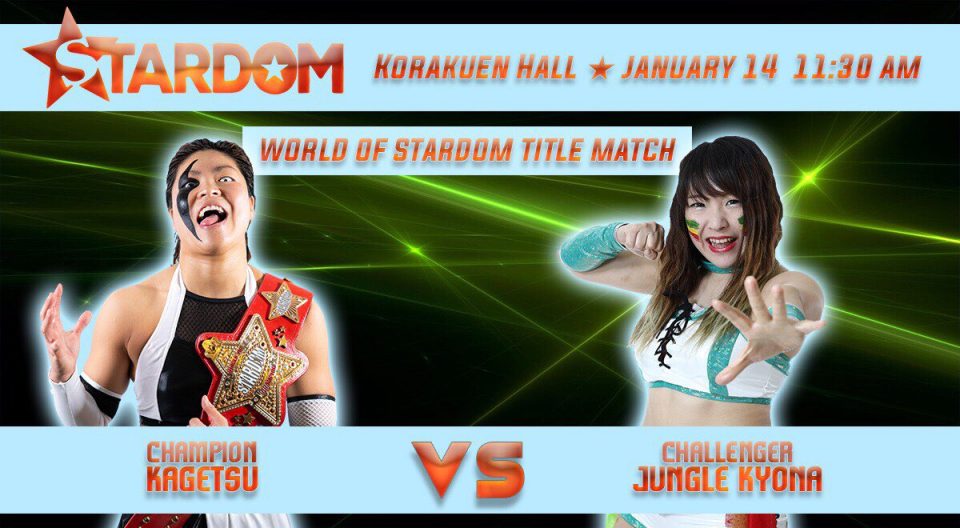 EVENT INFO:
Date: January 14, 2019
Location: Korakuen Hall, Tokyo, Japan
Attendance: 910
QUICK RESULTS:
Natsuko Tora def. Saya Iida (6:17) [**1/2]
Mary Apache & Natsumi def. Alex Gracia & Starlight Kid and Hanan & Ruaka and Hana & Rina (11:58) [*3/4]
Bobbi Tyler, Hana Kimura & Sadie Gibbs def. Hazuki, Jamie Hayter & Natsu Sumire (9:30) [***1/4]
Arisa Hoshiki, Mayu Iwatani & Saki Kashima def. AZM, Bea Priestley & Konami (14:07) [***1/2]
Utami Hayashishita def. Viper (11:25) [***1/4]
Momo Watanabe def. Tam Nakano (16:54) [***3/4]
Kagetsu def. Jungle Kyona (21:37) [****]
We're in Tokyo at Korakuen Hall. I've seen so many shows from this building. Maybe more than any other building in the world. This aired on January 22 on Samurai TV.
---
Saya Iida vs. Natsuko Tora
?動画配信サービス「スターダム・ワールド」

STARDOM NEWYEAR STARS2019
▪️1月14日(祝)後楽園ホール
◆飯田沙耶デビュー戦
飯田沙耶 vs 刀羅ナツコ

昨年秋から練習を始めた飯田が異例の早さで初陣を飾る。試合後、電撃的にJA N入りを表明!

会員登録はhttps://t.co/lZc15hAPwd pic.twitter.com/y49aQ4Anii

— スターダム✪STARDOM (@wwr_stardom) January 20, 2019
This is Iida's debut. She will not stand still – too much nervous energy. It's not until she locks up that she calms down. She looks a little awkward but that's to be expected. Unless you're Utami and you just naturally look like a ten year veteran in your first match.
The execution is pretty good throughout but it's the lead in to moves and the recovery from them where she goes wrong. Aside from that it's a really solid debut.
Tora beats her with a frogsplash in six minutes but it was a very good showing from the rookie. JAN come out here in force to recruit her to the group. She'll be a good fit. I was impressed with her here and in a year she should be in good shape for a rookie of the year nod.
Final Rating: **1/2
---
Gauntlet Tag Team Match
▪️1月14日(祝)後楽園ホール
◆ガントレット・タッグマッチ
マリー・アパッチェ&ナツミ vs スターライト・キッド&アレックス・グラシア vs ルアカ&羽南 vs 吏南&妃南

4チームで競う勝ち抜き戦は実の親子であるマリー&ナツミが完勝!

会員登録はhttps://t.co/lZc15hAPwd pic.twitter.com/Zq199ljwGK

— スターダム✪STARDOM (@wwr_stardom) January 20, 2019
Alex Gracia & Starlight Kid start opposite Hina & Rina. Gracia boasts "pink power" and looks like a star in the making right away. Starlight pins Hina, who's just a child and they're quickly done.
Gracia is a big prospect based on her fluidity in this opening fall. Team #2 is Mary Apache & Natsumi. The latter is 15 years old but was born in Mexico, hence the link to Apache. She's not very sure of herself and started wrestling less than a year ago. Her movement around the ring is very limited but her mat skill is solid and she ties Starlight up with the Paradise Lock.
Gracia must have thought she was going to be a big dog in Stardom but Mary puts her in her place with a lariat and we're into the last pairing; Hanan & Ruaka.
Natsumi struggles with bumps here, up against Hanan and her judo throws. Again she looks far better grappling than running any sequences or anything that requires a good bump. Natsumi gets the pin on Ruaka to end this and Mary is happy with her little protége . . . before shoving her over and legging it. Haha, what?
Final Rating: *3/4
---
Hazuki, Natsu Sumire & Jamie Hayter vs. Hana Kimura, Bobbi Tyler & Sadie Gibbs
?動画配信サービス「スターダム・ワールド」

▪️1月14日後楽園ホール
◆大江戸隊 vs 多国籍軍
葉月&夏すみれ&ジェイミー・ヘイター vs 木村花&セイディ・ギブス&ボビー・タイラー

因縁深まるユニット抗争は外国人勢が大活躍。初来日のセイディが飛んで魅せた!?https://t.co/lZc15hAPwd pic.twitter.com/UMFCbctOPO

— スターダム✪STARDOM (@wwr_stardom) January 23, 2019
The new look Jamie Hayter is in her new stable Oedo Tai. Across the ring Hana has found some new blonde mates to go against the dark haired evils of Oedo Tai. Being in Oedo Tai means Hayter has to dance. That pre-show routine looks harder than wrestling.
Tyler has wrestled in Rev Pro a bit but hasn't impressed yet. Gibbs is on the radar of WWE. It wouldn't be a shock if she turned up in NXT UK sooner or later.
Colourful Hana Kimura is still trying to find her gimmick and I preferred her as both a gothic b**** in Oedo Tai and a pure as driven snow babyface in Wrestle-1. The UK connection is quite exciting here as it suggests the EVE x Stardom show in June might not be a one-off and part of a longer connection between the UK and Stardom.
Of the two Hana recruits Gibbs stands out. She's more imposing in the ring and far more advanced in all areas. She did a dive that was bordering on dangerous but the execution was so pretty and she's a power wrestler. She has that range. Her twisting splash finish isn't quite as impressive but it gets the job done on Sumire. This was one of those "I may be seeing the first steps of a superstar" matches.
Final Rating: ***1/4
---
Mayu Iwatani, Saki Kashima & Arisa Hoshiki vs. Konami, AZM & Bea Priestley
▪️1月14日(祝)後楽園ホール
◆岩谷麻優8周年記念試合
岩谷麻優&星輝ありさ&鹿島沙希 vs 小波& AZM&ビー・プレストリー

スターダムの歴史と共に歩む岩谷の8周年記念試合は、初期メンバーのトリオで登場。岩谷は飛びっきりの空中殺法を初公開!

会員登録はhttps://t.co/lZc15hSqUN pic.twitter.com/cKTHWcMp0J

— スターダム✪STARDOM (@wwr_stardom) January 23, 2019
Hoshiki has been away for over six years and only re-debuted late last year. I wonder if that had anything to do with Kashima doing pretty much exactly the same thing?
Mayu seems to be the focal point for these ladies returning. It's almost like she's building her Stardom with people she can trust from her past.
AZM must have pissed off Mayu because she outright murders her with a superkick. Then a release powerbomb. Then she moonsaults knees first into AZM's hip. That's the pin and Mayu's Army has a big win.
Mayu was on wild form here. She doesn't give a damn that she's in some meaningless midcard match. It's not meaningless to her. She's always the Star(dom).
Final Rating: ***1/2
---
EVE International Championship / SWA Undisputed Women's Championship
Viper (c) vs. Utami Hayashishita
?動画配信サービス「スターダム・ワールド」

▪️1月14日(祝)後楽園ホール
◆SWA世界&EVEインナーナショナル二冠選手権試合
〈王者〉バイパー vs 〈挑戦者〉林下詩美

デビュー5カ月の"ビッグルーキー"が4冠王を目指して世界のメガトン・バービーに挑んだ!?
会員登録はhttps://t.co/lZc15hSqUN pic.twitter.com/6he50bQMDM

— スターダム✪STARDOM (@wwr_stardom) January 23, 2019
Utami, 2018 rookie of the year, is collecting gold but has a big challenge in the shape of Viper. In a short space of time Utami has several belts. She won the Goddesses of Stardom belts with Momo in late November and then won the Future belt just before this against Starlight Kid. Already a two-time champ she's coming for belts three and four. Before the EVE x Stardom relationship was announced I didn't expect a belt change but now…anything is possible.
If Utami were to win it would be the biggest win of her career but she's at the stage where every month that happens to her. Viper largely dominates with her size and the openings for Utami come from Viper missing with her big charges.
Viper's size is a constant issue for Utami. Whether in surviving being squashed or trying to actually hit moves. It's a problem for her throughout.
Utami takes Viper over with a German suplex and that's enough for the pin! Massive win for Utami and a huge display of strength at the finish. The match was consistently good and Utami's win practically seals her first overseas excursion to the UK!
Final Rating: ***1/4
---
Wonder of Stardom Championship
Momo Watanabe (c) vs. Tam Nakano
?動画配信サービス「スターダム・ワールド」

スターダム8周年記念日
▪️1月14日(祝)後楽園ホール
◆ワンダー・オブ・スターダム選手権試合
〈王者〉渡辺桃 vs 〈挑戦者〉
中野たむ

STARSは岩谷麻優だけではない!と叫ぶたむが意地を見せた!?
会員登録はhttps://t.co/lZc15hAPwd pic.twitter.com/jiPG6yVnDY

— スターダム✪STARDOM (@wwr_stardom) January 24, 2019
Remember when Momo beat Tam and forced Nakano out of Oedo Tai? I bet you Tam remembers. Now she's coming for Momo's strap. Symbolically Tam has black hair, like she did in Oedo Tai. The more I see of Momo, the clearer it is that Watanabe was the woman to bet on being a main event player in Stardom.
Whereas poor Tam has been consigned to a bit-part player. Nakano struggles to live up to a big slot here, which is a contrast to her previous performances in big matches where she's stepped up. She basically lets Momo smack her about here. That is until the German suplex on the floor spot, which is followed by a diving knee strike and Tam is suddenly in the game.
The match is a bit ragged but that makes it feel edgy and exciting. Tam throwing herself into spots and half connecting but following through is kinda satisfying. There's also a passionate feeling from Tam that she wants to smash Momo and take that belt. Get revenge for being dumped out of Oedo Tai!
Momo's work on the injured shoulder pays off and she just needs a few big impact spots before the wrist clutch German suplex finishes. This was really good although untidy. The scruffy feeling in some of the strikes and spots almost enhanced the match and I definitely dig the effort involved.
Final Rating: ***3/4
---
World of Stardom Championship
Kagetsu (c) vs. Jungle Kyona
?動画配信サービス「スターダム・ワールド」

スターダム8周年記念日
▪️1月14日(祝)後楽園ホール
◆ワールド・オブ・スターダム選手権試合
〈王者〉花月 vs 〈挑戦者〉ジャングル叫女

赤いベルトの王者である花月が叫女のパワーを正面から受け止め、上回った!
会員登録はhttps://t.co/lZc15hAPwd pic.twitter.com/GBrMT28l8a

— スターダム✪STARDOM (@wwr_stardom) January 24, 2019
There's something about Kagetsu and Kyona that has never clicked with me. To have them against each other as a main event does not commute for me. There must be something I'm missing, especially with Jungle who so many people I respect have an affection for. Kagetsu I enjoy as a character but her work has always been lacking for me.
Then she does come up with these insane ideas, like a hanging armbar over the balcony at Korakuen. That's a vertical drop onto concrete she's dangling over there. They take it in turns to punish each other in this. There are stiff strikes and lots of big bomb spots. It feels like a big main event battle and my previous concerns about everyone concerned evaporate in a haze of main event bliss.
There's a great little subplot with Kyona having a bad arm and deliberately exposing it to show how double tough she is. Kyona's desperation to get the pin before her arm gives out creates some desperation offence and dramatic moments. Kagetsu wins in underhanded fashion, by spitting mist into Kyona's eyes and hitting the Death Valley Bomb to retain.
Final Rating: ****
---
Summary:
This was a really strong show from Stardom. Not only have they recovered from the loss of Io Shirai and Kairi Hojo but the roster has the kind of depth it's historically struggled with.
The new wrestlers coming through have another wave of wrestlers right behind them, waiting to take top spots. The gaijin are looking increasingly hungry when coming to Stardom, convinced that working here will turn them into an international star of repute. That this is step one in following Toni Storm into the household name bracket.
The fact that Stardom could toss Mayu into a midcard match of no consequence and still put on a killer top end suggests they're in the strongest position they've been in for years.
The return of Kashima and Hoshiki is a bonus, Utami turning out to be world class is a bonus, Sadie Gibbs coming here on the verge of her becoming a star is a bonus and even Saya Iida looked great in her debut. It's all coming up gold for Rossy.
For more reviews from Arnold Furious check out his archive of work over at RearViewReviews