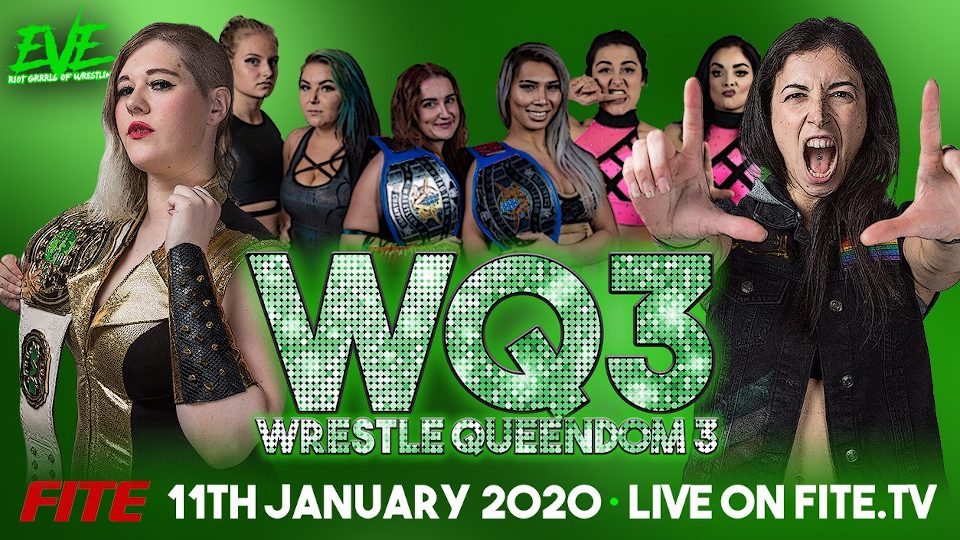 There is a Women's Evolution happening in London, and WrestleTalk was proud to sponsor it.
Pro Wrestling Eve has been presenting women's wrestling in the United Kingdom since 2010. EVE's history is filled with some of today's top women, with their list of champions including Paige, Nikki Cross, Jazzy Gabbert, and more.
Wrestle Queendom 3 is their third running of their largest annual event, this year emanating from 229 The Venue in London.  While Oli Davis and Chopper Pete attended the event, I'm here to review it from the comfort of my American FITE TV feed. If you haven't watched yet, you can order here: Wrestle Queendom 3 on FITE.
Lovely time with the boys… and the fantastic all-women promotion @ProWrestlingEVE!! Check them out because they're really, really good. pic.twitter.com/2XMzK1pjgZ

— WrestleTalk (@WrestleTalk_TV) January 11, 2020
---
Wrestle Queendom Rumble
Our opening match for broadcast is the 15-woman Wrestle Queendom Rumble. The starting competitors are Mercedez Blaze and Skye Smitson who get the match started at a rapid pace.  The following entry goes to Nightshade, who leaves both women lying before Chakara makes her entrance and teams with Blaze. Rebel Kinny is number 5 and gets a massive pop from the crowd, joining her tag partner Sky. Livvii Grace joins the fray with her and nightshade teaming to cause more destruction.  Mischa East is the next combatant but is quickly followed by 'Pocket Rocket' Fiolet O'Hara who begins flying all around the ring.
https://twitter.com/tde_wrestling/status/1216085008730988545?s=20
Next we have a debuting Duchess Louise Jane and Kira Chimera to follow.  At this point we are two-thirds through the entrants and have yet to witness an elimination.  A new competitor from Dragon Pro named Kara enters in what commentary puts over as her second ever wrestling match.  Another new debut named Hollie Barlow is next giving us a dozen competitors in the ring.   Jetta is Lucky number 13, getting her singalong cut off by an attack by Nightshade and Livvii outside of the ring.  Dominita is the next person out and she dominates, clearing the ring and getting the first eliminations on Hollie Barlow and Violet O'Hara.  Now comes that crucial final entry, and in the number 15 spot is a wrestling legend:
https://twitter.com/tde_wrestling/status/1216088230023528450?s=20
Saraya Knight was the final entrant in her first appearance for the promotion since her Loser Leaves EVE match in 2011.  Saraya and Dominita eliminate a few competitors each before the rest of the field unites to eliminate Dominita.  Dominita then channels the power of Hulkamania, pulling out Saraya from the outside before the two brawl to the back.  Skye Smitson eliminates her partner Rebel Kinney as Jetta sneaks back into the ring.  Livvii and Skye are eliminated leaving the Final Two competitors Jetta and Nightshade. After comedic heel antics by Jetta, Nightshade places Jetta into an Electric Chair and Jetta turns it into a headscissors over the top rope for the win.
https://twitter.com/tde_wrestling/status/1216089903139901440?s=20
⭐️⭐️ – Fun rumble. Something I didn't get to say is that the commentary did a very good job introducing those who were debuting.  The ability of the commentators to put over a performer is key when presenting a wrestling show, and the care with debuts was commendable.  Also, the format gave the women a chance to shine and work their characters and qualities.
---
Lana Austin vs Yuka Sakazaki
Lana Austin entered this match winless, while Yuka Sakazaki entered as the Tokyo Joshi Pro Wrestling Princess of Princess Champion.  Yuka Sakazaki is also technically a member of the All Elite Wrestling Women's Division, though she has only participated in the pre-Dynamite era.
https://twitter.com/tde_wrestling/status/1216091333330423809?s=20
Yuka is super over with the crowd, demonstrating a fast-paced but technical style even though Lana is able to get to the rope for rescue.  Lana herself shows tenacity, able to score near falls with basement dropkicks as well as maintaining control on the outside to prevent Yuka from utilizing elevated areas to her advantage.  They spend a surprisingly long time on the outside without a count, but once back in the ring Lana is able to land a hard 720 discus clothesline for a 2-count.
Yuka Sakazaki gets a strong showing near then end with near falls on both a Michinoku Driver and a modified leg-trap hammerlock Michinoku Driver, which lands Lana Austin rather scarily on her neck and shoulder.  When Yuka misses a magical girl splash, Lana Austin looks to be taking over, but the 15 minute time limit expires causing a Draw.
⭐️⭐️⭐️1/2 – This match was an example of a non-finish that served to elevate one performer and protect another. Going forward from this match should show growth by Lana Austin.
---
Session Moth Martina vs Maki Itoh
This match was fun.  Between the dance entrance to Darude's "Sandstorm" and Maki Itoh's idol performance, the energy was extreme.  Maki is treated to 'Cutest in the World' chants to Martina's dismay, and when Martina corners Maki with a beer mist, Maki cries and the crowd is quick to chant that she should apologize.
https://twitter.com/tde_wrestling/status/1216098980616118273?s=20
The match retains this comedic energy throughout, with Martina's groin-based offense and Maki's adorable vulgarity.  The two begin fighting over a beer and though Maki wins, taking one drink she discovers she cannot handle the alcohol.  Her Drunken style antics continue, with Martina being able to counter, but Maki Itoh gets the win with a diving headbutt followed with an arm-trap cloverleaf for the win. After the match, Maki Itoh does remind us the meaning of merch.
https://twitter.com/tde_wrestling/status/1216101236073811969?s=20
⭐️⭐️⭐️⭐️ – To steal a phrase from Luke Owen, I was highly "Sports-Entertained."  This match wasn't about using the best moves, it was about putting on the best show and knowing your audience.  Both ladies perfectly kept up the energy throughout the match and served the audience perfectly.
---
Zoe Lucas vs Nor 'Phoenix' Diana
This was Nor 'Phoenix' Diana's first foray into the UK, and the world's first hijab-wearing pro wrestler proudly entered with her Malaysian Wrestlecon Championship.  This being the first time I've seen Phoenix Diana perform, I have to say I was impressed by her agility. Midway through the match, she does what I believe is the smoothest tope suicida I've seen in a long time, gliding through the ropes without touching them.
https://twitter.com/tde_wrestling/status/1216102984125501441?s=20
The choice to pair her with Zoe Lucas worked well.  As an established heel, Zoe was able to draw a significant amount of heat from the crowd as well as utilize her greater height as an added threat.  The Malaysian champion is also able to show off her technical fluidity and eventually reverses a powerbomb into a rana pin for the win.
⭐️⭐️ – David vs Goliath is the simplest story in wrestling to tell.  Zoe garnered exactly the reaction desired and Nor 'Phoenix' Diana had a great showing, especially as a high-flier.
---
Laura DiMateo vs Rhea O'Reilly (c) – EVE Championship
This match was a case of good friends/better enemies.  Laura DiMateo attacks Rhea O'Reilly before she gets to the ring, starting the match with a brawl.  Nightshade and Livvii Grace are there with Rhea, playing the henchman role for the champion.  The match remains on the outside, with DiMateo diving on Rhea from the bar, and constant defense against attacks by Nighshade and Livvii.   Laura rolls Rhea into the ring and the bell sounds, solving the question of how the previous attacks weren't DQs.
The match itself is heavy action throughout, with DiMateo needing to keep her eyes on 3 people at once.  Rhea takes control on the outside and brings DiMateo to the back where the brawl continues off-screen, but the fighting does knock out the feed in the building.  Di Mateo continues to survive attacks and attempts by Rhea, and has a submission locked in on Rhea when Livvii and Nightshade jump on the apron to distract.  During this distraction a mystery figure jumps into the ring and dropkicks DiMateo.
https://twitter.com/tde_wrestling/status/1216108346966671360?s=20
Rhea takes advantage and hits a double underhook DDT for the two-count. However, one more double underhook with a bit of a spike added seals the win and title retention for Rhea.  After the match, the mystery attacker is revealed to be Skye Smitson.
⭐️⭐️⭐️ – Chaotic championship match. Clearly this match is being used to introduce new story beats for the coming year, and I can't wait to see where this goes.  Only real downside was my initial confusion to not realizing the match hadn't started.
---
Woke Queens vs The Madusa Complex vs Gisele Shaw/Sammii Jayne (c) – EVE Tag Team Championship
As the winner of the SHE-1 in November, Millie McKenzie was able to choose any championship to challenge for in the Wrestle Queendom main event. She used this opportunity to give herself and Charli Evans a shot at the EVE Tag Team Champions Woke Queens.  This match became a Three Way when Gisele Shaw and Sammii Jayne teamed to capture the titles from the Woke Queens before the year end.
This match is performed under elimination rules, but in the beginning the match is violence unleashed.  There initially seems to be no order in the match with pairings going off and brawling around the ring while exchanging time in the ring.  Shout-out to Millie McKenzie with what I believe may be the smoothest, most horizontal Swinging Neckbreaker I've seen.
https://twitter.com/tde_wrestling/status/1216113782948319233?s=20
The referee finally establishes order and maintains the one-in/one-out tag policy. We do get Debbie Keitel giving Valkyrie a baking sheet as a weapon, only to have it used against them.  Gisele and Sammii pull out a barbed-wire table, though nobody initially goes through it.  Chairs start getting piled up with competitors tossed onto them in various ways.  Millie McKenzie sends Sammii Jayne through the table on the outside with a spear, but you can immediately tell something went wrong with the landing, with Sammii's head hitting the steps.
Spear! @MillieMcKenzie0 #WrestleQueendom3 pic.twitter.com/jUkZCjFQll

— Donal オビエド (@D_Wrestlingifs) January 11, 2020
The ladies get Sammii into the ring and both Millie and Debbie go for the pin, eliminating the dazed Sammii, allowing her to get to the back.  Woke Queens and Medusa Complex reset, placing four chairs in the ring and sitting down before attacking each other.  Woke Queens appear to have the advantage, but Charli Morgan gets in with a hot tag, though she's rewarded for it with skewers to the head.  The Madusa Complex is able to deliver a hammerlock-cutter combo to Debbie before Charli puts her in an armbar while stapling her for the win.  NEW EVE Tag Team Champions: The Medusa Complex.
https://twitter.com/tde_wrestling/status/1216119294695788550?s=20
⭐️⭐️⭐️⭐️1/2 – Unpredictable match with a level of brutality I wasn't expecting.  Thankful nobody brought out wrapping paper as they did in the December show.  But this is a fantastic close to a Wrestle Queendom, having the winner of the SHE-1 victorious in her conquest.
---
Final Thoughts and Rating
This show would be a great starting point for newcomers to the promotion.  The rumble did a fantastic job introducing new faces while giving meaningful time and moments to members of the EVE roster who had a longer tenure.  The sort of international super-show that took place between the rumble and main events also helped highlight the wrestling of Asia along with the UK's finest.  I especially appreciated how Maki Itoh and Session Moth Martina were able to play off each other's characters to give a fun experience to all in attendance.  The EVE Championship match between Rhea O'Reilly and Laura DiMateo gave newcomers a reason to return and follow a developing story.  And EVE Attendees were treated to a women's tag-team main event that was a ballet of violence.  The only real negative I can place on the show is that no matches outide of the main events had a story leading into them, and the EVE International Championship wasn't on the line, as Jamie Hayter is currently still touring Japan.
Since we don't have a scale to rate these shows, I'll just say I give it a solid 4 out of 5.
You can catch the Replay on FITE TV or subscribe to EVE's video on demand service at EveOnDemand.PivotShare.com.
And to calm any fears, Sammii Jayne is Okay:
https://twitter.com/SammiiJayneUK/status/1216132241924984834?s=20