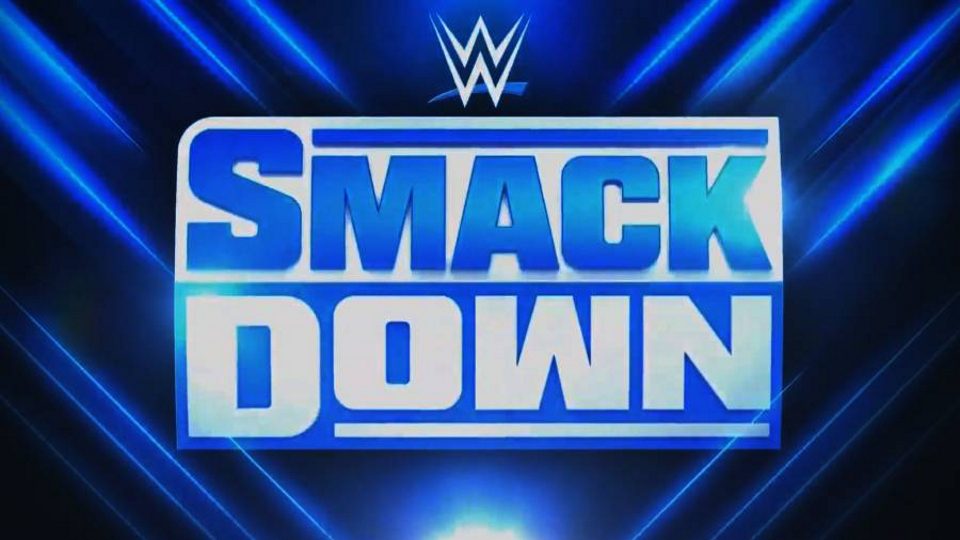 Welcome to the season premiere of SmackDown! It was a tagline impossible to forget, given that it was plastered all over the Thunderdome, splashed across every graphic and continuously regurgitated from Michael Cole's lips every chance he got.
The reason this episode of a year-round, unending weekly show was arbitrarily labelled the "season premiere" was of course because it took place the week after the annual WWE Draft. It was therefore intended to mark a fresh start – a new dawn for each brand, featuring fresh faces in unseen feuds.
The season premiere of Friday Night #SmackDown starts RIGHT NOW on @FOXTV! pic.twitter.com/woZbIjar52

— WWE (@WWE) October 17, 2020
So how do we celebrate this clean break and the re-establishment of divisions between the brands? By having Raw and SmackDown stars wrestle one another of course. Yip, it's the one time a year when wrestlers from each brand go head-to-head in direct competition… not counting the official, highly marketable times that they go head-to-head.
So SmackDown was due to feature visits from Braun Strowman, Jeff Hardy and the New Day – plus some other tasty little surprises. Let's see how they turned out in the review.
---
The Best of SmackDown
The New Day Say Goodbye
Ahead of their farewell tag match, New Day delivered a heartfelt goodbye to the audience who had supported them for so long. Time will likely reveal the faction's split to be the right decision, as Xavier Woods and Kofi Kingston move to Monday nights while Big E stays on the blue brand.
❤️@TrueKofi @WWEBigE @AustinCreedWins pic.twitter.com/d3ysxZblsn

— WWE (@WWE) October 17, 2020
The three men reminisced about their six years together as wrestlers, friends and family men. It was an honest, beautiful, genuine moment – something we see all too rarely on WWE TV.
The New Day went on to win a hard-fought battle over the trio of Sheamus, Cesaro and Nakamura, as they should.
Daniel Bryan the MC
After four months away, Daniel Bryan returned to a SmackDown ring. He wasn't there to wrestle, however, but rather to express his excitement at facing all of the new blue brand additions in the future.
He ran through a list of the new names. It was similar to what Triple H and Stephanie McMahon had done at the top of the show, but infinitely better. Bryan is just much more authentic in his delivery.
This brought out Seth Rollins, who – shock! – was looking to recruit another disciple. This goof truly is the most inept cult leader of all time. His high point was when he boasted three followers for all of two weeks.
HERE WE GO!!!#SmackDown @WWEDanielBryan @WWERollins pic.twitter.com/V0YeenVTql

— WWE (@WWE) October 17, 2020
Bryan was less than receptive to Seth's proposal and called him dumb. A fight broke out, with Bryan coming out on top. As Seth attempted to scurry away, the Mysterios blocked his exit. This forced Rollins back into the ring, where he got jumped by Murphy.
As tired as I am with the Rollins / Mysterios / Murphy dynamic which seems to have dragged on for months, I am excited by the proposition of a Bryan and Rollins clash.
Contractual Chat
Adam Pearce has been a busy boy in recent months and this week he was overseeing the contract signing between Sasha Banks and Bayley.
Bayley repeated the claim that turning on Banks was a pre-emptive move. The 'Boss' indignantly pointed out that she had been loyal to the SmackDown Women's Champion, highlighting how she was always by Bayley's side for each of her past accomplishments.
One way or another YOU WILL sign this contract. @itsBayleyWWE #HellInACell #Bossofthecell pic.twitter.com/ZMUANwGR5G

— Mercedes Varnado (@SashaBanksWWE) October 17, 2020
Sasha signed the contract for Hell in a Cell, but Bayley didn't, seemingly setting up another confrontation before the pay-per-view. This was a well acted segment and pretty organically set the stage for the next. Another good showing for the Banks and Bayley feud.
Jey Uso Finds his Vicious Streak
The night's main event saw Braun Strowman (a Raw loanee) take on Roman Reigns for the Universal Championship, with Jey Uso looking on from backstage.
The two men absolutely battered each other, hitting all of their big moves for a two count. Eventually Roman Reigns, as a last resort, was forced to employ a guillotine choke. Strowman gradually faded until, with his last bit of strength, he tapped out to end a chaotic bout.
Right now busting my ass in the gym to get better. I have to remind the moron Michael Cole that I never tapped out. Did I get choked out yes!!! But I would have let Roman take my life before I would have tapped out! And I'm not ashamed to admit it!! #TheMonsterWillAlwaysRise

— Adam Scherr (@Adamscherr99) October 17, 2020
Jey Uso came out onto the stage, locking eyes with the champion. Roman made sure Jey was watching as he speared Strowman again. He then started obliterating Braun with a steel chair, reminding Jey that if he could do this to 'The Monster Among Men', then imagine what he could do to his cousin.
When Jey got into the ring, Roman handed him the chair and offered his back. But Jey wasn't ruthless, he wasn't about to strike his family… or so it appeared. As Roman turned around with a massive grin on his face, Jey landed a superkick before laying a chair across the champion's back. When officials poured in to restrain Uso, Reigns hit a superman punch to stand tall.
A CHAOTIC scene closed out a wild season premiere of Friday Night #SmackDown!#UniversalTitle @WWERomanReigns @WWEUsos @HeymanHustle pic.twitter.com/4xuji8hixK

— WWE (@WWE) October 17, 2020
All of this – from the match to the post-match match confrontations – was awesome.
---
The Worst of SmackDown
Respect the Authority
SmackDown got underway with Triple H and Stephanie McMahon in the ring to make various proclamations vis-a-vis their kingdom. And because the bosses were making an announcement, of course every single SmackDown and Raw wrestler – both face and heel – needed to stand at the top of the ramp like naughty school children getting a lecture from an authoritarian teacher.
WE GOT A BRAWL!! ?#SmackDown pic.twitter.com/rl7wHq9AMl

— WWE (@WWE) October 17, 2020
Of all the WWE tropes, this is perhaps my least favourite. Their unyielding insistence on displays of subservience by their roster to those in charge. It makes the wrestlers look so meek and pathetic. Their characters, their motivations – all of it gets sacrificed so they can applaud their egomaniacal leaders.
Plus the announcements were just boring and pointless. Trips and Stephanie basically just ran through the card that had already been announced before the show. Then a brawl broke out between the previously well-behaved wrestlers. It was silly.
Freakishly Average
The brawl which ended the previous segment led into the match between Lars Sullivan and Jeff Hardy. Sorry, I meant the match between the freaky Freak giant Freak man Freak… and Jeff Hardy. (I honestly hate having that nickname shoved repeatedly into my brain.)
#TheFreak makes a STATEMENT on #SmackDown.@LarsSWWE pic.twitter.com/50gVxxEyd9

— WWE (@WWE) October 17, 2020
It was exactly what you would expect a contest between a giant slab of beef and a more agile veteran to be. Jeff Hardy stuck-and-moved as best he could, trying to survive. He managed to hit a Twist of Fate but as he set-up for the Swanton Bomb, Lars latched onto him and delivered the Freak Accident.
The problem is that Lars simply isn't very engaging, either as a character or a wrestler. He's just a square bruiser with little charisma and mediocre wrestling abilities. There's nothing to latch onto, no aura, no defining characteristic – and for that reason his matches will never be great.
Meeting the DQ Quota
A couple of minutes into the SmackDown Tag Team Title match, Dolph Ziggler and Bobby Roode got disqualified for beating up the Street Profits too much. Although it was never made clear, I'm assuming the DQ was caused by Ziggler and Roode ganging up on Montez Ford and not respecting proper tag rules.
.@MontezFordWWE & @AngeloDawkins put their Tag Team Titles on the line against @HEELZiggler & @RealRobertRoode NEXT on the season premiere of #SmackDown! pic.twitter.com/PQuWLUUOAX

— WWE (@WWE) October 17, 2020
Either way, the referee bolted from the ring as soon as the bell rang, leaving the two teams to brawl. Neither the challengers nor any officials seemed to care that the match was over and an unauthorised fight had broken out.
Eventually the Street Profits cleared the ring of the heels. But candidly, who cares?
---
Overall Rating for the Show (From best to worst: Smacknificent, SmackTastic, Smack Bang in the Middle, SmackDowner and A Smack in the Face)
SmackDown was a decent effort this week, albeit that it could never live up to synthetic tagline. It was the season premiere in name only, but that doesn't mean it didn't come with high points.
The New Day had a truly heartfelt farewell. It was fantastic seeing Daniel Bryan return to Friday nights. And the main championship feuds are really kicking into high gear.
With all of that awesomeness, it's easy to overlook the dour aspects and the lack of any impact felt from the draft. SmackDown is largely unchanged post-shakeup and that's a good thing! This week's show was SmackTastic.
Share all your SmackDown related thoughts with us on Twitter and check out WrestleTalk.com to stay up-to-date with all the latest wrestling news.