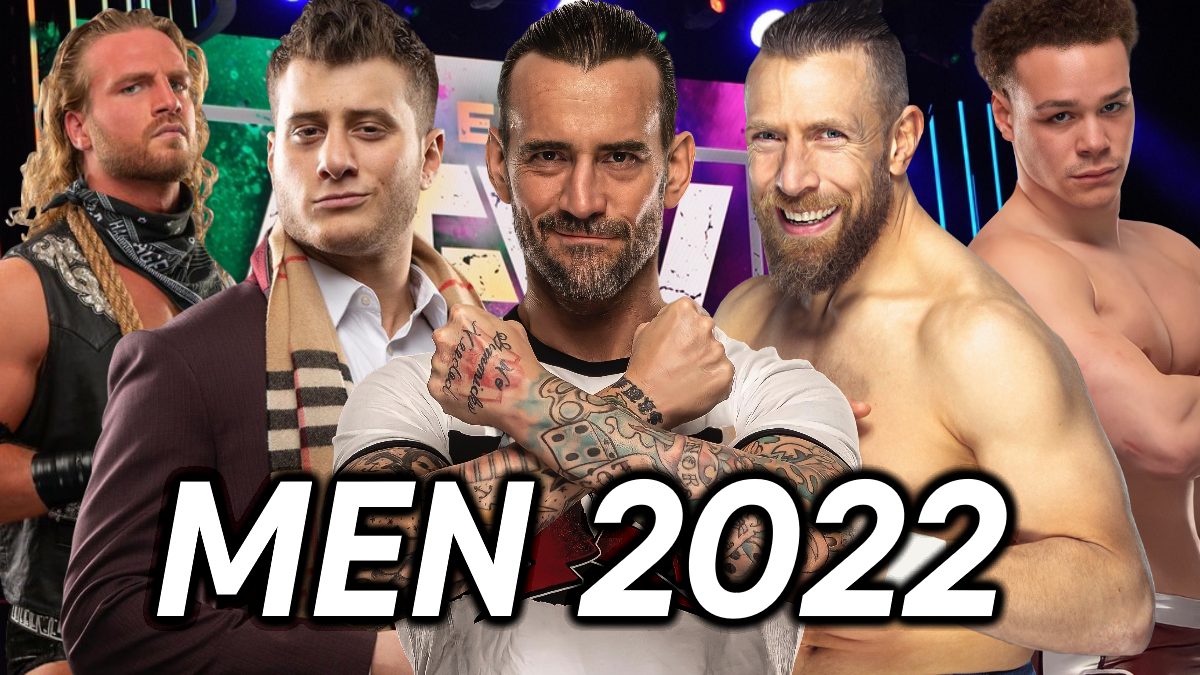 This is our tracker for AEW men's win/loss records in 2022, taking into account all matches.
The page is split into two sections – 'Records' and 'Win Percentages'.
In the 'Records' section, names are listed in alphabetical order, and the record is listed in Win/Loss/Draw format.
In the 'Win Percentages' section, the names are listed in order of Win Percentage from highest to lowest. When percentages are equal, other factors are used to determine who should be above who, such as number of matches, quality of opponents, match types, etc.
ALL matches are taken into account, so, for example, if someone is eliminated from a battle royal, it counts as a loss. Also, unsanctioned/'lights out' matches ARE included in our records.
To see all of our other win/loss record pages, click here.
---
Records
Aaron Mercer: 0-1-0
Aaron Solo: 8-35-0
AC Adams: 0-1-0
Action Andretti: 2-4-0
Action Bronson: 1-0-0
Adam Cole: 15-4-0
Adam Grace: 0-1-0
Adam Page: 14-8-0
Adam Priest: 0-2-0
Adrian Alanis: 0-6-0
Adrian Gretchel: 0-1-0
Adriel Noctis: 0-1-0
Adrien Soriano: 0-1-0
Aggro: 0-1-0
Alan Angels: 9-11-0
Alec Odin: 0-1-0
Alexander Apollo: 0-1-0
Alexander Moss: 0-3-0
Alexander Zane: 0-1-0
Alex Coughlin: 1-1-0
Alex Reynolds: 29-16-0
Alex Rico: 0-1-0
Alex Shelley: 0-1-0
Allen Russell: 0-1-0
Anaya: 0-2-0
Andrade El Idolo: 8-7-0
Andrea Guercio: 0-1-0
Andrew Everett: 0-1-0
Angelico: 11-7-0
Angelo Parker: 16-7-0
Anthony Bennett: 0-1-0
Anthony Bowens: 21-8-0
Anthony Greene: 0-1-0
Anthony Henry: 3-17-0
Anthony Ogogo: 13-0-0
Anthony Young: 0-1-0
Antonio Zambrano: 0-1-0
AR Fox: 3-7-0
Ariel Levy: 0-1-0
Ari Daivari: 11-16-0
Arik Cannon: 0-1-0
Arjun Singh: 0-2-0
Ashton Day: 0-1-0
Ashton Starr: 0-1-0
Atiba: 0-1-0
Ativalo: 0-2-0
ATM: 0-1-0
Austin Green: 0-2-0
Austin Gunn: 21-12-0
Avery Good: 0-1-0
Axel Rico: 0-1-0
Axton Ray: 0-1-0
Baliyan Akki: 0-3-0
Bandido: 1-2-0
Baron Black: 1-4-0
Barrett Brown: 0-2-0
Baylum Lynx: 0-1-0
Bear Boulder: 8-8-0
Bear Bronson: 9-7-0
Ben Bishop: 0-1-0
Big Bill: 1-1-0
Big Cuzo: 0-1-0
Big Damo: 0-1-0
Billy Gunn: 3-5-0
Bison XL: 0-1-0
B Jack: 0-1-0
BK Klein: 0-2-0
Blake Christian: 2-7-0
Blake Li: 0-7-0
Blanco Loco: 0-1-0
Bobby Fish: 10-5-0
Bobby Orlando: 0-1-0
Bouji: 0-1-0
Brando Lee: 0-1-0
Brandon Bullock: 0-4-0
Brandon Cutler: 3-11-0
Brandon Gore: 0-2-0
Brandon Scott: 0-1-0
Brandon Tate: 6-0-0
Brayden Lee: 0-1-0
Breaux Keller: 0-2-0
Brent Tate: 6-0-0
Brett Gosselin: 0-2-0
Bret Waters: 0-2-0
BRG: 0-1-0
Brian Cage: 8-7-0
Brian Pillman Jr: 9-10-0
Brick Aldridge: 0-1-0
Brock Anderson: 6-9-0
Brody King: 15-6-0
Brubaker: 0-1-0
Bryan Danielson: 24-9-0
Bryce Cannon: 0-1-0
Bryce Donovan: 0-4-0
Bshp King: 0-1-0
Buddy Matthews: 10-4-0
Bulk Nasty: 0-1-0
Caleb Konley: 0-4-0
Caleb Teninty: 0-2-0
Camaro Jackson: 0-2-0
Cameron Stewart: 0-4-0
Campbell Myers: 0-1-0
Carlie Bravo: 0-5-0
Casey Carrington: 0-2-0
Cash Flo: 0-1-0
Cash Wheeler: 15-8-0
Cezar Bononi: 4-11-0
Chandler Hopkins: 0-3-0
Channing Thomas: 0-3-0
Chase Oliver: 0-2-0
Chico Adams: 0-1-0
Cheeseburger: 0-3-0
Chris Farrow: 0-1-0
Chris Jericho: 18-9-0
Chris Metro: 0-1-0
Chris Sabin: 0-1-0
Chris Steeler: 0-2-0
Christian Cage: 4-3-0
Christopher Daniels: 1-2-0
Chris Voros: 0-1-0
Chris Wylde: 0-1-0
Chuck Taylor: 18-9-0
CJ Esparza: 0-1-0
Clark Connors: 1-1-0
Claudio Castagnoli: 16-4-0
Clayton Bloodstone: 0-1-0
CM Punk: 12-2-0
Cobra: 0-1-0
Cody Rhodes: 0-1-0
Cole Karter: 7-9-0
Colin Delaney: 0-1-0
Colt Cabana: 0-4-0
Colten Gunn: 22-13-0
Conan Lycan: 0-2-0
Connor Mills: 0-1-0
Cory Bishop: 0-1-0
Dale Springs: 0-1-0
Dalton Castle: 6-4-0
Damian Chambers: 0-1-0
Dan Adams: 0-1-0
Danger Kid: 0-1-0
Danhausen: 8-6-0
Daniel Garcia: 20-13-0
Danny Adams: 0-1-0
Dante Casanova: 0-2-0
Dante Martin: 39-23-0
Dan The Dad: 0-1-0
Darby Allin: 18-12-0
Darian Bengston: 0-3-0
Darius Martin: 10-6-0
Darren Moats: 0-1-0
Davey Bang: 0-1-0
Davey Vega: 0-2-0
David Ali: 0-1-0
David Finlay: 0-1-0
Dax Harwood: 16-12-0
Dean Alexander: 0-9-0
Defarge: 0-1-0
Derek Teter: 0-1-0
Diego: 0-1-0
D'Mone Solavino: 0-1-0
Dominic Garrini: 0-1-0
Donnie Primetime: 0-1-0
Donovan Izzolena: 0-1-0
Doug Love: 0-1-0
Dragon Lee: 0-1-0
Dralistico: 1-1-0
Drew System: 0-1-0
Dustin Rhodes: 2-5-0
Dylan Davis: 0-1-0
Eddie Kingston: 18-8-0
El Desperado: 0-1-0
El Phantasmo: 0-1-0
Eli Isom: 0-5-0
Elijah Dean: 0-2-0
Encore: 0-2-0
Eric James: 0-1-0
Erick Redbeard: 0-2-0
Ethan Page: 14-7-0
Evil Uno: 25-10-0
Exodus Prime: 0-2-0
Facade: 0-1-0
Foxx Vinyer: 0-1-0
Frankie Kazarian: 15-7-0
Freedom Ramsey: 0-1-0
Fulton: 0-1-0
Fuego Del Sol: 5-14-0
Gabriel Hodder: 0-1-0
GKM: 0-3-0
Great-O-Khan: 0-1-0
Goldy: 0-3-0
GPA: 0-5-0
Gregory Sharpe: 0-2-0
Griff Garrison: 8-9-0
Gus De La Vega: 0-6-0
Guillermo Rosas: 0-1-0
Gurv Sihra: 0-1-0
Hagane Shinno: 1-4-0
Harv Sihra: 0-1-0
Hermano: 0-1-0
Hikuleo: 1-0-0
Hirooki Goto: 1-1-0
Hiroshi Tanahashi: 1-1-0
Ho Ho Lun: 0-1-0
HOOK: 16-0-0
Hunter Grey: 0-1-0
Invictus Khash: 0-8-0
Isaiah Broner: 0-2-0
Isaiah Moore: 0-1-0
Isaiah Prince: 0-1-0
Iseah Brown: 0-1-0
Ish: 0-1-0
Isiah Kassidy: 18-20-0
Izaiah Zane: 0-1-0
Izzy James: 0-1-0
Jack Banning: 0-1-0
Jack Evans: 0-1-0
Jack Perry: 14-9-0
Jackson Drake: 0-1-0
Jack Tomlinson: 0-1-0
Jaden Valo: 0-4-0
Jah-C: 0-2-0
Jake Atlas: 1-1-0
Jake Hager: 3-9-0
Jake Omen: 0-1-0
Jake O'Reilly: 0-1-0
Jake Something: 0-3-0
Jake St Patrick: 0-2-0
James Alexander: 0-3-0
Jameson Ryan: 0-5-0
James Stone: 0-1-0
Jarrett Diaz: 0-2-0
Jaylen Brandyn: 0-3-0
Jay Lethal: 26-10-0
Jay Lucas: 0-2-0
Jay Malachi: 0-1-0
Jay Marston: 0-1-0
Jay Marte: 0-2-0
Jay White: 2-0-0
JB Cole: 0-1-0
JC Metro: 0-1-0
JD Drake: 5-21-0
JD Griffey: 0-3-0
JDX: 0-3-0
Jeeves Kay: 1-5-0
Jeff Cobb: 1-1-0
Jeff Hardy: 8-1-0
Jeff Jarrett: 3-1-0
Jeremy Prophet: 0-1-0
Jessie V: 0-1-0
J Fowler: 0-1-0
Joe Alonzo: 0-1-0
Joe Keys: 0-4-0
Joe Ocasio: 0-1-0
Joey Ace: 0-2-0
Joey Janela: 0-2-0
Joey Jett: 0-1-0
Joey O'Riley: 0-1-0
Joey Sweets: 0-1-0
Johnny Elite: 1-2-0
John Silver: 30-17-0
John Walters: 0-1-0
Jonathan Gresham: 3-1-0
Jonathan Hudson: 0-1-0
Jon Cruz: 0-1-0
Jon Moxley: 42-4-0
Jora Johl: 7-5-0
Jordan Costa: 0-1-0
Jordan Kross: 0-2-0
Jordano: 0-1-0
Jordan Oasis: 0-1-0
Josh Fuller: 0-2-0
Josh Woods: 15-6-0
JPH: 0-2-0
JP Harlow: 0-2-0
JR Miller: 0-1-0
J Spade: 0-1-0
JT Energy: 0-1-0
Juice Robinson: 1-1-0
Julio Cruz: 0-4-0
Jun Akiyama: 1-1-0
Junior Benito: 0-1-0
Justin Corino: 0-2-0
Justin Cotto: 0-1-0
Justin Fowler: 0-1-0
Kameron Russell: 0-1-0
Karam: 0-2-0
Karl Fredericks: 1-0-0
Katsuyori Shibata: 0-1-0
Kaun: 4-4-0
Kazuchika Okada: 0-1-0
KC Rocker: 0-1-0
Keith Lee: 22-8-0
Kekoa: 0-1-0
Kenny Alfonso: 0-1-0
Kenny Omega: 7-3-0
Kevin Knight: 1-2-0
Kevin Ku: 0-1-0
Kidd Bandit: 0-1-0
Kip Sabian: 10-5-0
KM: 0-4-0
Knull: 0-1-0
Kobe Durst: 0-1-0
Konosuke Takeshita: 13-8-0
Kubes: 0-1-0
Kyle Bradley: 0-1-0
Kyle Fletcher: 1-3-0
Kyle O'Reilly: 10-4-0
Labron Kozone: 0-1-0
Lamar Diggs: 0-2-0
Lance Archer: 17-7-0
Larintiz X: 0-1-0
Larry Lazard: 0-1-0
Lee Johnson: 8-9-0
Lee Moriarty: 17-10-0
Leon Ruffin: 1-10-0
Levy Valenzuela: 0-1-0
Liam Cross: 0-2-0
Liam Davis: 0-1-0
Liam Gray: 0-6-0
LJ Cleary: 0-1-0
Logan Cruz: 0-3-0
Logan James: 0-1-0
Logan Laroux: 0-3-0
Lord Crewe: 0-3-0
LSG: 0-3-0
Lucas Chase: 0-2-0
Luchasaurus: 14-5-0
Lucky Ali: 0-4-0
Luke Kurtis: 0-1-0
Luke Langley: 0-1-0
Luke Sampson: 0-4-0
Luther: 1-13-0
Malakai Black: 12-4-0
Mance Warner: 1-1-0
Manny Lo: 0-2-0
Manscout: 0-4-0
Marcus Kross: 0-7-0
Marcus Muncherson: 0-1-0
Mark Davis: 1-3-0
Mark Sterling: 0-2-0
Marq Quen: 17-17-0
Masada: 0-1-0
Mascara Dorada: 1-0-0
Mat Fitchett: 0-2-0
Matt Blackmon: 0-1-0
Matt Brannigan: 0-1-0
Matt DiMartino: 0-1-0
Matt Hardy: 14-9-0
Matthew Omen: 0-1-0
Matt Jackson: 17-8-0
Matt Menard: 15-8-0
Matt Sydal: 14-8-0
Matt Taven: 1-1-0
Matt Vandagriff: 0-1-0
Max Caster: 30-16-0
Merc: 0-1-0
Meto: 0-1-0
Merrik Donovan: 0-1-0
Mickey Midas: 0-1-0
Mike Anthony: 0-1-0
Mike Bennett: 1-0-0
Mike Law: 0-1-0
Mike Magnum: 0-2-0
Mike Orlando: 0-2-0
Mike Outlaw: 0-1-0
Mike Reed: 0-2-0
Minoru Suzuki: 2-1-0
Miro: 3-1-0
MJF: 5-4-0
Mo Jabari: 0-1-0
MT Nakazawa: 1-0-0
Myles Hawkins: 0-5-0
Mysterious Q: 0-1-0
Nick Comoroto: 7-32-0
Nick Jackson: 17-9-0
Nick Ruiz: 0-1-0
Niles Plonk: 0-1-0
Oliver Sawyer: 0-2-0
Omar: 0-1-0
Omar Amir: 0-1-0
Orange Cassidy: 27-12-0
Ortiz: 19-8-0
Pac: 20-8-0
Papadon: 0-2-0
Parker Boudreaux: 9-1-0
Pat Brink: 0-3-0
Pat Monix: 0-1-0
Patrick Scott: 0-1-0
Patrick Voros: 0-1-0
Patton: 0-1-0
Paul Titan: 0-1-0
Paul Wight: 1-0-0
Penta El Zero Miedo: 22-18-0
Peter Avalon: 4-16-0
Powerhouse Hobbs: 21-9-0
Preston Vance: 29-12-0
QT Marshall: 14-26-0
Rahim De La Suede: 0-1-0
Ray Jaz: 0-3-0
Rayo: 0-1-0
Ray Rosas: 0-1-0
RC Dupree: 0-2-0
Ren Jones: 0-5-0
Renny D: 0-1-0
Rey Fenix: 17-16-0
Rhett Titus: 0-3-0
Richard Adonis: 0-1-0
Richard King: 0-1-0
Rick Recon: 0-1-0
Ricky Starks: 25-9-0
Rico Gonzalez: 0-1-0
Robert Anthony: 0-3-0
Rocky Romero: 8-3-0
Rohit Raju: 2-5-0
Rolando Perez: 0-1-0
Rosario Grillo: 0-5-0
RSP: 0-1-0
Rush: 7-11-0
Russ Myers: 0-1-0
Ryan Clancy: 0-1-0
Ryan Howe: 0-1-0
Ryan Matthews: 0-1-0
Ryan Mooney: 0-2-0
Ryan Nemeth: 6-20-0
Rylie Jackson: 0-1-0
Ryzin: 0-1-0
Sage Scott: 0-4-0
Sal Muscott: 0-1-0
Sam Moore 0-1-0
Sammy Guevara: 19-12-0
Samoa Joe: 13-2-0
Santana: 5-5-0
Satnam Singh: 7-1-0
Scorpio Sky: 11-2-0
Sean Maluta: 0-1-0
Serpentico: 2-44-0
Shaheem Ali: 0-1-0
Shane Saber: 0-1-0
Shawn Dean: 9-5-0
Shawn Spears: 5-3-0
Shayne Hawk: 0-1-0
Shayne Stetson: 0-2-0
Shingo Takagi: 1-0-0
Shota Umino: 0-2-0
Silas Young: 0-2-0
Sinn Bodhi: 0-1-0
SK Bishop: 0-2-0
Slim J: 7-5-0
Smiley Fairchild: 0-1-0
Sonjay Dutt: 0-1-0
Sonny Kiss: 7-9-0
Sotheara Chhun: 0-2-0
Star Rider: 0-1-0
Steel City Brawler: 0-1-0
Stephen Wolf: 0-1-0
Steven Andrews: 0-2-0
Steven Josifi: 0-1-0
Steven Mainz: 0-1-0
Steve Pena: 0-2-0
Sting: 7-0-0
Storm Grayson: 0-2-0
Stu Grayson: 7-4-0
Swerve Strickland: 22-9-0
Taylor Rust: 0-2-0
Teddy Goodz: 0-4-0
Terrell Hughes: 0-3-0
Terrence Hughes: 0-3-0
Terry Kid: 0-1-0
Terry Yaki: 0-2-0
The Blade: 15-21-0
The Butcher: 16-18-0
The Deliverer Moses: 0-1-0
The DKC: 0-3-0
Tiger Ruas: 1-2-0
TIM: 0-2-0
Tito Oric: 0-1-0
TJ Cooper: 0-1-0
T-Money: 0-1-0
Toa Liona: 4-4-0
Tomohiro Ishii: 0-3-0
Tony Deppen: 0-6-0
Tony Nese: 25-11-0
Tony Vincita: 0-2-0
Tracy Williams: 0-3-0
Traevon Jordan: 0-3-0
Travis Titan: 0-1-0
Trent Beretta: 26-18-0
Trenton Storm: 0-1-0
Trent Seven: 0-2-0
Trevor Aeon: 0-1-0
Trip Jordy: 0-1-0
Troy Hollywood: 0-2-0
Truth Magnum: 0-1-0
Tyshaun Perez: 0-1-0
Tyshaun Price: 0-1-0
TUG Cooper: 0-3-0
Turbo Floyd: 0-1-0
Tyler Tirva: 0-1-0
Tyler Uriah: 0-1-0
Tyson Maddux: 0-1-0
Vary Morales: 0-4-0
Vic Capri: 0-2-0
Victor Andrews: 0-1-0
Victor Chase: 0-4-0
Victor Iniestra: 0-1-0
Vince Valor: 0-1-0
Wardlow: 28-4-0
Warhorse: 0-2-0
Warren Johnson: 0-2-0
Wes Barkley: 0-1-0
Westin Blake: 0-1-0
Wheeler Yuta: 20-14-0
Will Austin: 0-1-0
Will Ospreay: 3-3-0
Wrex Amadeus: 0-1-0
Xavier Walker: 0-1-0
Yabo: 0-1-0
Yoshi-Hashi: 1-1-0
Yoshinobu Kanemaru: 0-1-0
Yuya Uemura: 1-2-0
Zach Mason: 0-2-0
Zach Nystrom: 0-1-0
Zack Clayton: 8-10-0
Zack Sabre Jr: 0-1-0
Zak Patterson: 0-1-0
Zane Valero: 0-1-0
Zuka: 0-1-0
---
Win Percentages
HOOK: 100%
Anthony Ogogo: 100%
Sting: 100%
Brandon Tate: 100%
Brent Tate: 100%
Jay White: 100%
Action Bronson: 100%
Shingo Takagi: 100%
Hikuleo: 100%
Mike Bennett: 100%
Mascara Dorada: 100%
Paul Wight: 100%
Karl Fredericks: 100%
MT Nakazawa: 100%
Jon Moxley: 91.3%
Parker Boudreaux: 90%
Jeff Hardy: 88.89%
Wardlow: 87.5%
Satnam Singh: 87.5%
Samoa Joe: 86.67%
CM Punk: 85.71%
Scorpio Sky: 84.62%
Claudio Castagnoli: 80%
Adam Cole: 78.95%
Malakai Black: 75%
Jeff Jarrett: 75%
Miro: 75%
Jonathan Gresham: 75%
Luchasaurus: 73.68%
Ricky Starks: 73.53%
Keith Lee: 73.33%
Bryan Danielson: 72.73%
Rocky Romero: 72.73%
Anthony Bowens: 72.41%
Jay Lethal: 72.22%
Pac: 71.43%
Brody King: 71.43%
Buddy Matthews: 71.43%
Kyle O'Reilly: 71.43%
Josh Woods: 71.43%
Evil Uno: 71.43%
Swerve Strickland: 70.97%
Lance Archer: 70.83%
Preston Vance: 70.73%
Ortiz: 70.37%
Kenny Omega: 70%
Powerhouse Hobbs: 70%
Angelo Parker: 69.57%
Tony Nese: 69.44%
Orange Cassidy: 69.23%
Eddie Kingston: 69.23%
Frankie Kazarian: 68.18%
Matt Jackson: 68%
Chris Jericho: 66.67%
Ethan Page: 66.67%
Kip Sabian: 66.67%
Bobby Fish: 66.67%
Minoru Suzuki: 66.67%
Chuck Taylor: 66.67%
Nick Jackson: 65.38%
Max Caster: 65.22%
Cash Wheeler: 65.22%
Matt Menard: 65.22%
Alex Reynolds: 64.44%
Shawn Dean: 64.29%
John Silver: 63.83%
Adam Page: 63.64%
Austin Gunn: 63.64%
Matt Sydal: 63.64%
Stu Grayson: 63.64%
Lee Moriarty: 62.96%
Dante Martin: 62.9%
Colten Gunn: 62.86%
Darius Martin: 62.5%
Shawn Spears: 62.5%
Konosuke Takeshita: 61.9%
Sammy Guevara: 61.29%
Angelico: 61.11%
Jack Perry: 60.87%
Matt Hardy: 60.87%
Daniel Garcia: 60.61%
Darby Allin: 60%
Dalton Castle: 60%
Trent Beretta: 59.09%
Wheeler Yuta: 58.82%
Slim J: 58.33%
Jora Johl: 58.33%
Dax Harwood: 57.14%
Christian Cage: 57.14%
Danhausen: 57.14%
Bear Bronson: 56.25%
MJF: 55.56%
Penta El Zero Miedo: 55%
Andrade El Idolo: 53.33%
Brian Cage: 53.33%
Rey Fenix: 51.52%
Will Ospreay: 50%
Santana: 50%
Marq Quen: 50%
Bear Boulder: 50%
Dralistico: 50%
Kaun: 50%
Toa Liona: 50%
Juice Robinson: 50%
Hiroshi Tanahashi: 50%
Jun Akiyama: 50%
Matt Taven: 50%
Big Bill: 50%
Hirooki Goto: 50%
Yoshi-Hashi: 50%
Jeff Cobb: 50%
Clark Connors: 50%
Alex Coughlin: 50%
Mance Warner: 50%
Jake Atlas: 50%
Isiah Kassidy: 47.37%
Brian Pillman Jr: 47.37%
The Butcher: 47.06%
Lee Johnson: 47.06%
Griff Garrison: 47.06%
Alan Angels: 45%
Zack Clayton: 44.44%
Cole Karter: 43.75%
Sonny Kiss: 43.75%
The Blade: 41.67%
Ari Daivari: 40.74%
Brock Anderson: 40%
Rush: 38.89%
Billy Gunn: 37.5%
QT Marshall: 35%
Action Andretti: 33.33%
Bandido: 33.33%
Johnny Elite: 33.33%
Christopher Daniels: 33.33%
Kevin Knight: 33.33%
Yuya Uemura: 33.33%
Tiger Ruas: 33.33%
AR Fox: 30%
Dustin Rhodes: 28.57%
Cezar Bononi: 26.67%
Rohit Raju: 28.57%
Fuego Del Sol: 26.32%
Jake Hager: 25%
Kyle Fletcher: 25%
Mark Davis: 25%
Ryan Nemeth: 23.08%
Blake Christian: 22.22%
Brandon Cutler: 21.43%
Peter Avalon: 20%
Hagane Shinno: 20%
Baron Black: 20%
JD Drake: 19.23%
Aaron Solo: 18.6%
Nick Comoroto: 17.95%
Jeeves Kay: 16.67%
Anthony Henry: 15%
Leon Ruffin: 9.09%
Luther: 7.14%
Serpentico: 4.35%
Atiba: 0%
Baylum Lynx: 0%
Izzy James: 0%
Clayton Bloodstone: 0%
Katsuyori Shibata: 0%
Matt DiMartino: 0%
Alex Shelley: 0%
Chris Sabin: 0%
Ashton Day: 0%
Dragon Lee: 0%
Sonjay Dutt: 0%
Kazuchika Okada: 0%
Zack Sabre Jr: 0%
El Phantasmo: 0%
Great-O-Khan: 0%
El Desperado: 0%
Yoshinobu Kanemaru: 0%
David Finlay: 0%
Big Damo: 0%
Cody Rhodes: 0%
Andrew Everett: 0%
Derek Teter: 0%
Wrex Amadeus: 0%
Darren Moats: 0%
Jay Marston: 0%
Niles Plonk: 0%
Merc: 0%
Marcus Muncherson: 0%
ATM: 0%
Campbell Myers: 0%
Luke Langley: 0%
J Fowler: 0%
Dan The Dad: 0%
Rahim De La Suede: 0%
The Deliverer Moses: 0%
Kenny Alfonso: 0%
Mike Outlaw: 0%
Antonio Zambrano: 0%
Richard Adonis: 0%
Zane Valero: 0%
Sal Muscott: 0%
Defarge: 0%
Star Rider: 0%
Facade: 0%
Dan Adams: 0%
Turbo Floyd: 0%
Truth Magnum: 0%
Jack Tomlinson: 0%
Chris Wylde: 0%
Steven Josifi: 0%
Isaiah Moore: 0%
Yabo: 0%
Freedom Ramsey: 0%
Davey Bang: 0%
Joe Alonzo: 0%
Doug Love: 0%
Brando Lee: 0%
Kyle Bradley: 0%
Smiley Fairchild: 0%
Big Cuzo: 0%
Fulton: 0%
Rico Gonzalez: 0%
Jon Cruz: 0%
Patton: 0%
Anthony Young: 0%
Victor Andrews: 0%
James Stone: 0%
Shane Saber: 0%
Iseah Brown: 0%
Russ Myers: 0%
T-Money: 0%
Jessie V: 0%
Kobe Durst: 0%
Steven Mainz: 0%
Mo Jabari: 0%
Jake O'Reilly: 0%
Jordano: 0%
Zak Patterson: 0%
Tyler Tirva: 0%
Shayne Hawk: 0%
Harv Sihra: 0%
Gurv Sihra: 0%
Junior Benito: 0%
Dylan Davis: 0%
Chris Voros: 0%
Patrick Voros: 0%
Matt Blackmon: 0%
Jeremy Prophet: 0%
Alec Odin: 0%
Levy Valenzuela: 0%
Terry Kid: 0%
Chris Farrow: 0%
Matthew Omen: 0%
Gabriel Hodder: 0%
Adrien Soriano: 0%
Shaheem Ali: 0%
Bshp King: 0%
Jay Malachi: 0%
Joe Ocasio: 0%
Ryan Matthews: 0%
Luke Kurtis: 0%
Zuka: 0%
Mike Anthony: 0%
Liam Davis: 0%
Omar: 0%
Rick Recon: 0%
Bouji: 0%
Danger Kid: 0%
Aggro: 0%
Isaiah Prince: 0%
Kubes: 0%
Renny D: 0%
Tyson Maddux: 0%
Hermano: 0%
Tyshaun Perez: 0%
Zach Nystrom: 0%
Adrian Gretchel: 0%
RSP: 0%
Wes Barkley: 0%
Sean Maluta: 0%
Cash Flo: 0%
Omar Amir: 0%
Ryan Howe: 0%
Westin Blake: 0%
Justin Cotto: 0%
Meto: 0%
Logan James: 0%
Andrea Guercio: 0%
Alexander Apollo: 0%
D'Mone Solavino: 0%
Jackson Drake: 0%
Mickey Midas: 0%
Victor Iniestra: 0%
Alex Rico: 0%
Cobra: 0%
JT Energy: 0%
Justin Fowler: 0%
TJ Cooper: 0%
Adam Grace: 0%
Drew System: 0%
Rylie Jackson: 0%
Travis Titan: 0%
Arik Cannon: 0%
Xavier Walker: 0%
Sam Moore: 0%
Brayden Lee: 0%
Damian Chambers: 0%
Connor Mills: 0%
Jonathan Hudson: 0%
KC Rocker: 0%
Tyshaun Price: 0%
Bobby Orlando: 0%
BRG: 0%
Bryce Cannon: 0%
Pat Monix: 0%
Knull: 0%
Matt Vandagriff: 0%
CJ Esparza: 0%
Brubaker: 0%
Joey Jett: 0%
Nick Ruiz: 0%
Ray Rosas: 0%
Sinn Bodhi: 0%
Jack Banning: 0%
Danny Adams: 0%
Paul Titan: 0%
Hunter Grey: 0%
Matt Brannigan: 0%
Gregory Sharpe: 0%
Adriel Noctis: 0%
Brick Aldridge: 0%
Eric James: 0%
Brandon Scott: 0%
Diego: 0%
Anthony Bennett: 0%
Cory Bishop: 0%
Mike Law: 0%
Bulk Nasty: 0%
Tito Oric: 0%
Jake Omen: 0%
Izaiah Zane: 0%
Dale Springs: 0%
Kameron Russell: 0%
Allen Russell: 0%
Alexander Zane: 0%
Richard King: 0%
Dominic Garrini: 0%
Kevin Ku: 0%
Chico Adams: 0%
Ariel Levy: 0%
Reyo: 0%
Kekoa: 0%
Rolando Perez: 0%
Donnie Primetime: 0%
Aaron Mercer: 0%
Masada: 0%
Donovan Izzolena: 0%
B Jack: 0%
Guillermo Rosas: 0%
Chris Metro: 0%
JC Metro: 0%
Ish: 0%
Kidd Bandit: 0%
Patrick Scott: 0%
Bison XL: 0%
Larintiz X: 0%
JB Cole: 0%
JR Miller: 0%
Blanco Loco: 0%
LJ Cleary: 0%
Jordan Oasis: 0%
John Walters: 0%
Colin Delaney: 0%
Trevor Aeon: 0%
Trenton Storm: 0%
Mysterious Q: 0%
Tyler Uriah: 0%
Trip Jordy: 0%
Steel City Brawler: 0%
Vince Valor: 0%
J Spade: 0%
Foxx Vinyer: 0%
AC Adams: 0%
Merrik Donovan: 0%
Will Austin: 0%
Jack Evans: 0%
Ashton Starr: 0%
David Ali: 0%
Ben Bishop: 0%
Joey O'Riley: 0%
Axel Rico: 0%
Joey Sweets: 0%
Stephen Wolf: 0%
Jordan Costa: 0%
Anthony Greene: 0%
Labron Kozone: 0%
Avery Good: 0%
Ryan Clancy: 0%
Ho Ho Lun: 0%
Ryzin: 0%
Exodus Prime: 0%
Trent Seven: 0%
Erick Redbeard: 0%
Silas Young: 0%
Mark Sterling: 0%
Shota Umino: 0%
Dante Casanova: 0%
Jake St Patrick: 0%
Jarrett Diaz: 0%
Jay Marte: 0%
Steven Andrews: 0%
Steve Pena: 0%
Chris Steeler: 0%
Warren Johnson: 0%
Zach Mason: 0%
Ativalo: 0%
Justin Corino: 0%
Ryan Mooney: 0%
Encore: 0%
Brett Gosselin: 0%
Arjun Singh: 0%
Mike Magnum: 0%
Lucas Chase: 0%
BK Klein: 0%
Breaux Keller: 0%
Josh Fuller: 0%
Papadon: 0%
Bret Waters: 0%
Conan Lycon: 0%
Brandon Gore: 0%
Storm Grayson: 0%
Jordan Kross: 0%
JPH: 0%
Jah-C: 0%
Vic Capri: 0%
Manny Lo: 0%
Oliver Sawyer: 0%
Elijah Dean: 0%
Chase Oliver: 0%
RC Dupree: 0%
Isaiah Broner: 0%
Casey Carrington: 0%
Caleb Teninty: 0%
Joey Ace: 0%
Mike Orlando: 0%
Lamar Diggs: 0%
Barrett Brown: 0%
Davey Vega: 0%
Mat Fitchett: 0%
Anaya: 0%
SK Bishop: 0%
Camaro Jackson: 0%
Taylor Rust: 0%
Jay Lucas: 0%
Terry Yaki: 0%
Warhorse: 0%
Adam Priest: 0%
Mike Reed: 0%
Axton Ray: 0%
Austin Green: 0%
JP Harlow: 0%
Tony Vincita: 0%
Sotheara Chhun: 0%
Karam: 0%
Shayne Stetson: 0%
Joey Janela: 0%
Liam Cross: 0%
TIM: 0%
Tomohiro Ishii: 0%
Terrell Hughes: 0%
Terrence Hughes: 0%
LSG: 0%
Tracy Williams: 0%
Robert Anthony: 0%
Channing Thomas: 0%
Jaylen Brandyn: 0%
Traevon Jordan: 0%
Troy Hollywood: 0%
Rhett Titus: 0%
Logan Laroux: 0%
Cheeseburger: 0%
Lord Crewe: 0%
Goldy: 0%
Baliyan Akki: 0%
GKM: 0%
Alexander Moss: 0%
JDX: 0%
Logan Cruz: 0%
James Alexander: 0%
TUG Cooper: 0%
Jake Something: 0%
The DKC: 0%
Darian Bengston: 0%
JD Griffey: 0%
Chandler Hopkins: 0%
Ray Jaz: 0%
Pat Brink: 0%
Colt Cabana: 0%
Brandon Bullock: 0%
Lucky Ali: 0%
Caleb Konley: 0%
Sage Scott: 0%
Joe Keys: 0%
Victor Chase: 0%
Julio Cruz: 0%
Jaden Valo: 0%
Manscout: 0%
Bryce Donovan: 0%
KM: 0%
Teddy Goodz: 0%
Vary Morales: 0%
Luke Sampson: 0%
Cameron Stewart: 0%
Ren Jones: 0%
Jameson Ryan: 0%
Rosario Grillo: 0%
GPA: 0%
Myles Hawkins: 0%
Eli Isom: 0%
Carlie Bravo: 0%
Gus De La Vega: 0%
Tony Deppen: 0%
Adrian Alanis: 0%
Liam Gray: 0%
Blake Li: 0%
Marcus Kross: 0%
Invictus Khash: 0%
Dean Alexander: 0%