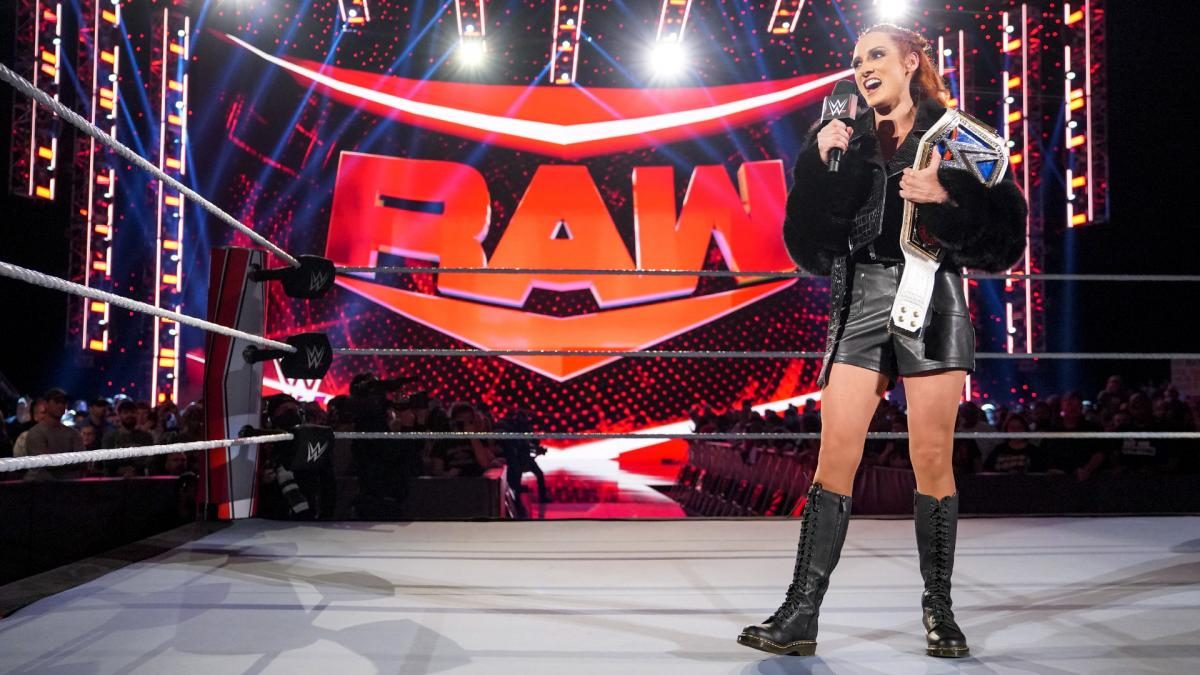 WWE's brand split is often a topic of debate. Does WWE adhere to it as strictly as it should? Should it even exist? Well one thing is for sure, just because you're on one brand doesn't mean you won't get shifted to another.
As such, we've compiled a list, that we'll be updating every time it happens, of every WWE star who has changed brands in the year of 2021! We've also included the date they were moved, which brands they were moved from and to, and any extra details.
This list will only be updated when we see switches play out on TV in front of our eyes, and won't include insider reports.
---
Alexander Wolfe
From: NXT UK
To: NXT
Date: January 20
Details: Reunited with Imperium teammates Fabian Aichner and Marcel Barthel
---
Damian Priest
From: NXT
To: Raw
Date: February 1
Details: Had been called up several weeks earlier but debut was held off until the Royal Rumble the night prior
---
Rhea Ripley
From: NXT
To: Raw
Date: March 22
Details: Challenged Asuka to Raw Women's Championship match at WrestleMania
---
Commander Azeez (Dabba-Kato)
From: Raw
To: SmackDown
Date: April 11
Details: Debuted new gimmick and helped Apollo Crews win Intercontinental Championship
---
Veer & Shanky
From: NXT
To: Raw
Date: May 3
Details: Made main roster debuts as associates of Jinder Mahal on Main Event, then Raw the next week
---
Rick Boogs
From: NXT
To: SmackDown
Date: May 21
Details: Made main roster debut on SmackDown accompanying Shinsuke Nakamura and performing his entrance music
---
Doudrop
From: NXT UK
To: Raw
Date: June 14
Details: Debuted on Raw as Eva Marie's mystery associate, taking Marie's place in a match and beating Naomi
---
Samoa Joe
From: Raw
To: NXT
Date: June 15
Details: Was released by WWE in April but then brought back into NXT as GM William Regal's 'enforcer'
---
Shotzi & Tegan Nox
From: NXT
To: SmackDown
Date: July 9
Details: Called up as a tag team with an immediate win over WWE Women's Tag Team Champions Natalya and Tamina
---
Mandy Rose
From: Raw
To: NXT
Date: July 13
Details: Randomly appeared on the ramp to watch Sarray vs Gigi Dolin, and then spoke with Franky Monet, Jessi Kamea and Robert Stone in a backstage segment
---
Finn Balor
From: NXT
To: SmackDown
Date: July 16
Details: Appeared on the first show back in front of fans after being absent from NXT TV since May
---
Karrion Kross
From: NXT
To: Raw
Date: July 20
Details: Appeared on the Raw while still NXT Champion, without Scarlett, and lost to Jeff Hardy
---
Toni Storm
From: NXT
To: SmackDown
Date: July 23
Details: Debuted on SmackDown after two weeks of promo videos with a win over Zelina Vega
---
Becky Lynch
From: Raw
To: SmackDown
Date: August 21
Details: Returned at SummerSlam after being out since April 2020 and won SmackDown Women's Title from Bianca Belair in about 20 seconds
---
Kay Lee Ray
From: NXT UK
To: NXT
Date: August 22
Details: Appeared at NXT TakeOver 36 to confront Raquel Gonzalez after Gonzalez had retained NXT Women's Title over Dakota Kai
---
Naomi
From: Raw
To: SmackDown
Date: August 27
Details: Randomly showed up backstage with Sonya Deville who said she'd been moved to SmackDown
---
Drake Maverick
From: NXT
To: Raw
Date: September 6
Details: Confronted 24/7 Champion Reggie and R-Truth, the latter of whom he'd feuded with over said 24/7 Championship in 2019
---
Big E
From: SmackDown
To: Raw
Date: September 3
Details: Cashed in Money in the Bank to win WWE Championship from Bobby Lashley
---
Riddick Moss
From: Raw
To: SmackDown
Date: September 25
Details: Returned to WWE TV after a year out with injury, aligning with Happy Corbin by attacking Kevin Owens
---
Charlotte Flair
From: Raw
To: SmackDown
Date: October 22
Details: Was picked to switch brands in WWE Draft
---
Bianca Belair
From: SmackDown
To: Raw
Date: October 22
Details: Was picked to switch brands in WWE Draft
---
Drew McIntyre
From: Raw
To: SmackDown
Date: October 22
Details: Was picked to switch brands in WWE Draft
---
New Day
From: Raw
To: SmackDown
Date: October 22
Details: Was picked to switch brands in WWE Draft
---
Edge
From: SmackDown
To: Raw
Date: October 22
Details: Was picked to switch brands in WWE Draft
---
Hit Row
From: NXT
To: SmackDown
Date: October 22
Details: Was picked to switch brands in WWE Draft
---
Dominik & Rey Mysterio
From: SmackDown
To: Raw
Date: October 22
Details: Was picked to switch brands in WWE Draft
---
Jeff Hardy
From: Raw
To: SmackDown
Date: October 22
Details: Was picked to switch brands in WWE Draft
---
Austin Theory
From: NXT
To: Raw
Date: October 22
Details: Was picked to switch brands in WWE Draft
---
Zelina Vega
From: SmackDown
To: Raw
Date: October 22
Details: Was picked to switch brands in WWE Draft
---
Alpha Academy
From: SmackDown
To: Raw
Date: October 22
Details: Was picked to switch brands in WWE Draft
---
Apollo Crews & Commander Azeez
From: SmackDown
To: Raw
Date: October 22
Details: Was picked to switch brands in WWE Draft
---
Aliyah
From: NXT
To: SmackDown
Date: October 22
Details: Was picked to switch brands in WWE Draft
---
Drew Gulak
From: Raw
To: SmackDown
Date: October 22
Details: Was picked to switch brands in WWE Draft
---
MACE
From: Raw
To: SmackDown
Date: October 22
Details: Was picked to switch brands in WWE Draft
---
Mansoor
From: Raw
To: SmackDown
Date: October 22
Details: Was picked to switch brands in WWE Draft
---
Mustafa Ali
From: Raw
To: SmackDown
Date: October 22
Details: Was picked to switch brands in WWE Draft
---
Becky Lynch
From: SmackDown
To: Raw
Date: October 22
Details: Was picked to switch brands in WWE Draft
---
Seth Rollins
From: SmackDown
To: Raw
Date: October 22
Details: Was picked to switch brands in WWE Draft
---
Sheamus
From: Raw
To: SmackDown
Date: October 22
Details: Was picked to switch brands in WWE Draft
---
Shayna Baszler
From: Raw
To: SmackDown
Date: October 22
Details: Was picked to switch brands in WWE Draft
---
Kevin Owens
From: SmackDown
To: Raw
Date: October 22
Details: Was picked to switch brands in WWE Draft
---
Xia Li
From: NXT
To: SmackDown
Date: October 22
Details: Was picked to switch brands in WWE Draft
---
Street Profits
From: Raw
To: SmackDown
Date: October 22
Details: Was picked to switch brands in WWE Draft
---
Viking Raiders
From: Raw
To: SmackDown
Date: October 22
Details: Was picked to switch brands in WWE Draft
---
Finn Balor
From: SmackDown
To: Raw
Date: October 22
Details: Was picked to switch brands in WWE Draft
---
Ricochet
From: Raw
To: SmackDown
Date: October 22
Details: Was picked to switch brands in WWE Draft
---
Angel Garza & Humberto Carrillo
From: Raw
To: SmackDown
Date: October 22
Details: Was picked to switch brands in WWE Draft
---
Carmella
From: SmackDown
To: Raw
Date: October 22
Details: Was picked to switch brands in WWE Draft
---
Ridge Holland
From: NXT
To: SmackDown
Date: October 22
Details: Was picked to switch brands in WWE Draft
---
Liv Morgan
From: SmackDown
To: Raw
Date: October 22
Details: Was picked to switch brands in WWE Draft
---
Dolph Ziggler & Robert Roode
From: SmackDown
To: Raw
Date: October 22
Details: Was picked to switch brands in WWE Draft
---
Tamina
From: SmackDown
To: Raw
Date: October 22
Details: Was picked to switch brands in WWE Draft
---
Tegan Nox
From: SmackDown
To: Raw
Date: October 22
Details: Was picked to switch brands in WWE Draft
---
Jinder Mahal & Shanky
From: Raw
To: SmackDown
Date: October 22
Details: Was picked to switch brands in WWE Draft