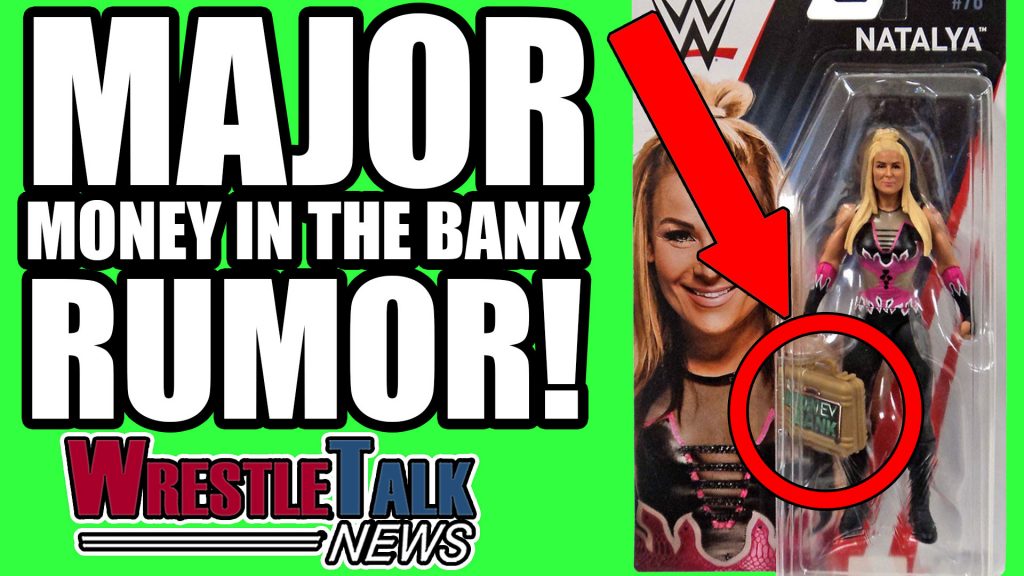 For more standout WrestleTalk News Updates and video content SUBSCRIBE to our YouTube channel HERE
New Japan Dominion Tomorrow!
One of New Japan's biggest shows of the year, Dominion, is taking place tomorrow. And when all is said and done, it might end up winning the concept of wrestling.
Not only will Chris Jericho be returning to New Japan to fight Tetsuya Naito, not only will Rey Mysterio be teaming with Hiroshi Tanahashi and Jushin Thunder Liger to take on the Bullet Club, not only will Will Ospreay and Hiromu Takahashi try to break physics, but the show will also see the fourth instalment of Kenny Omega vs Kazuchika Okada – arguably the two greatest wrestlers on the planet with their previous three encounters averaging 6 stars in the Meltzer ratings – this time in a 'no time limit 2 out of 3 falls match' that's expected to run over an hour.
It's effectively Dave Meltzer's birthday party. Six stars for you, six stars for you. Six stars for everybody!
Luke and I have given our predictions for the show on the day-early WrestleRamble – so make sure to watch that here!
Jericho has posted an image of him Blue Steeling it next to the New Japan logo with the caption: "I'm baaack…." on Instagram  – but he's not the only person hyping the show online. A current WWE star is too, with Seth Rollins tweeting about NXT's former CJ Parker:
"Hung out with Juice Robinson yesterday. One of my favorite humans and the future of @njpw1972. I should've taken a pic, but we were too busy livin'. #budtweet"
Ooooh interpromotional endorsement!
With Jericho appearing on New Japan and WWE this year, and Kurt Angle mentioning TNA on Raw, it seems Vince McMahon's restrictions on mentioning other promotions are becoming less strict.
But that is just Juice Robinson, WWE would never let one of New Japan's biggest stars be promo-KENNY OMEGA MENTIONED ON WWE.COM?!
Kenny Omega Promoted On WWE.com
Yes, just the day before arguably the biggest match of his life, where I'm predicting he'll finally win the IWGP Heavyweight title, WWE.com have promoted another impending Kenny Omega match: him vs Xavier Woods in a Street Fighter V contest at next week's massive video games convention, E3 Seven stars!
This is the culmination of a two year feud, with Kenny and Woods claiming to be the better Street Fighter V player since 2016. They're currently drawn at 1-1 in the series.
New Japan didn't get as much of a plug, though, as the article just described Omega as an "independent wrestling star".
But Kenny isn't just facing competition from Okada and Woods – he's also got to keep Junior Heavyweight Champion Will Ospreay in mind, who appears to be psychotically intent on stealing the show
Will Ospreay Is Insane
Beetboi6669 has posted a transcript of Ospreay's Dominion promo on Reddit, where he directly address Meltzer's criticism that his style of wrestling will put him in a wheelchair, which in no way alleviates those fears.
"That's the sacrifice that I want to leave behind to know that I threw my body to put the Junior Heavyweight division on the map… At the end of Osaka, 12,000 people are going to leave talking about how good the Junior Heavyweight championship was. Hiromu, you're right. I am the best, and you are the best. How about we make a little gentleman's agreement: at Saturday at Osaka, we leave it all in the ring. I'll throw my body on the line, you throw your body on the line. Let's put this Junior Heavyweight championship on a pedestal."
We'll have to wait until Dominion tomorrow to find out what happens, because New Japan don't put out merchandise months in advance that could possibly spoil major results.
Segue.
Money In The Bank Rumor Killer
With WWE's Money in the Bank pay-per-view next Sunday, plenty of rumours have circulated about who will win the two coveted briefcases – and now some claim a piece of WWE merchandise has given one result away.
The Basic Series 78 Natalya action figure comes with a Money in the Bank briefcase accessory – and with her arguably the favourite to win the women's ladder match, potentially to set up a feud with her best friend Ronda Rousey, this could be confirmation of WWE's master plan. Toy sets leak movie plot details all the time.
The action figure part of this theory is probably safe to be scrapped, though, as all the other wrestlers in the Basic Series 78 range – AJ Styles, Kevin Owens, Shane McMahon and The Rock all also come with their own Money in the Bank briefcase accessory variants. And I'm pretty sure the Rock ain't winning Money in the Bank.
For more standout WrestleTalk News Updates and video content SUBSCRIBE to our YouTube channel HERE