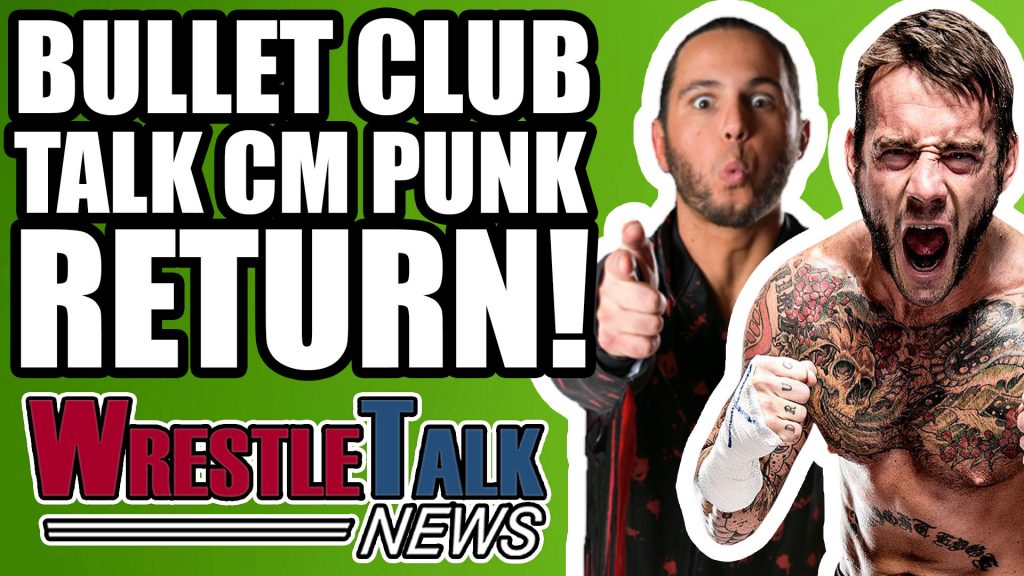 Talking Snack
I don't know about you, but I love food. All types of food. Stuffed crust pizza. Margherita pizza. Pepperoni stuffed crust pizza. Double pepperoni stuffed crust pizza. I'm a bit of a foodie, me. Which means I'm very excited for the WWE Network's potential new show.
In an interview with AfterbuzzTV at the Hall of Fame ceremony, WWE presenter Cathy Kelly revealed she pitched "a cooking/interview hybrid" show for the Network, where "the superstars would cook their favorite food, or what they eat on the road, or a recipe from their family." A pilot with Becky Lynch as the first guest has already been filmed for the series.
https://twitter.com/coupdebanks/status/985665170008506368
We all know Becky would be cooking some kind of quinoa dish, and the New Day would chaotically make pancakes – but what would Braun Strowman eat? Click the 'i' in the top right to vote.
At least we know if WWE ever do get CM Punk to return – which they likely won't – he sure won't be cooking anything to do with chickpeas. Because Batista tweeted a video the other week about how much Punk hates chickpeas.
@CMPunk Man!! People change!! Win a few world wrestling titles,write a hit marvel comic series, fight in the ufc,and marry a @nytimes best selling author and all of the sudden you're too good for chickpeas! ? pic.twitter.com/3Da7GKXpb7

— Vaxxed AF! #TeamPfizer Poor Kid Chasing Dreams. (@DaveBautista) April 7, 2018
It took me ages to work out this segue. Do you know how hard it is to transition between some of these top-
Bullet Club Call CM Punk On Weekly Basis
Similar to how I call my best friend in the whole wide world Co-Executive Vice President of Impact Wrestling Don Callis on the phone most weeks, The Young Bucks have revealed they are still in regular contact with former WWE wrestler CM Punk.
When Sporting News asked The Bucks about either CM Punk or Daniel Bryan appearing at the Bullet Club's All In show this September, Matt Jackson replied on Bryan: "He was definitely an option we wanted."
Bullet Club 'leader' Cody Rhodes was teasing as much late last year, calling out Bryan on social media and using the Yes Lock to finish some of his matches. But with Bryan now being medically cleared to wrestle in WWE again, that looks highly unlikely.
Punk, however, is slightly more possible – given that the Bullet Club show will take place in his beloved home city of Chicago – and that he already teased being 'All In':
Recently, a lot of people have been asking me if I'm "in"… 1/2

— player/coach (@CMPunk) February 21, 2018
Although he did later reveal that was a trolling reference to the Chicago Cubs. 
You know I'm in. #EverbodyIn #cubs @cubs 2/2 pic.twitter.com/dPrHqXb57I

— player/coach (@CMPunk) February 21, 2018
Matt Jackson still appears hopeful, though:
"I will say this: I text message Punk on a weekly basis. We're good friends. We talk wrestling. He still loves wrestling, of course he does. We're pro wrestlers. That's what we do. Even when you quit or retire or whatever, it's still in your blood." 
Punk's next MMA fight will be against Mike Jackson at June 9th's UFC 225 in Chicago, which could be the 39 year old's last match if he suffers a second loss. At which point, he might be rather free come September 1st.
And if he ever wanted to merge his two loves of MMA and professional wrestling, he could just hang out in the Ring of Honor locker room.
Ring Of Honor Backstage Fight
According to the latest Wrestling Observer Newsletter, "there was a locker room fight before the 4/14 [ROH] show in Pittsburgh". Apparently, an extra backstage at the event was sitting in Christopher Daniels' chair. When the extra was asked to move, he "evidently got mouthy about it and ended up in an argument with Flip Gordon that turned into a fight, which Gordon, who has an MMA background, won quickly".
Thankfully, "nobody got hurt, past some food being stepped on."
Good God almighty! That double pepperoni stuffed crust pizza's been broken in half! 
RambleClub Podcast Available Now!
Attention Pledgehammers – i.e. those who donate to WrestleTalk's Patreon page – this month's episode of RambleClub is now available to $10 and above backers, where Luke and I review Zack Sabre Jr's entire New Japan Cup run and Sakura Genesis match against Kazuchika Okada, Matt Riddle vs James Ellsworth and more, and, of course, the latest installment of myself and Luke reading WWE's Big Apple Takedown book from 2006, where members of the roster have to take down a meth lab. It's incredible. This month, Vince McMahon beats up a car door and is rude to a waitress.