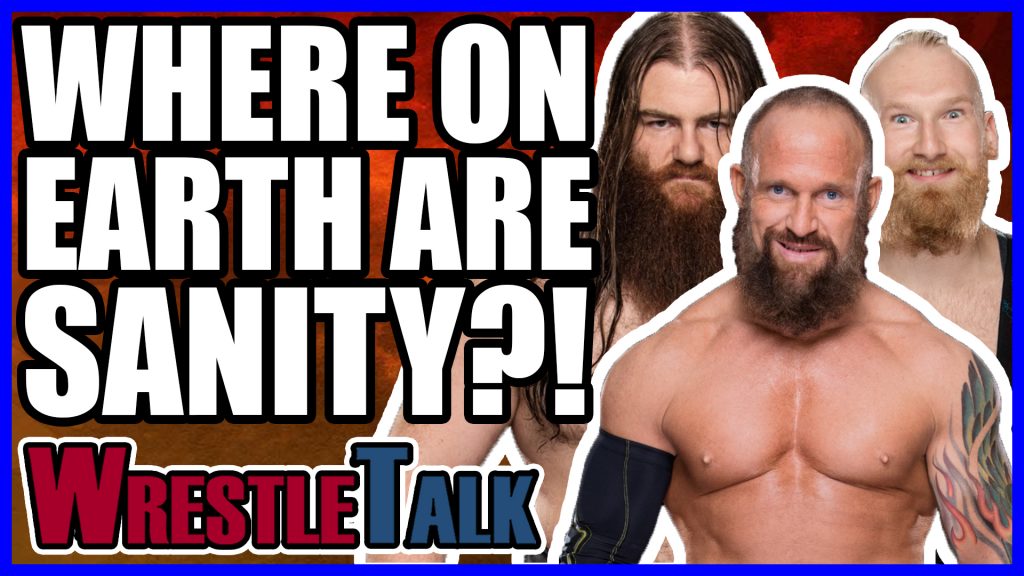 For more outstanding WrestleTalk News Updates and video content SUBSCRIBE to our YouTube channel HERE
Another fun six-man tag! Shinsuke Nakamura struggles with pens! And where on earth are Sanity?!
Who Really Is… Asuka?
Carmella opened this week's episode of Smackdown Live to ask who really is… Asuka?! She says that Asuka isn't the woman we all think she is and she's going to expose the truth about her. She's not going to bring out some sisters is she? Mella showed a video package to remind us of how awesome Asuka was pre-WrestleMania, and how watered down she's become since her loss to Charlotte wasn't used to further her character. This brought out Asuka who was interrupted by Mandy Rose and Sonya Deville who both wanted to face Asuka in singles matches. Carmella told Asuka that she could face whichever one she wanted, but PAIGE HERE came out and said that she makes the matches and no one speaks for her. She then just repeated what Carmella said and told Asuka that she could face whichever one she wanted. Asuka however wanted both of them!
Asuka def. Mandy Rose & Sonya Deville
And then beat them in a really fun and well-worked handicap match. Asuka ran wild early, but the numbers game got the better of her. Eventually she took Deville down and made her tap to the Asuka Lock. Carmella got in afterwards, and laid Asuka out off a Mandy Rose distraction. This was a good opening to the show. And while I still feel that Asuka has been levelled off since Mania, she's still one of the best in-ring wrestlers WWE has in their women's division.
Mizjitsu Gets Interrupted
The Miz was backstage practicing Mizjitsu when The New Day walked in to tell them he could pick which of them would be in the Money in the Bank ladder match. All he had to do was pick a name out of their hat. Seems simple enough. However the lovable goofballs switched the hat to one with filled with pancake batter and Miz put his hand in it. Big E was the shining star of this segment, echoing Karl Anderson's Muttley-esque laugh when Miz realised what had happened. Miz then flicked the pancake batter onto Xavier Woods face. I feel like there's a crude and immature joke that the YouTube comments section will make, but I can't quite put my finger on it.
Karl Anderson def. Harper
Speaking of Karl Anderson, and he beat Harper with a roll-up after The Bludgeon Brother dominated the entire match. Not sure what that did for either team or this feud.
Jimmy Uso & Naomi def. Aiden English & Lana
Naomi attempted to cut a Usos style promo backstage, and then teamed with her husband to take on Rusev Day's Lana and Aiden English. Mixed Match Challenge lives again!
This was pretty sloppy when Naomi and Lana were in the ring – which was the majority of the match – but really good when Jimmy and English got in. The husband and wife pair won when Jimmy superkicked English in the throat.
AJ Styles and Shinsuke Nakamura Sign Contracts
Paige held a backstage contract signing between AJ Styles and Shinsuke Nakamura for their Last Man Standing match at Money in the Bank, which AJ signed very quickly. Nakamura's pen sadly was out of ink, and when he borrowed AJ's pen he said it didn't work. AJ then lost his cool and slapped the challenger before being dragged away. Nakamura then took out his own pen and signed the contract. This was… meh it was fine.
Where In The World Is SAnitY?!
And now it's time to play our new game, Where in the World Is Sanity? Are they sneaking round the world from Kiev to Carolina? Are they on a slow boat to China? I don't know, but they sure aren't on Smackdown Live. We aren't even getting teases for them anymore. The last promo we got was on the 8th of May edition of Smackdown Live – a month ago. I figure they'll be next in line once the Brothers Bludgeon defeat the Brothers Good – but why not keep that plate spinning by having Eric Young cut promos? Hype up their debut and make people interested in seeing them come to the blue brand.
Becky Lynch defeated Charlotte
Money in the Bank entrants Becky Lynch and Charlotte had a decent match with a few mistimed spots, and Becky won with the Disarmer. What happened to that storyline about Becky not being able to find her place in the division?
Andrade "Cien" Almas Attacks Sin Cara
Backstage Sin Cara was being interviewed by a robot trying their hardest to be human, when Zelina Vega told him that he will have a match next week against Andrade "Cien" Almas. The former NXT Champion then attacked Sin Cara from behind to leave him laying.
Big Cass Cuts A Promo
Our main event was a six-man tag between New Day against Miz, Samoa Joe and Rusev – which sounds like it would be a lot of fun if given some time – but never mind that s**t we've got a Big Cass promo!  And you'll never guess what he talked about? Being tall of course! He said that a good big man will always beat a good little man – well, you know, apart from at Backlash. And he said that Bryan has never been in the ring with someone as big as him – well, you know apart from Backlash. Or last week. This was a good promo, but it rung hollow and we've heard it all before.
New Day def. The Miz, Samoa Joe & Rusev
Following on from their fun six-man tag last week, New Day had another one here with Miz, Joe and Rusev. This wasn't as good as last week, but it got really great after the hot tag, with some fast-paced spots and action that it was hard to keep track of where anyone was at any one time. The finish saw Miz grab the tray of pancakes to throw at Big E, but he accidentally threw them at Joe and Rusev. They left him laying and bailed – and New Day hit the Midnight Hour for the win.
This was a better show than Raw – but that's hardly a high bar – but it wasn't particularly special. There isn't a match you should go out of your way to check out if you didn't watch the show, nor was there a killer segment that made me want to tune in next week. It was fine. This week's Smackdown Live is Smack Bang in the Middle.
For more outstanding WrestleTalk News Updates and video content SUBSCRIBE to our YouTube channel HERE