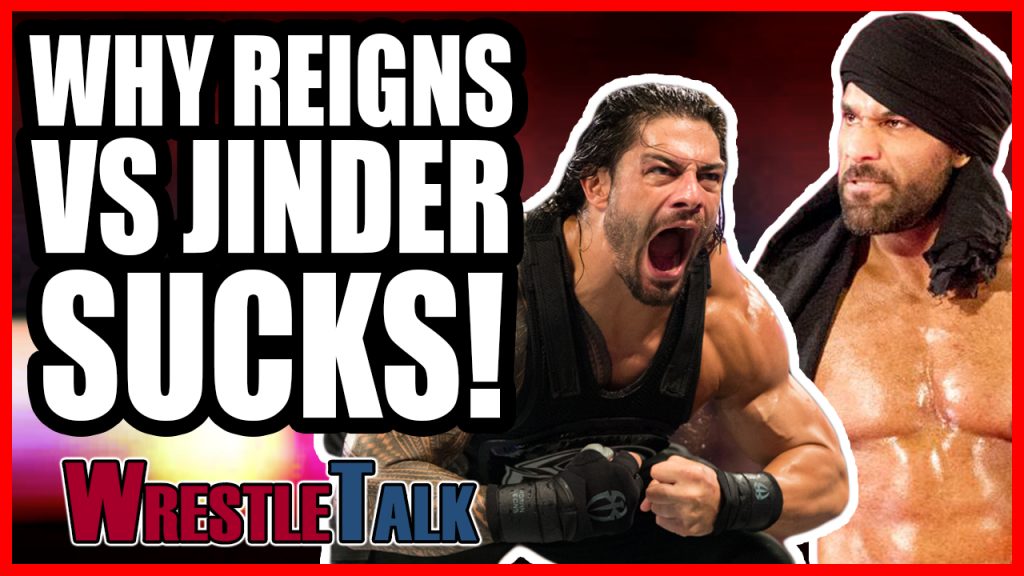 For more unbelievable WrestleTalk News Updates and video content SUBSCRIBE to our YouTube channel HERE
Raw opened with the rather ridiculous visual of all the Money in the Bank match wrestlers standing on top of ladders of varying heights, gazing off in different directions as if they're about to shoot the cover for their new Christian Rock album.
They were all waiting for Kurt Angle to come out, who was quickly interrupted by the Constable of Raw, Baron Bald-in! No… that doesn't work. Baldon Corbin … not much better. The Lone Hair Baron Corbin! We'll stick with that for now. He really should've lost those locks in a hair vs hair match to elevate another guy.
He not-so-subtly threatened them all that Stephanie McMahon wants those briefcases coming to Raw.
After the break, Natalya, Sasha Banks and Ember Moon were left standing in the now ladder-less ring, while Alexa Bliss got a full entrance. Meaning she went backstage after the opening segment, to just come back out again. Natalya won by making her tap in the Sharpshooter in a pretty decent match – particularly from Moon's dives of death!
Despite quickly beating Breezeango here, Drew McIntyre and Dolph Ziggler have lost a bit of momentum after being eliminated first in last week's Battle Royal.
Brock Lesnar is now WWE's longest reigning top champion of the modern era! Would've been nice to have him on the show.
Thankfully we were spared a Roman Reigns vs Jinder Mahal match just six days away from another Roman Reigns vs Jinder Mahal match at Money in the Bank, as the Maharaja revealed The Great… Sunil Singh as Roman's actual opponent. It was a nice swerve, briefly teasing The Great Khali's return, but Jinder's promo was lacklustre, and his kayfabe strategy was utterly worthless. Reigns beat Sunil in seconds with a spear, for Mahal to reveal his master plan go-home angle as… hitting a single Khallus. No prolonged beatdown, no brutal angle to get us excited about a wholly uninspiring feud. I'm neither buying into Jinder as a credible opponent, nor this match as something I ever want to see.
After eliminating them at the end of last week's Battle Royal, the B Team beat Rhyno and Heath Slater in the night's third squash match in a row. The Deleters of Worlds appeared at the top of stage afterwards to hype their Money in the Bank tag title match… that really could've just been on this episode of Raw to lessen the pay-per-view's butt-numbing 11 match card.
Elias has more than earned his pay-per-view match for Raw's default top title, though, being the most over heel on the roster. He debuted a new IC title designed guitar given to him by hip hop legend John Mayer – great musical description Coachman! Seth Rollins interrupted – only after Elias had sung an entire song insulting him, of course – to play out a wonderfully heated skit of destroying the aforementioned John Mayer guitar. All the tension Elias had whipped up in the crowd was masterfully vented through Seth curbstomping his new instrument. And destroying anything associated with John Mayer is an instant babyface move. We Katy Kats never forget.
Ruby Riott and Bayley actually had a decent match here, which Ruby won thanks to Riott Squad interference. It's just a shame their series is dampened by Bayley's plodding overarching feud with Banks.
Ronda Rousey is very, very good at mean face and getting physical. That's mostly where her current wrestling performance abilities cease, though, so why, week after week, do WWE book her on commentary, in red carpet VTs, in-ring segments and other formats that expose her weaker areas?
Thankfully few will remember the wooden dialogue exchanges between Nia and Ronda, and just the awesome end sequence where Rousey made Jax tap in the arm bar.
Despite ingeniously disguising himself as one of Adam Rose's Rosebuds – I mean 'a member of No Way Jose's weird sex party' – Curt Hawkins still couldn't get the win, stretching his steak to 201 consecutive losses.
After closing on a glimmer of realism last week, where Sami Zayn managed the only genuine moment in their feud so far, accusing Bobby Lashley of never serving in the army, WWE capitalised on that much needed heat by… having them both compete in an assault course around the ring. As great as the Sergeant Slaughter timer graphic on the titantron was, if neither wrestler looks like they care about this feud, why should we?
The main event, where Kevin Owens, Finn Balor and Bobby Roode ganged up to take out Braun Strowman, was a lot of fun – including an awesome KO Bullfrog Splash off a ladder through the announcer's table.
Braun still managed to win the match despite that, though, and being hit by nearly everyone's finishers. As much as I'm looking forward to the ladder match this Sunday, I kind of just want to see more of Balor vs Strowman.
Overall this episode was actually rather enjoyable, with two good four ways and segments that developed the major feuds. This week's Raw is AvRAWge.
For more unbelievable WrestleTalk News Updates and video content SUBSCRIBE to our YouTube channel HERE