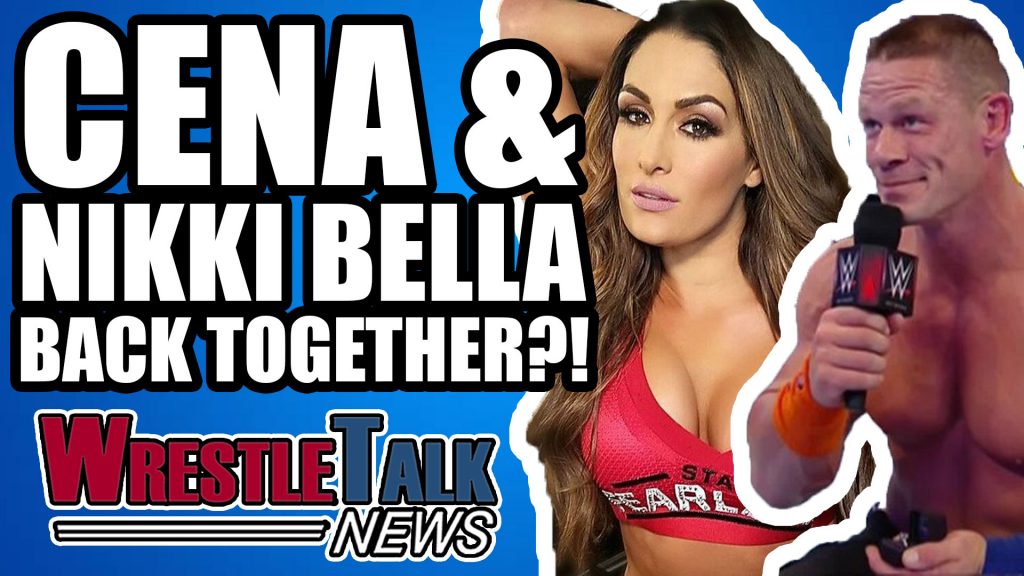 You're Still My Best Friend, Nia Jax
…Nia Jax
Nia Jax and I first hit it off last October, when I covered her entrance music as a predictions punishment, and she tweeted about it in praise. Ever since then we've been best friends. Mostly on my part because she hasn't replied to any of my messages. But still best friends.
But then in yesterday's Raw review I heavily criticised her awful Ronda Rousey challenging red carpet segment. 
Nia, this was never criticism of you as a person. It was criticism of how WWE are portraying you. I hope you can forgive me. Man, this apologising stuff is hard. Show me how to do it, John!
John Cena Still Loves Nikki Bella
John Cena and Nikki Bella called off their engagement on April 15th, just weeks before their planned cinco del mayo wedding. US Weekly reported Nikki was the one who made the decision, out of frustration with John not wanting children, and him seemingly being more focused on his career than their relationship.
BodySlam.net then reported Cena hit the ground running, starting a romance with one of Nikki's fellow Total Divas cast members, who was speculated to be current SmackDown Women's Champion Carmella.
Now Cena has set the record straight on the Today show, admitting: "I had my heart broken from out of nowhere"
"I still love Nicole. I still want to marry Nicole. I still would love to have a family with Nicole. There was an unfortunate set of circumstances where our relationship ended. There's been a lot of speculation recently about me being seen in public, and everyone's thinking like 'oh, John Cena's enjoying the single life'. No… I don't have any other hopes other than maybe one day we can work it out."
Cena goes onto confess that he's been selfish, but this breakup has revealed to him what he really wants. And then he cuts a wrestling promo on love!
It just so happened that as John Cena was declaring his undying love for Nikki Bella, Nikki Bella was across the street at an NBC event promoting the season premiere of Total Bellas this Sunday May 20th at 9pm only on E. What a coincidence. It's almost like a scripted professional wrestling angle. Where multiple celebrity news outlets were perfectly placed to get her immediate reaction, like Extra TV.
Still better than the Ronda Rousey segment.
Nikki then told The Blast: "[John] is absolutely an amazing man and sometimes you don't have to rush to the altar. So there's definitely hope."
As the commercials for the next season of Total Bellas reveal, John and Nikki's entire breakup has been filmed for the series. But despite all that convenient dramatic timing for the show's season premiere this Sunday May 20th at 9pm only on E, celebrity gossip website People are reporting "Cancelling the wedding was not a hoax or a publicity stunt" – citing the wedding ceremony legitimately being called off, losing the couple their deposits.
The site's source said it's now up to John to sort their relationship out, and Nikki will "take him back, definitely. She loves him, and she knows he loves her desperately. They'll get back together and they'll get married."
I guess we'll have to find out… at the show's season premiere this Sunday May 20th, 9pm only on E!