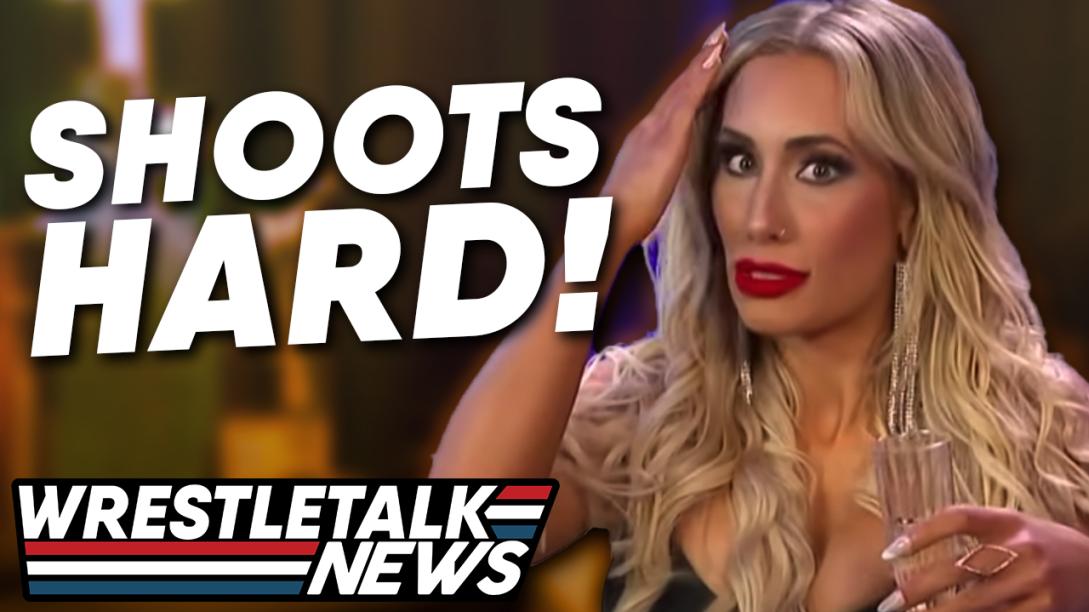 WWE's current product isn't exactly the best it's ever been. And by that I mean it's been dreadful, with the 3 hours of Raw being the worst culprit. And within those 3 hours, the worst part is consistently the women's tag division, with nonsensical booking, bad finishes and nothing really meaning anything.
And it seems the fans aren't the only ones annoyed with WWE's handling of the women's division as a whole, as Carmella recently appeared on the Bella Twins podcast, where the three expressed their frustration with the company – with Brie Bella saying that the company is close to another hashtag trend of #GiveWomenAChance – referring to the GiveDivasAChance hashtag that actually brought about some change in the company.
Carmella added, "I would sit at home and watch Raw and it would be 10 p.m. before I would see a woman on the show. It's like, 'this is a three-hour show. What the hell?'…Like if I didn't work at WWE and I was just sitting at home watching, I want to see the women. That's why I tune in. If I'm waiting until 10 p.m. to see a girl, it's like, 'what the hell?' That's not okay for little girls at home or whoever is watching waiting for the women."
And it seems with the release of Billie Kay, who teamed with her at WrestleMania earlier this month, Carmella was robbed of something she was looking forward to:
"We were super excited for this story and I felt like, okay, I'm done with this whole sexy gimmick that they want me to do, which is fine. It's fun to be sexy, but I feel like I wanted to show my personality more. I wanted to show a little bit more of a fun side and I was looking forward to doing that with Billie."
But as it turns out, a WWE official explicitly told one of their former stars exactly what several fans had suspected: they don't care about women's wrestling.
The recently released Mickie James appeared on her Grown Ass Women YouTube show alongside WrestleTalk bestie SoCal Val and Lisa Marie Vachon, where she spoke on an exchange she had with a WWE official:
"There was this moment in all of this where I go, 'What if we do an all-female branded product?…And if I could help lead up and head up that, and we have an awesome team of women that we could really lean on…And I s*** you not, this one person said literally…'They're never going to do it. Ever. Women's wrestling doesn't really make money…I get what you're trying to do, but I don't understand why you're fighting so hard for it. You should just kind of like play the cards you're kind of dealt.'"
What do you think? Can women's wrestling make money? Let me know in the comments because I'll be replying to people FROM OUTTA NOWHERE saying yes of course it can.
And while Mickie James did actually lose her job, there was someone who nearly lost theirs.
NXT Name Suspended
NXT referee Drake Wuertz was recently in hot water, again, for calling in to the County Commissioner's meeting to talk about how wearing masks makes human trafficking easier, while backstage at NXT. Fightful Select is now reporting that as Wuertz has been "a lightning rod for controversy", he was suspended earlier this year, and was not allowed inside the Capitol Wrestling Center at all, and once he was permitted entry, his responsibilities within the company had been massively reduced. However according to the report, there are those within the company who fear he still has a job due to having such radical beliefs.
But even with NXT moving to Tuesday nights, the viewership for this week's episode dropped by nearly 100,000 viewers, netting an average of 744,000 viewers. However, the 18-49 demographic rating stayed consistent, with the show scoring a .22 rating as opposed to last week's .23.
There is a bunch more news today that you can find on wrestletalk.com, such as Andrade's first post-WWE match being announced against a controversial opponent, Jason Jordan being promoted to the lead producer in WWE and usurping a huge name backstage, CMLL ending its relationship with Ring of Honor, and more! You can find links to those stories in the description and in the pinned comment below.
AEW Dynamite Review
But now, it's Thursday, you know what that means – it's time for a review of last night's episode of AEW Dynamite, in about 5 minutes!
AEW kicked off a Chopper Pete Quinnell sized STACKED card with Hangman Adam Page vs. Brian Cage of Team Taz in a great match. Page has been racking up a lot of wins on Dynamite as of late, establishing himself as one of the top guys in the singles division. Which made Brian Cage's win even more impactful. Cage attacked him before the bell, powerbombing him on the stage, and then beat him from pillar to post throughout the match, hitting the Drillclaw for the 3-count. This is AEW telling their audience that wins and loses matter, which they should. If the wrestlers and promotion doesn't care who wins or loses, then why should I? And because Hangman's journey to Omega and his wins matter, it puts Brian Cage over in a big way as the first person to pin him in a singles match since Kenny Omega at Full Gear last November. This was furthered by Taz's promo later in the show where he said that Cage should now be seen as the new top guy in the promotion, before being interrupted by Christian Cage to further their feud. I loved this opener, and I love everything it stands for.
The Young Bucks continued their heel ways by acting like total dicks in their match with the Sydal Brothers. There was a very confusing moment where Matt and Nick Jackson did Twin Magic and confused the ref – despite neither man really looking like the other – and only made the referee look stupid for not realising it. But it's all okay really, because Matt Jackson did a Johnny Cage splits lowblow which unashamedly popped me. SCU cut a promo on them after the match to set up a future title match, playing up on the story that started last year that they'd split as a team the next time they lost. I like the angle, I just wish Daniels and Kazarian had been on Dynamite more since December to really make this story have the impact it should.
Jade Cargill got a video promo to continue her search for a manager, and then we got Pentagon Jr vs. Orange Cassidy in a great match that seemingly was there to remind us all why we fell in love with Cassidy in 2019. The two are so incredibly charismatic that they spent the first few minutes of their match just exchanging taunts and it totally got over with the small live crowd in attendance. The rest of the match was also really good, with Cassidy picking up the win after some interference schmoz from both Alex Abrahantez and Trent. I really wish AEW would stop pinning Penta. He should be on of your top acts.
Britt Baker continued her celebratory ways by still being at the top of the women's rankings – and she'll be in action next week – but that's not the match that everyone is talking about for the next episode of Dynamite.
Next week – after a year's delay due to a global pandemic – AEW will debut their Blood & Guts match, essentially their version of WarGames only with a sillier name. I've been so into this feud since it started a while back, but this promo segment between the two teams of Inner Circle and The Pinnacle got me so hyped for the match that I wrote in my notes we should do a livestream reaction show on WrestleTalk Podcast. Everyone cut a great promo, particularly FTR with Dax really putting over the danger and brutality of the match – saying he's made peace with his family, and that Santana should hold on to his daughter and tell them you might not come home. But, as usual, it was MJF who was the star of the show here – and he used the simplest bit of wrestling 101: he put over his opponent. He talked about Jericho was the top guy of AEW, and it might not have the success it has without him. He was the champion, he brought in those lapsed fans who gave up on the sport, he has brought in money so the boys in the back can eat. But that pressure is getting to him, heavy is the head that wears the crown. And MJF is going to do Jericho a favour, by taking that crown off his head and placing it onto his own because he can handle that responsibility. Jericho fired back saying that if 1969 was the summer of love, 2021 will be the summer of violence and pain – and next week summer starts early for The Pinnacle.
I loved everything about this. They got over the danger of the match, and got me so pumped for next week. I still think this should be the end of the feud and not a stepping stone to Jericho vs. MJF in a singles match, but I don't want that hyper critical way of thinking to take anything away from what was a total home run segment. 
And it was followed up with another fun segment of Eddie Kingston and Jon Moxley got Kenny Omega into the ring, threatening to break his ankle if Don Callis didn't give them a tag match for next week. Probably would have made more sense if they'd asked for a title match, but I'm sure the tag match will be fun next week?
Kris Stalander beat Penelope Ford in a decent match, but was more of a backdrop to tell us that Ford and Sabian were back on screens since their Arcade Anarchy match a few weeks ago, so we could get Miro absolutely destroy Sabian backstage. This is the Miro we've been asking for, a dominant unstoppable force who is now going at it alone as a singles guy. If only there was a champion who keeps overcoming odds against bigger guys he could face [Darby Allin side screen].
QT Marshall's Factory of Aaron Solow and Nick Comoroto took on members of Cody Rhodes' Nightmare Family in a decent six-man was all about putting over the younger talent of the AEW roster – particularly Anthony Ogogo who decked both Lee johnson and Billy Gunn to give QT the pin. He then brawled with Cody on top of a bus, where Rhodes locked in the figure four to set up a match between them next week. I'm sure the figure four hurts more on top of the bus.
The legendary Yugi Nagata returns to TNT in a couple of weeks time to face Jon Moxley for the IWGP United States Championship! 
And in the main event, Darby Allin overcame the odds again to beat 10 of the Dark Order in a decent match. Ethan Page and Scorpio Sky attacked Darby and Sting after the match, with Lance Archer running down to make the save. I'm really loving AEW giving Darby the main event slot every single week, as it establishes him and really puts over the title. And him constantly overcoming the bigger men surely sets up Miro to kill him and win the title down the line? 
So that was this week's AEW Dynamite in about 5 minutes, let me know what you thought of the show in the comments below. This was another really great episode of the show – with the in-ring action and Blood & Guts hype being the standouts. This week's AEW Dynamite, for me, is another 4 out of 5 show.
What are your thoughts on the above story? Let us know in the comments on Twitter or Facebook.