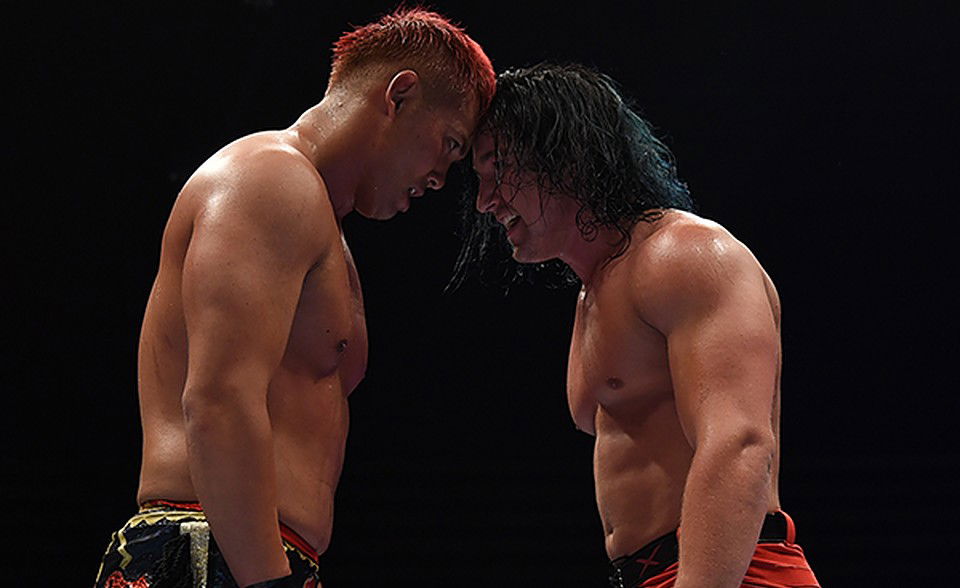 With this year's G1 Climax nearing its conclusion, Jay White has been a front runner for many from the very start. Even though it was only his third consecutive year in the tournament, he has done nothing to discourage these thoughts. In his first year, Jay got a respectable 12 points. Last year, he reached the final narrowly missing out against Kota Ibushi with six consecutive wins.
Each year, he has also produced some stand-out matches with some of the best wrestlers in the world. Here is a list of the top 10 bouts from the Jay1, sorry the G1.
---
7. Jay White vs. Toru Yano – G1 Climax 29 – July 19, 2019
It seems to be common knowledge that Toru Yano will appear on a G1 list, and this Jay White one is no different. In the lead up to this match, White had already lost twice to members of his former CHAOS faction and Yano was next on the list. Yano had also already caused some upsets beating IWGP Intercontinental Champion Tetsuya Naito on the first night.
At first, Jay tried to match Yano's mind games by rolling out of the ring and using Gedo as a distraction. Initially, it seemed to be working, but Yano is always one step ahead of his competitor. One mistake allowed Yano to go to his trusted turnbuckle. From there, the result almost seemed inevitable.
Unlike many of Jay's matches in a tournament setting, this was very much a Yano bout ending in just under five minutes. With a low blow and hit with the brass knuckles, White suffered yet another loss courtesy of a standard Yano roll-up.
Luckily, as fans know, it was the end of Jay's bad luck. He eventually went on to go undefeated and get to the final. However, it was such a good match because we hardly see White in matches like this often: quick, funny, and random.
---
6. Jay White vs. Minoru Suzuki – G1 Climax 28 – July 22, 2018
Going into his first G1, Jay White had not been shy about using any means possible to get a win. However, going up against the King of Pro Wrestling, Minoru Suzuki was going to be hard because this was one man who would not take White's tactics.
Unfortunately, all of Jay's cockiness probably did him less good and just infuriated Suzuki. Suzuki gave White everything he had to offer and, in return, Jay also gave Suzuki his best whether it was his patented chops or suplexes. Even with Suzuki's experience, Jay still tried to use every trick in the book to get a quick win whether it was attempting a low blow or moving the match to the outside of the ring.
In the end, White couldn't out-heel one of the best in the business. All it took was one Gotch Style Piledriver from Suzuki. It was a loss for the Switchblade. However, it was a great match where White managed to hold his own surprisingly well against one scary wrestler.
---
5. Jay White vs. TAICHI – G1 Climax 3o – October 7, 2020
For some reason, there is something very endearing about a heel versus heel match in professional wrestling. It seems to break every rule and is conflicting for fans because, who do you cheer for? Well, sometimes they are magical and the match during this year's G1 between Jay and Suzuki Gun's TAICHI was no different.
Before the match, White made it clear that he quite liked TAICHI and even clapped along to his entrance and singing. However, that mutual respect soon went out of the window. Both were back to their old tricks and realized that they had more in common than first expected. They both preferred to start the match by avoiding their opponent.
Despite both men initially trying to avoid each other, it soon heated up in the ring. The match itself was dynamic and full of action ranging from blistering chops, spine-tingling kicks and lariats galore. Both showcased just how talented wrestlers they are. Yet, even with all the action in the ring, some sneaky style was inevitable. There were low blows, microphone stands and, of course, Gedo proving why he is such a good manager.
With the help from Gedo again, White managed to transition into his Blade Runner for the win. Not only did he get another two points but performed a miracle. He made the fans root for the Holy Emperor which is unheard of.
---
4. Jay White vs. Kota Ibushi – G1 Climax 30 – September 23, 2020
After their amazing match during the 2019 G1 Climax and this year's Wrestle Kingdom, fans were excited for a rematch between the Switchblade and the Golden Star. Luckily, it matched up to the expectation. The two had a bout worthy of the main event.
It was your classic babyface versus heel match with White trying to tease the crowd and then playing mind games with Ibushi. Like the year before in the final, Jay then went on to target one of Ibushi's greatest weapons in his legs. Luckily, the Golden Star's will was enough to see past that as he attempted to quicken the pace of the match.
From there, we seemed to have a match reminiscent of their previous bouts. It was a battle between Ibushi's athleticism and White's brains and brawn. There were some beautifully executed suplexes, blistering chops and of course Jay's attempt to get the win in any way possible.
In the end, it was once again the help of Gedo that helped Jay White pick up the win by countering Ibushi's Kamigoye. It seems like the rivalry between these two is far from over.