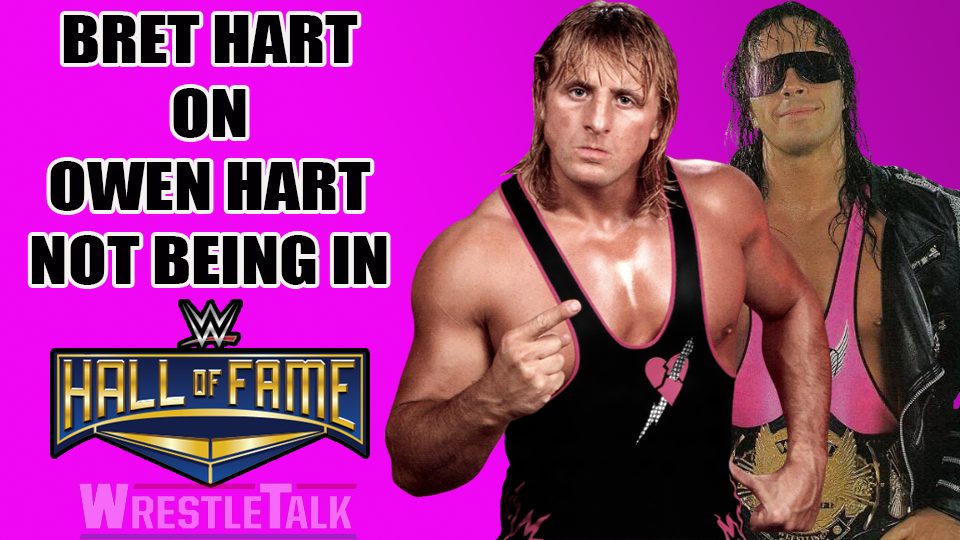 Finally, after the subject being treated like some type of taboo, Bret Hart has spoken out about his late brother Owen Hart not being inducted in the WWE Hall of Fame.
Hot on the heels of Mark Henry's passionate plea for the induction of the 'King of Harts' at this year's ceremony, the 'Excellence of Execution' tackled the subject on CBS Sports' 'In the Corner' podcast. Originally present to discuss his new documentary, 350 Days, which tackles different aspects of professional wrestling, Bret had this to say on his late sibling and an induction into the prestigious halls:
 "You can leave Owen Hart out or leave Dynamite Kid out of it or some of these great wrestlers, but why are you leaving them out of it? There are a lot of great wrestlers who haven't got their pat on the back at the Hall of Fame and it started bothering me to the point where I don't think I will go again to any of the ceremonies until they put in proper, deserving candidates."
Bret, of course, is correct. We can all name countless people who have been inducted who arguably don't deserve it, when men such as Owen, Dynamite, Brian Pillman and even the British Bulldog have been snubbed for one reason or another. For countless years the die-hard among us have been castrating WWE for including the undeserved, and the straight talking former WWF Champion backed us up by naming names:
 "Just about anyone can be in it, and it doesn't really matter if you were a great wrestler or what your accomplishments or contribution were to wrestling. Then you have the Rock 'n' Roll Express, who never even made it in WWE, they are in it. Terry Gordy and the [Fabulous] Freebirds are in it when they were too drunk to make most of the towns. I was there in the dressing room when Andre the Giant fired all three of them. They were not great role models or hard workers."
Bret's opinions on the ceremony are Marmite. You either love them or you hate them and undoubtedly they won't be for everyone. However, they're right. How can they not be when you look at the names still waiting in the wings? The master of the Sharpshooter went on:
"You look at the people they have in the Hall of Fame, even some of these celebrities in there, and you go: For me personally, with Owen not being in the Hall of Fame, there is a lot of people that belong in the Hall of Fame that are not in it. If it turns out that WWE is going to keep being a Hall of Fame that caters to suck ups and people that are in the company that feel they owe a favor to but never contributed to the business as wrestlers, I question the whole Hall of Fame itself, and I wonder if there will ever be a real Hall of Fame that really caters to just the wrestlers."
Love him or hate him, agree or disagree, this is not about the opinions the 'Pinks and Black Attack' hold. This is about Owen Hart not being amongst the elite where he so rightly belongs. The company can blame his widow for blocking the move, but at the end of the day the McMahon empire have the power to induct him – they did, after all, produce a three disc DVD release of Owen off of their own backs – but don't for fear of rebuttal.
Sadly, an Owen Hart Hall of Fame inclusion looks a long way off, with the only way seemingly to induct the Hart Foundation as a whole. That, however, would run the risk of detracting the spotlight from the rest of the bloc.
Sometimes, you just need to be brave in life. Whether it upsets certain people or not, for the sake of our sanity and his legacy, WWE need to throw caution to the wind and make Owen a WWE Hall of Famer. It's the right thing to do. Those hallowed halls will never be complete with their king.
Let us know what you think about Owen Hart not being in the WWE Hall of Fame, Bret Hart's opinions, and your memories of both sibilings on Twitter and Discord today.