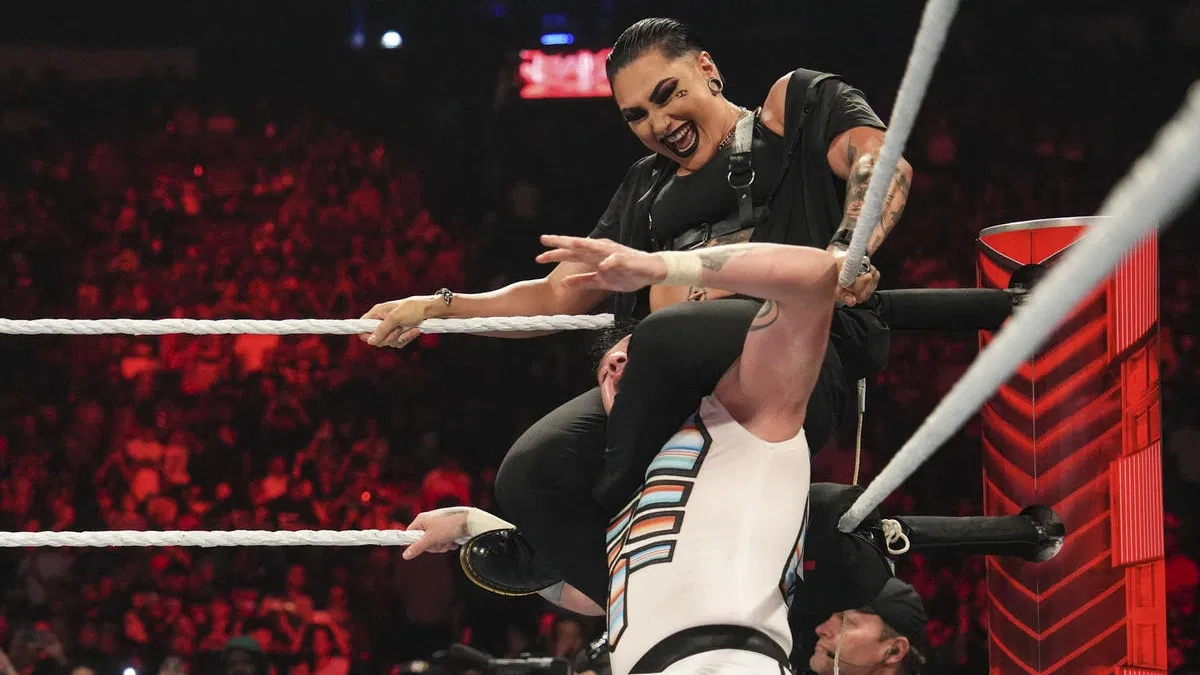 Rhea Ripley sees you. Yes, you. And she knows exactly what she's been doing to you for the past few weeks.
We've seen Ripley wear an 'I'm Your Papi' shirt, crush Dominik Mysterio's head with her thighs, and WWE upload a "Rhea Ripley Dominates Dominik Mysterio" playlist on YouTube.
If that gives you the feeling she might be doing it on purpose, well, that's because she is.
Speaking with Sportskeeda, Ripley's close friend and teammate in Judgment Day, Damian Priest, spoke about Ripley's recent antics, saying:
"That was one of those that we talked about what we wanted to do, especially Rhea, she was like, 'Oh my God, my creep fanbase are gonna go crazy over this'. We knew what was gonna happen! They did. The next day, we were just laughing hysterically about it. She was like, 'Yeah, pretty much what we thought would happen. I knew it!'.

"It was like, 'Let's do it, then, let's give them something to talk about', which is what we try to do anyway, make sure people talk about us tomorrow, next week, next year. That's the goal, right? And let's do it in a cool way. And she did it, we did our business. She choked him out. We're telling a story, but also there's the other side where, 'Let's do something that'll draw more attention'.

"There's little Rhea can do that doesn't get attention. Nobody like her. She's just imposing, she's gorgeous, badass, cool. Everything that you want out of a superstar, Rhea's got it."
Although no match has been announced for Judgment Day at Clash at the Castle yet, Priest was doing the media rounds in the UK to promote the event – including an exclusive interview with us which you can find here – and Finn Balor recently confirmed that he is scheduled to be at the show on September 3.
Priest will go one-on-one with Edge on the August 22 episode of Raw in Edge's hometown of Toronto, Ontario, Canada.
If you're in the UK but didn't manage to get tickets to Clash at the Castle on September 3, WrestleTalk is hosting a watch party at The Joiner on Worship in Shoreditch, London, and we'd love for you to join us! Click here for more details.