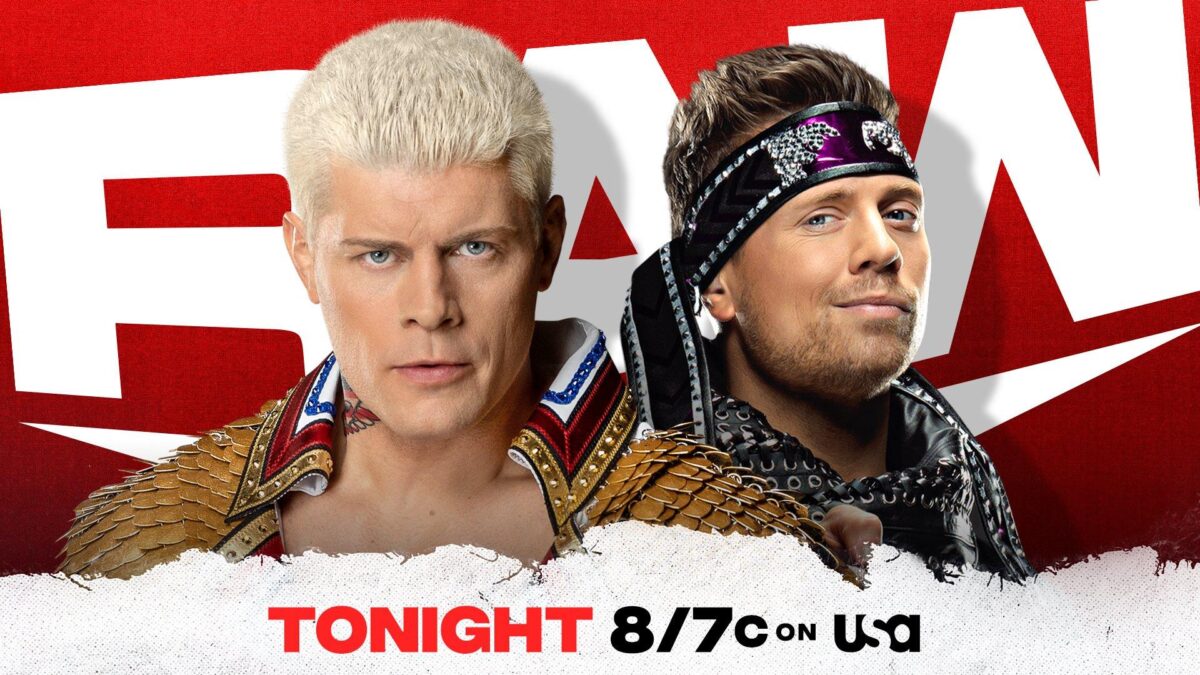 Welcome to live results for Monday Night Raw!
Scheduled for tonight's show via WWE.com
Cody Rhodes vs. The Miz
AJ Styles vs. Damian Priest
And I'm sure more… because this is a three hour show after all!
Join us back here for all the action at 5pm PST / 8pm EST / 1am BST
To make sure you stay updated with all the latest wrestling news, add WrestleTalk.com to your Google Discover feed and follow us on Twitter!
Usos vs. Street Profits
Usos vs. Street Profits was a predictably great match with high flying and massive moves throughout. Several incredible spots, Ford diving over the top rope to take out both Usos who are face to face with RK-Bro to remain standing and then dance at them? Epic. Ford's now-signature enormous Frog Splash never disappoints.
Eventually, the Usos are able to best the Profits, hitting a 1D and pinning Montez Ford for the win.
After the match, RK-Bro and Usos stand tall, both teams holding up their titles (they're not BELTS okay) at one another until Dawkins rushes Riddle, Ford slips back in the ring just to get RKO'd but when he turns back around the Usos have returned, super kicking Orton in the face which leaves the Usos standing tall with all the gold in a sneak preview of Bloodline's total dominance!
??'?? ?? ????? ????.@WWEUsos @SuperKingofBros @RandyOrton @MontezFordWWE #WWERaw pic.twitter.com/YpojA8NA2r

— WWE (@WWE) April 12, 2022
10-STAR FROG SPLASH!@MontezFordWWE #WWERaw pic.twitter.com/FtPAc3HItw

— WWE (@WWE) April 12, 2022
RK-Bro vs. Alpha Academy
"Apparently the big dog let his bitches off their leash…" – Randy Orton
Another Alpha Academy vs. RK Bro that is possibly getting a little stale and I genuinely enjoy this matchup but… we've seen it, a LOT. After a decent match of reliably entertaining back and forth action, the typically delightful Randy Orton hot tag moves into Orton pinning Gable and are in the ring celebrating when the Usos are shown showing up backstage into the commercial break.
After the break, Randy and Riddle are still hanging out in the ring, waiting for the Usos who make their entrance to a very unintimidated duo of Raw champs. RK-Bro and Usos have mics.
Usos are here to challenge RK-Bro to an undisputed tag team championship match to win them both! Orton is on the verge of accepting when Street Profits interrupt. They are happy to face the Usos for a unification match, after THEY beat RK-Bro!
Orton says no one wants to hear them talk – we want to see them fight, right Detroit?!
Usos vs. Street Profits, next!
24/7 Shenanigans
At the backstage bachelorette party, Los Lotharios show up, Nikki A.S.H. is there and brought some extra male entertainment which Tamina unmasks as a referee! Nikki attempts a roll up on Dana Brooke but Tamina breaks up the pin. Chaos ensues!
R-Truth busts the entire thing up, telling them, "y'all should be ashamed of yourselves!"
"Nobody loves that 24/7 title more than me! It isn't the title that keeps us together y'all, it's the love! Can I get an Amen?!" R-Truth shows his official "Marrying Guy" document and tells everyone to stop trying to pin Dana Brooks (she corrects him but that was a funny running gag actually) until he can complete a double wedding with both couples on next week's Raw!
RK-Bro starts their entrance before the break.
Are you a @TaminaSnuka or a @DanaBrookeWWE?#WWERaw pic.twitter.com/iqanF8Drsd

— WWE (@WWE) April 12, 2022
Bianca Belair vs. Queen Zelina
Backstage, Adam Pearce and Sonya Deville are talking to Austin Theory who corrects them, Mr. McMahon thinks it would be best if he drop the Austin, he's just Theory now… Kevin Owens comes up to them and demands to see Ezekiel's info, a birth certificate? library card? anything? Pearce tells him that he can't show him anything because it's confidential, lol. I love an exasperated
Bianca Belair casually does some squats while she's holding Zelina over her head, making the pin and relatively short work of her.
Sonya Deville's music hits and she starts walking to the ring; after the break, Sonya goads Bianca into signing a blank contract and out comes…. no one! It's Sonya Deville herself!
"Your next opponent is me!"
#WWERaw Women's Champion @BiancaBelairWWE's next opponent is….@SonyaDevilleWWE?! pic.twitter.com/NStiIAjoot

— WWE (@WWE) April 12, 2022
Bobby Lashley crashes the VIP lounge
Starts out pretty okay until the crowd starts 'What?'ing him but production quickly covers the audio as Lashley calls out MVP but instead is met with Omos first, with MVP alongside.
There's a relatively generic exchange back and forth, MVP tells off Lashley. Lashley ends the segment enraged and trashes MVP's VIP lounge set.
"Don't you ever forget it was MVP who made you All Mighty!"

With @TheGiantOmos by his side, @The305MVP is telling @fightbobby exactly how he feels. #WWERaw pic.twitter.com/tckksEqPmN

— WWE (@WWE) April 12, 2022
We next get a recap of 2 weeks ago with the 24/7 double proposals and then apparently Reggie and Akira Tozawa are having a bachelor party backstage that had cigars and something unnamed jumping out of a cake? After Reggie reveals that Dana Brooke has the 24/7 championship at the girls' dual Bachelorette party, R-Truth warns that they shouldn't leave the 24/7 title alone with a bunch of lying, conniving snakes – let's go to the Bachelorette party! I hope this all ends in Truth winning it!
Bianca Belair starts her entrance for a match against Queen Zelina.
Liv Morgan Vs. Naomi
Wait, now it's an "eventual opportunity" at a tag team championship match for Rhea and Liv… with no Ripley at ringside for this match-up.
Naomi picks up the win in this fast back and forth match which tells the story almost all of Liv's matches do – gawsh she has heart, but darn these veterans are tough to beat!
Naomi did an interesting move where she kind of twerked in Liv's face which commentary called, "creative offense," which was highly amusing, plus a cool slide across the ring.
After Naomi picked up the win, one of her sets of lashes fell off and Sasha picked it off her face for her to keep celebrating the win. It was great team work.
Before the break we get a Bobby Lashley entrance, apparently he is crashing MVP's VIP lounge segment with Omos!
Backstage with Bert
Kevin Patrick just said hey, welcome to the Raw roster! to Ciampa who then is met by Ezekiel who walks up just to say, "Hey I'm Ezekiel, Elias' younger brother," and Ciampa says Hi then Kevin Owens walks up to aggressively bust up the pleasantries, saying he HATES liars and Ezekiel is lying, it's just Elias without a beard!
Ciampa says it's easy to see how Kev could make this mistake but that isn't Elias, it's Ezekiel.
Kevin Owens wants to know if he's the only person who hasn't gone crazy around here?! That's Elias! And then storms away.
We go into a commercial and get one for NXT tomorrow night, touting a "Title Tuesday" edition of NXT 2.0 focusing on Mandy Rose and Cameron Grimes. Sure. That's one way to spin it!
Cody Rhodes vs. The Miz with a Seth Rollins
A second set of entrances for Miz and Cody tonight but before they get quite kicked off, Seth Rollins interrupts and does his entrance as his music ends and the bell rings. Rollins is seated at commentary (with his feet on their table haha) but he isn't joining them ON commentary, unfortunately.
The match is evenly paced with Rhodes selling a bum leg throughout but is able to turn it around.
Generically enjoyable match ending in a Cody Cutter into a Cross Rhodes for Cody to pick up the win over The Miz.
While Cody celebrates, Rollins sneaks into the ring and is just standing there waiting for him, now with a microphone.
"Cody… Cody… I heard all the kind things you had to say about me earlier, I heard you even threw out the word… rematch but what I want you to remember about WrestleMania Cody, is you were a surprise opponent so going into WrestleMania you had every single advantage but now that I see what I'm working with – here's what I'm thinking, Rollins vs. Rhodes, part two, whaddya say Mr. Nightmare?" with Cody saying "Yes! Absolutely Yes!" and Rollins dances his way around him in a circle.
AJ Styles vs. Damian Priest
In an 'earlier today' segment backstage, AJ Styles is seen saying that messing with his family is where he draws the line! and brawls with Priest immediately upon spotting him with commentary borrowing a line from a recent Eddie Kingston promo, noting that "there's no waiting for a bell… it's on sight for these guys!" Onsight!
Going to commercial, we come back and AJ Styles makes his entrance and they show the same 'earlier today' brawl again? Finally the match starts
"In many ways this is an audition for Damian Priest," oh okay so now commentary is selling that Priest has to beat Styles tonight to prove to Edge he's worthy of his company. Interesting story.
Styles with plenty of offense and numerous near falls which Priest sells in rather dramatic fashion but Priest eventually turns the tide and has the trash talking upper hand until he attempts to go for the Reckoning but is met instead with a reversal into a Pele kick. As AJ attempts to go for a Phenomenal forearm but Damian throws him off the ring apron.
Priest kneels in the ring, the lights go off, come back on and he's in spooky lighting then we go to commercial?
Back from break commentary says "the power in the arena has been restored," and they go to the back where literally AJ Styles says, "what was that crap?" and then boom, we're moving on. Wow, alright?
?@ArcherofInfamy #WWERaw pic.twitter.com/4vq6jx27Wx

— WWE (@WWE) April 12, 2022