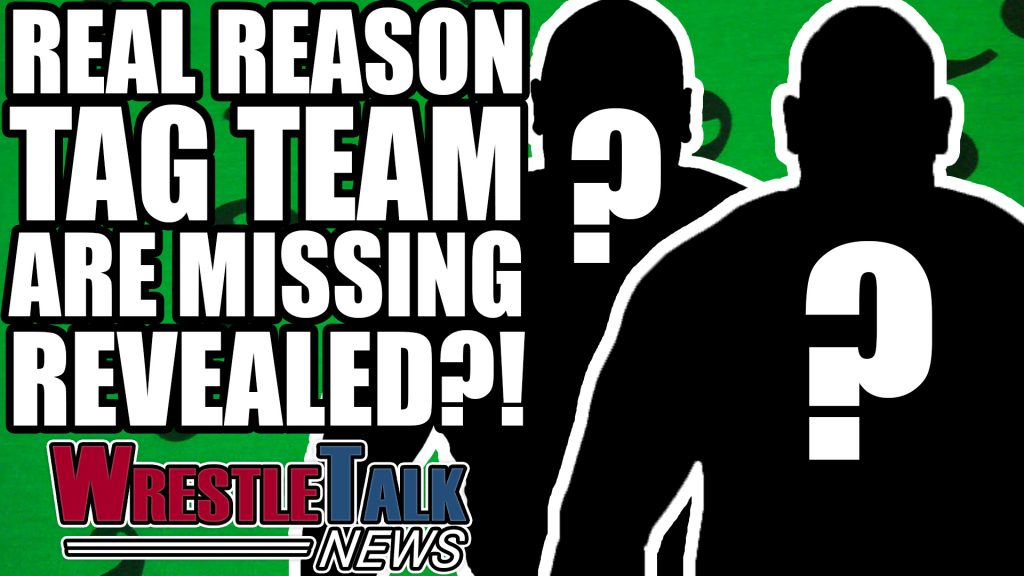 For more great WrestleTalk News Updates and video content and to join our PULL TRICKS FOR SIX (Hundred Thousand Subscribers) please SUBSCRIBE to our YouTube channel HERE
NXT Vs. Lion!
When you think of the word Lion, you might think of the delicious chocolate bar, the band who did the theme tune to the 1987 Transformers movie, or New Japan's Young Lions. A Young Lion is a rookie who is training in the New Japan Pro Wrestling system, with such illustrious alumni as Hiroshi Tanahashi before he had glorious hair and former IWGP Heavyweight Champion Kazuchika Okada. So Young Lions are like the feeder system to the New Japan's main roster – not unlike NXT is to Raw and Smackdown Live. And it seems as though the stars of NXT wanted to face the Young Lions in a tug of war while in San Antonio. When they found out there were no Young Lions there, they played tug of war with an actual lion. Credit @sanantoniozoo
https://www.facebook.com/SanAntonioZoo/videos/10156137497686539/
Triple H Calls Pete Dunne A Future WWE Champion
Speaking of NXT and many of its wrestlers will be heading to the United Kingdom again next week – after a quick trip over for Download Festival last weekend – to tape their upcoming United Kingdom Championship tournament. The current Champ Pete Dunne will defend his title at the Royal Albert Hall against the winner of the tournament which features the likes of Dave Mastiff, Flash Morgan Webster, Travis Banks and Liverpool's Number One Zack Gibson. And speaking of Dunne, WWE's COO Triple H had very praising things to say about him.
During a conference call to promote the UK shows Triple H was asked by The Daily Express who he sees from the UK talent pool who could be a future WWE Champion – with Hunter pointing to The Bruiserweight.
Paul Ellering Coming Back To NXT?
Triple H also had his now traditional conference call with the wrestling press about the upcoming NXT TakeOver: Chicago. Credit Prowrestling.com
Along with confirming that Ricochet did tweak his shoulder but will be fine for the show, and saying he's seeing major improvements in Lars Sullivan and Adam Cole, he also talked about Paul Ellering's role in the company. Ellering was the manager of Authors of Pain but the tag team dumped him as soon as they debuted on the main roster after WrestleMania. Many speculated that it was due to Ellering not wanting to be on the road full-time, but the man himself said this wasn't the case on Twitter. Triple H revealed that he was not part of the decision to split Ellering from Authors of Pain, but did say that he could pair him up again with another NXT talent at some point.
"When [Authors of Pain] got the nod and that Paul wasn't going with them, I pulled Paul aside and said, 'look I don't want to do it today because I don't want it come across as a substitution.''I told him then, I want to look for something else, I want to look for the right thing. And when we have it I'll give you a ring and if you're free and still available, I'd love to do it." (Wrestling Observer Radio)
And if Bryan Alvarez of Figure Four Online is to believed, we may now know why Authors of Pain haven't been on TV for a while.
Real Reason Sanity And Authors Of Pain Are Missing
Authors of Pain debuted on the Raw After Mania, but within just a few weeks had been relegated to Main Event and haven't been on Raw since. Similarly it was announced that SAniTY would be debuting for Smackdown Live after WrestleMania – with promos being aired on weekly basis – but their names haven't been mentioned for over a month now.
According to Alvarez, the reason for this is because WWE had planned on having three Money in the Bank ladder matches on this Sunday's PPV. One for the men, one for the women, and one for the tag team division – and that was why both Authors of Pain and Sanity got called up to the main roster, and why tag teams like Breezango and Ascension cut promos on Raw about winning Money in the Bank.
"There was, in fact, going to be a tag team Money in the Bank ladder match this year. There was going to be three of them: men's, women's, and tag team. The way it was explained to me was, there's six weeks between PPVs so they didn't want to announce all three matches on the same evening. So they announced the men's the announced the women's. They shot all the promos for the tag teams getting ready for the tag team ladder match, and then the idea was we'll just wait a couple of weeks – we've got six weeks – and then we'll announce it. And then in that time they decided there's not going to be one." – Credit Wrestling Observer
For more great WrestleTalk News Updates and video content and to join our PULL TRICKS FOR SIX (Hundred Thousand Subscribers) please SUBSCRIBE to our YouTube channel HERE