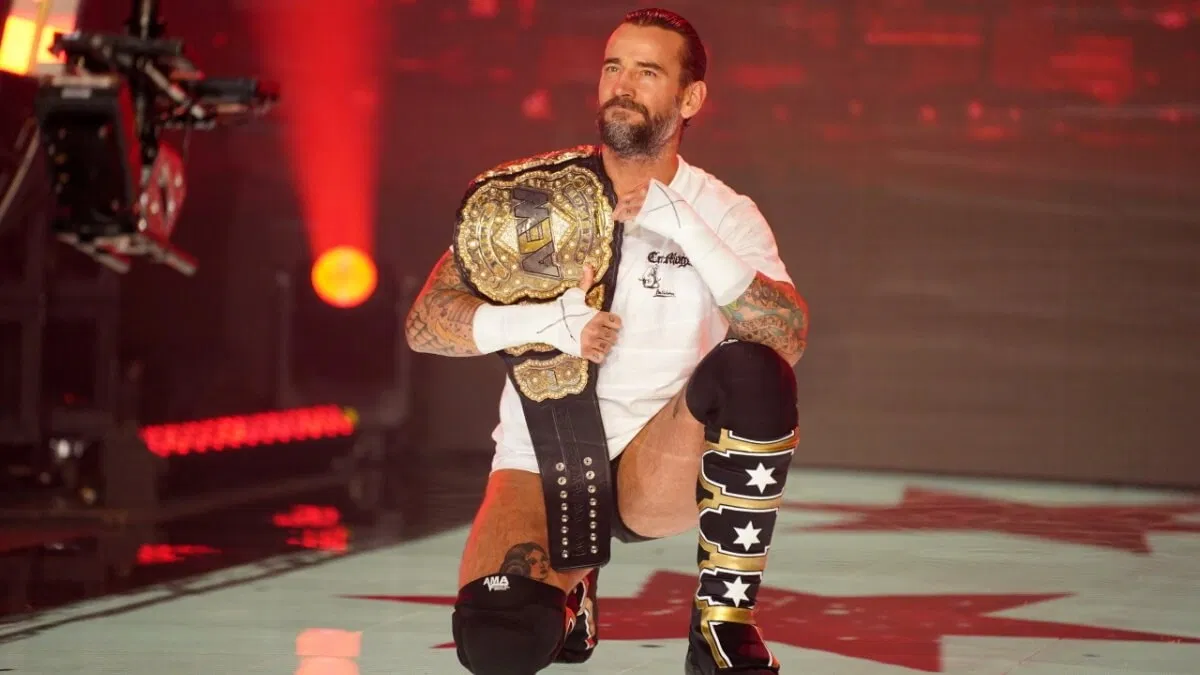 A shock AEW World Championship match is set, Triple H lifts another WWE ban, an update on the recently discovered $5 million Vince McMahon payments, and more.
It's Thursday morning, and what better way to start the day than getting caught up on all the latest wrestling news – I'm Liam Winnard for WrestleTalk.com, and this is our news bulletin for August 18, 2022.
Shock AEW World Championship Match
When CM Punk made his return to AEW last week, it looked like the main event for All Out became set in stone – World Champion CM Punk vs Interim World Champion Jon Moxley to crown an undisputed champion.
Well hold your horses, because that's NOT what was announced on last night's Dynamite.
The unification match will of course be happening, but it was announced for next week's August 24 Dynamite instead of All Out.
It's unclear right now why this is – it could be that it'll lead to a rematch, or perhaps Tony Khan just has completely different plans for the pay-per-view.
As usual, there was plenty of other news on Dynamite, most notably the return of Kenny Omega, who was indeed the Young Bucks' mystery partner as they advanced to the semi-finals of the Trios Championship tournament.
After losing to Bryan Danielson in their 2/3 falls match, Daniel Garcia was torn between siding with Danielson or Jericho, and next week he'll have to make the decision.
Austin & Colten Gunn turned on their father Billy, but he was saved by the Acclaimed.
And officially announced for All Out is a trios match with Wardlow & FTR taking on Sonjay Dutt, Jay Lethal & Satnam Singh, and Thunder Rosa defending the AEW Women's World Championship against Toni Storm.
In other big AEW news, three out of the four Rampage episodes in October will air live, and the other one is a standalone taping taped a day ahead.
Triple H Lifts Another WWE Ban
If you were skeptical about things changing in WWE under the new regime, you can pretty much put that to bed considering what we've seen for the past few weeks.
With released talents being brought back, noticeable differences in the shows themselves, and the un-banning of certain words like wrestler and wrestling.
Well, it seems like Trips is at it again, as Drew Gulak revealed last night that he was returning to his Twitch stream, and specifically thanked "Papa H" (Triple H) about it.
Gulak tweeted: "Yes, I am streaming on Twitch again. Thank you, Papa H! Also my cousin is here with me still and he insisted… please come ask him questions".
The exact details of the restrictions being lifted are unknown right now, but pretty much any third party stuff like Twitch, OnlyFans or social media brand deals, had been banned under Vince McMahon.
Two of the names Triple H has brought back – Scarlett and B-Fab – had been running OnlyFans pages, so it'll be interesting to see what happens with those and whether they'll be able to continue them, and if they can, does that mean other talent will be able to start their own.
Vince McMahon $5 Million Payment Update
It was recently revealed in a WWE statement that the board's investigation had unearthed another $5 million in payments made by Vince McMahon that should have been classified as company expenses.
That $5 million was made up of two payments, one in 2007 and one in 2009, and it was noticed that those dates and the total of $5 million matched up with payments made to the Donald J Trump Foundation.
However, it hadn't actually been confirmed – until now.
The Wall Street Journal has published a new report confirming that the board's investigation found that these payments were indeed the suspected Donald Trump payments.
The total of payments that Vince McMahon should have classed as company expenses is now at $19.6 million, with the remaining $14.6 million being made up of payments he allegedly made as "hush money" to cover up sexual misconduct.
Other Stuff
In other little bits of news…
Becky Lynch said during an Instagram livestream that she's hoping to be back from injury in the next couple of months.
Bodyslam.net reported that Johnny Gargano had been in talks with AEW, but, as was already pretty obvious, he is more likely to return to WWE.
Former AEW star Jack Evans told PWMania that he'd love to return to the promotion at some point.
On his Gentleman Villain podcast, William Regal had high praise for Mance Warner, who recently had a match with Jon Moxley in AEW.
The NXT Heatwave special edition of NXT 2.0 drew 723,000 viewers, which is the highest since October 2021 for the Halloween Havoc special episode.
Will Ospreay tweeted:  "So it's not really spoken about enough but May I nearly died. My infection was that serious. Came back in 2 weeks. 3 months from that point, tomorrow I'm in the G1 Final on NJPW 50th Anniversary. I wish I could hear your voices. But I'll fight with everything I've got". The G1 final is Ospreay vs Kazuchika Okada and will take place today, so we will of course have a story up on the site later with the winner.
And Kevin Owens told the TWC Show that he wants to win a tag team championship in WWE with Sami Zayn.
Be sure to stay tuned to WrestleTalk.com throughout the day to keep up with all the news from the world of pro-wrestling, and I'll see you tomorrow morning for another round-up.