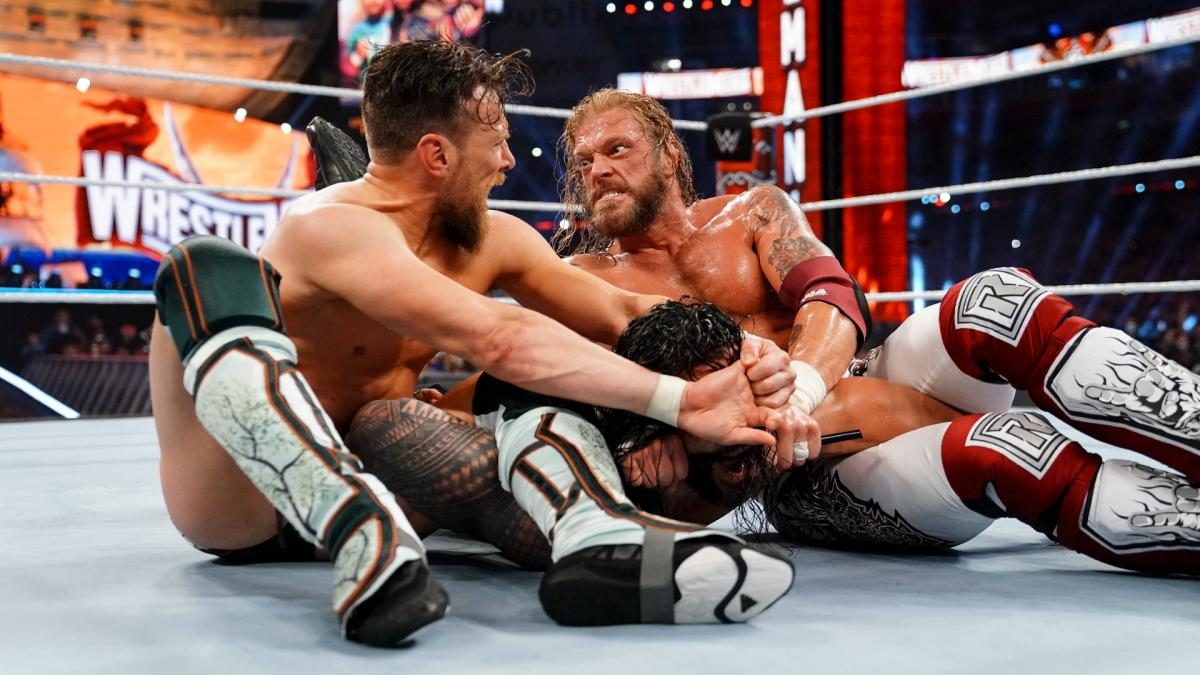 More than probably any other year in recent memory, 2021 is going to be a year of two halves, and nowhere is that pandemic/post-pandemic divide more clear than in WWE with July being the month where they fling open their doors and welcome the unwashed masses back to professional wrestling.
With the first six months of the year in the books, in the pocket, out of sight (love you OSW Review), let's have a look back at the 10 best matches from the final pandemic months of the big Dub, and hey we give out about WWE a lot (often with good reason) but this list was HARD, with stacks of honorable mentions, like both Rumbles (sorry, can't bring myself to put no-fans rumbles on here) everything KUSHIDA is doing in NXT right now, vs Gargano, vs Santos Escobar, Ripley/Asuka/Flair, Adam Cole vs Kyle O Reilly was brutal, if a teeeeensy bit too long, the fatal five-way from In Your House, the SmackDown Chamber match, there were some savage omissions from this list and I look forward to hearing your furious reactions to all of them.
I'm Adam hailing from PartsFunKnown and these are the 10 Best WWE Matches of 2021 (so far).
---
10. Drew McIntyre vs. Sheamus – Raw (March 1)
WWE sure enjoyed hiding match of the year candidates on free TV this year didn't they, with this being the first of two 'former friends club the f**k out of each other on a fairly random-ass episode of weekly telly in a match that was somehow better than the corresponding PPV matches'. Catchy category, I know. I am a writer.
On March 1, the Celtic Hogbeasts went to War Bastard in a match drenched in history, whiskey and sweat. Honestly though, this match had no right to go as hard as it did, with the closing five minutes being nothing but hoss move after hoss move after hoss move, most of them off the top rope because why not, I guess, us soft southerners cheering on Ireland and Scotland destroying each other, hoping that they never have the idea of getting together and revenging themselves on the English.
Their No Holds Barred match at Fastlane three weeks later was also very good indeed but all the weapon spots in the world couldn't match up to this match's intensity, also that closing Brogue Kick/Claymore spot. Chef glasgow kiss.
---
9. MSK vs. Grizzled Young Veterans vs. Legado del Fantasma – NXT Takeover: Stand & Deliver
And now for some very beautiful dancing. After Undisputed Era finally fractured like a Westlife commemorative plate, there were slight doom clouds on the horizon for NXT's tag team division. Thank the lord then for the adrenaline injection of MSK, two supernaturally charming and acrobatic showmen, whose feud with the forever underrated Grizzled Young Veterans held the division together in a time of trouble.
At Stand and Deliver Night 1, one of the strongest overall nights of wrestling in a very long time, the vacant tag straps were up for grabs in a three-way, MSK vs GYV vs LDF and it's amazing what genuine unpredictability can do for a match. Would WWE call all-in on MSK after they won the Dusty Classic, would the Veterans take it to redeem their loss in the tournament, would Legado steal it so they could do the faction holds all the gold moment?
All three options worked, which gave the match an undeniably electricity even before it became a stupefying acrobatic casserole of mayhem and hurled flesh. A hugely exciting statement on NXT tag team wrestling, even before the brothers of dadstruction Ciampa and Thatcher got involved.
---
8. Sami Zayn vs. Kevin Owens – Last Man Standing – SmackDown (July 2)
Part 2 in the 'former friends club the f**k out of each other on a fairly random-ass episode of weekly telly in a match that was somehow better than the corresponding PPV matches' category. Electric boogaloo.
Call in recency bias but hot dog this match ruled, one of the sassiest and incongruously violent affairs to not be featured on PPV in years. Look at Sami Zayn's back after the match, the pain must be Castro-nomical. Everything you could want from a KO/Zayn last man standing match is here, KO building a tower of weaponry which of course guaranteed that his hamster ass would be the one to plummet through it, a match narrative told through amazing facials and, of course, callbacks to their long and cruel history together with that final trilogy of powerbombs harkening as far back as 2015.
I mean, it's so hilariously WWE that these two men would legit shorten each others careers fighting over a spot in a money in the bank match only for in the very next segment Zelina Vega is just ANNOUNCED as also qualifying for a spot, but even loopy Vince logic can't take away from this canucklefest of violence. Quite literally fight forever.