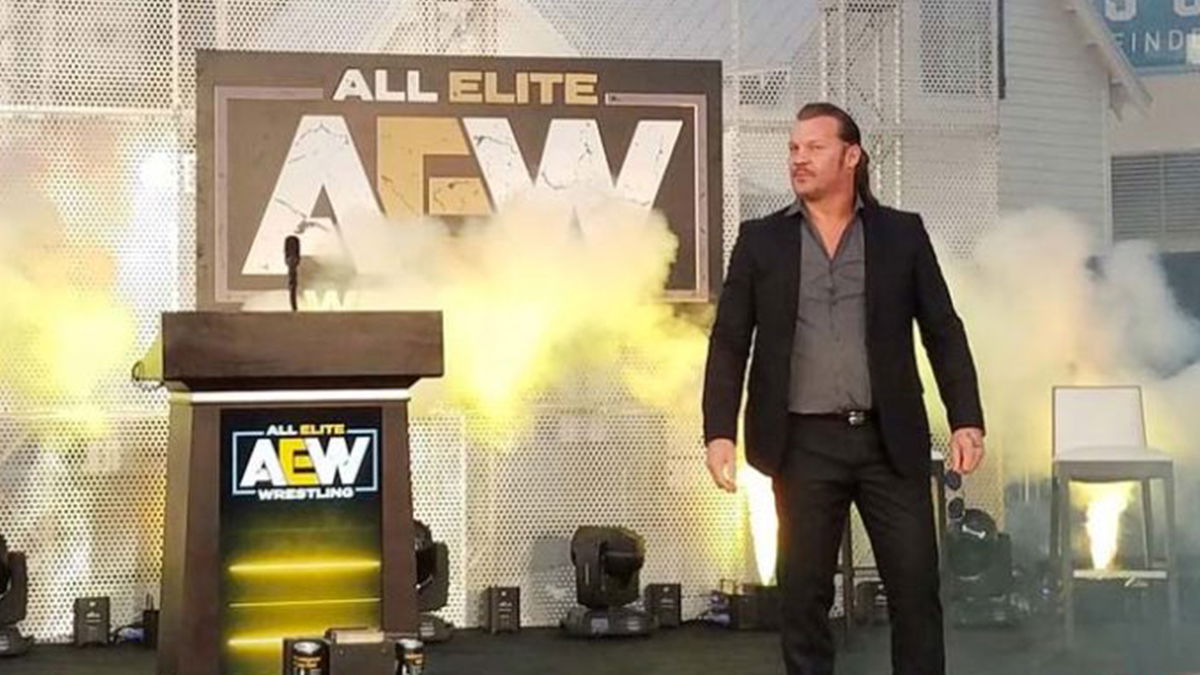 Well, blooming heck. Some stuff happened at All Out, did it not? Not only did the ghost of Tony Hawk past fight the ghost of Tony Hawk future, not only did the lovechild of Space Jam and Def Jam fight Bulgaria's meatiest flag but there were three capital huge HUGE debuts.
Ruby Soho won the casino women's battle royal which is a truly lovely thing to have happened after her WWE release earlier this year, but it's the twin debuts of Adam Cole and Bryan Danielson that really made it seem like a seismic shift has occurred in the professional wrestling scene, a dual pair of proper legitimate defections.
WWE tried their hardest to keep both men, but while Ruby was pushed, both Cole and Danielson JUMPED, Adam to finally reunite with his one true love, and also Britt Baker, and Bryan to begin his global tour of kicking all the best wrestlers in the world in the head.
But it got us to thinking, as BIG NEWS normally does, what are the other most shocking defections to have occurred in the wrestling biz, when wrestlers have taken their ball and instead of going home, have gone to play for the other team.
I'm Adam hailing from partsFUNknown and here are the 10 Most Shocking Defections in Wrestling History.
---
10. Brian Pillman (WCW to ECW to WWF)
We're starting with what might be my favorite story on the list, because it's a goddamn heist movie. Flying Brian Pillman, a cavalier poodle with a gun, properly hoodwinked his way from one company to another.
In WCW in the mid-90s Pillman was developing a character that was years ahead of its time, a proto-CM Punk who'd tear down the fourth wall with a series of demented worked shoots, creating a bizarre continuity (or should we say a loose canon) where no one knew if he was a gimmick or if he'd legitimate become unhinged, even people WITHIN WCW.
He'd physically accost Bobby Heenan at ringside without warning him, call the WCW booker Kevin Sullivan 'bookerman' during a match and walk out, before appearing to get fired.
The whole thing was a scheme cooked up between Bischoff and Pillman for Brian to travel the prominent indies like ECW and stir up a hornet's nest of controversy before returning to WCW.
To make it look real, the release papers Bischoff gave him were real, and Pillman used that legal freedom to have a short stint in ECW before almost immediately double-crossing Eric and signing with WWF.
Hustle, disloyalty, disrespect.
---
9. Mike Awesome (ECW to WCW)
ECW One Night Stand 2005 is a heck of a show, famous for a number of things that we're not going to mention, because you know why.
However, something we've talked a little less about on the card is an eye-watering match between iconic rivals Masato Tanaka and Mike Awesome, which is like Alfred Hitchcock's The Birds, but with chairshots instead of birds.
One of the fascinating things about the match though is Joey Styles' commentary where he repeatedly and ruthlessly buries Mike Awesome, so much so that you think 'does Joey really hate Mike?'.
Yes he did, stemming back to a famous defection in the late 90s.
Mike Awesome was ECW Champion in April 2000 when, after refusing to sign a new deal with ECW over unpaid wages (which was the style at the time), he zipped over to WCW and appeared on Nitro to beat up Kevin Nash whilst wearing a bum bag (which was the style at the time) with commentary screaming 'that's the ECW heavyweight champion'.
The ECW belt had to be gotten off Awesome, and it happened in SUCH a wonderfully forbidden door-shattering way.
Awesome dropped the belt to Tazz at an ECW show, which was crazy because it was a WCW guy, dropping the ECW belt to Tazz, who was currently signed… with WWF. It was the style at the time. 
---
8. Lex Luger (WWF to WCW)
The Monday Night Wars saw a whole host of insane, industry-boggling, etiquette murdering defections, some of which we'll get to in other entries, don't you worry.
Rick Rude appeared on Nitro while his last appearance on a pre-taped Raw was airing, making him the first person to appear on Nitro and Raw at the same time, wrap your heads around that wrestling fans.
Jeff Jarrett's acrimonious departure from the big dub is infamous, but we have to talk about the defection that kicked off the war. The opening shot. The first episode of Nitro aired on September 4, 1995.
The night before, on September 3, Lex Luger wrestled a WWF house show in Canada then, because he was out of contract with Vince's company at the time, hopped on a flight to Minnesota to appear on the premiere episode of Nitro, and he did it, WITHOUT TELLING ANYONE AT WWF.
That is bold, and as blindsiding a betrayal as you can get. As someone who has literally been watching a wrestling show, only to see his promotion's current top champion make an appearance in the crowd to find out THEN AND THERE that he's signed elsewhere, it is a heck of a feeling, and one of the few things me and Vince share, other than a birthday, and a distaste for Shane McMahon.