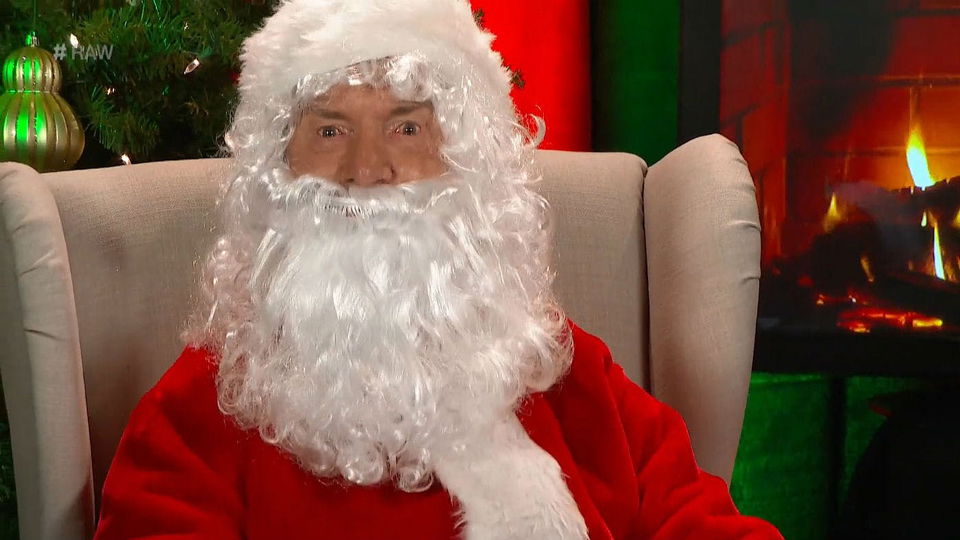 Santa Claus is coming to town!
He's making a list – checking it twice!
Finding out which WWE Superstars are naughty or nice.
If you want to find out which WWE Wrestlers are on Santa's nice list – you can here.
However, if you'd rather find out which wrestlers are getting coal for Christmas, then continue reading this feature as it covers "12 WWE Wrestlers On Santa's Naughty List" this year:
---
12. Finn Balor
Let's start with someone Santa didn't expect to see on his naughty list in 2019.
Finn Balor was one of WWE'S top babyfaces at the start of the year, representing the blue brand as their Intercontinental Champion. However, once the Fiend got a hold of him, Balor's personality began to shift.
Balor made his exciting return to NXT on the USA premiere and a few weeks later, a demon emerged (without facepaint) as he attacked fellow babyfaces, Johnny Gargano, Matt Riddle and Tommaso Ciampa.
He has been showing this dark side since and therefore, has ended up on the naughty list this year.
---
11. King Corbin
Now lets transition onto somebody that I don't think has left the naughty list – King Corbin.
Baron Corbin is a sinister bully that would walk over anyone that is smaller than him.
This ego has grown since becoming King of the Ring earlier this year.
There is always next year for Corbin to join the nice list, but we'll have to wait and see if he stops using dog mascots while insulting Roman Reigns, first.
---
10. Erick Rowan
Erick Rowan was trying to envoke change at the start of this year. Aligning with Daniel Bryan, they were going to make the planet a better place. However, plans changed for Erick Rowan and he was at the forefront of a heinous attack on Roman Reigns.
Rowan attempted manslaughter on Roman Reigns; toppling construction ontop of him; crashing his car into Reigns' and other disturbing displays of destruction.
He also turned on his ally – Daniel Bryan!
Nowadays, you see Erick Rowan talking to some sort of creature, hidden inside a cage. Is this creature on the naughty list too?
---
9. Shane McMahon
The Best In The World is definitely on Santa's naughty list.
Shane McMahon has made The Miz, Roman Reigns and Kevin Owens' lives a living misery for the duration of this year and if he never lost a ladder match against the latter, then he would still be making our lives a misery.
Let's all be grateful that Shane McMahon hasn't been on TV for a while now, which means the World Cup trophy is only beneficial for holding his coal.
---
8. AJ Styles
AJ Styles acts like that spoilt kid that would brag about all the presents they got after Christmas. Well, unfortunately, he is on the naughty list this year.
The Phenomenal One turned heel earlier this year and reformed the O.C with buddies, Luke Gallows and Karl Anderson.
He likes to complain and insult everyone that is a viable threat to him and therefore, has his name written in Santa's bad books.
---
 7. Bayley
Bayley is going to be in for a shocking Christmas this year, when she finds outs her name has been cemented in the naughty list records for the first time.
Bayley surprisingly turned heel at the start of September to aid her Boss N' Hug partner, Sasha Banks and she has been getting more wicked ever since.
Bayley has given her last hug and therefore, she is clearly on the naughty list this year.
Don't expect her to get new Bayley Buddies this Christmas.
---
6. Drew McIntyre
The Scottish Psychopath is definitely on Santa's naughty list.
Does he care?
Probably not.
---
5. Dakota Kai
After a twisted heel turn at NXT WarGames, Dakota Kai left her best friend Tegan Nox in a saddening pain.
Due to trying to justify her actions, Dakota Kai has proven it is never too late to be added to the naughty list.
---
4. "The Fiend" Bray Wyatt
Talk about the nightmare before Christmas, right?
"The Fiend" Bray Wyatt is creepy and delusional and even though he has a glove that has "heal" printed on it, all he ever seems to do is hurt.
The Universal Champion is somebody that doesn't shy away from the naughty list and probably enjoys having his name jotted down on that list.
Imagine if Santa Claus was his next victim…
---
3. Lana
There is no doubt about it. Lana is definitely on Santa's naughty list.
Taking 'naughty' to a maximum level, by cheating on Rusev with Bobby Lashley and getting herself arrested for slapping a cop.
Lana deserves nothing less than this consequence.
Let's see if she can lie her way out of this one…
---
2. Seth Rollins
If Seth Rollins read this article, he would most likely complain on Twitter than he is on the naughty list and would just tell us, that he can buy his presents with his own money.
This is the exact reason Seth Rollins is on the naughty list this year. Rollins has a massive ego, very controlling in his responses and has actually became a heel in WWE.
Let's see if he will use the coal, this Christmas, to 'Burn it down'.
---
1. Vince McMahon
Vince McMahon has been on the naughty list since the first WWE show of 2019.
We all believed change was going to happen, but us fans are proving complaining wasn't just a 2018 trend.
Actually, Mr McMahon deserves to be on the naughty list this year more than ever:
He is hoping to end AEW before they get on their feet.
He is keeping talent hostage if they ask for their release.
He is burying talent he doesn't see potential in and is putting wrestlers like: Baron Corbin and Shane McMahon in the main event angles.
He is allowing Brock Lesnar to hold a title again without making TV appearances – humiliating Kofi Kingston in the process.
He is still shaking hands with the Saudi Government.
The list goes on and on.
Therefore, Mr McMahon, "There's no chance in hell" you'll be getting Christmas presents this year!