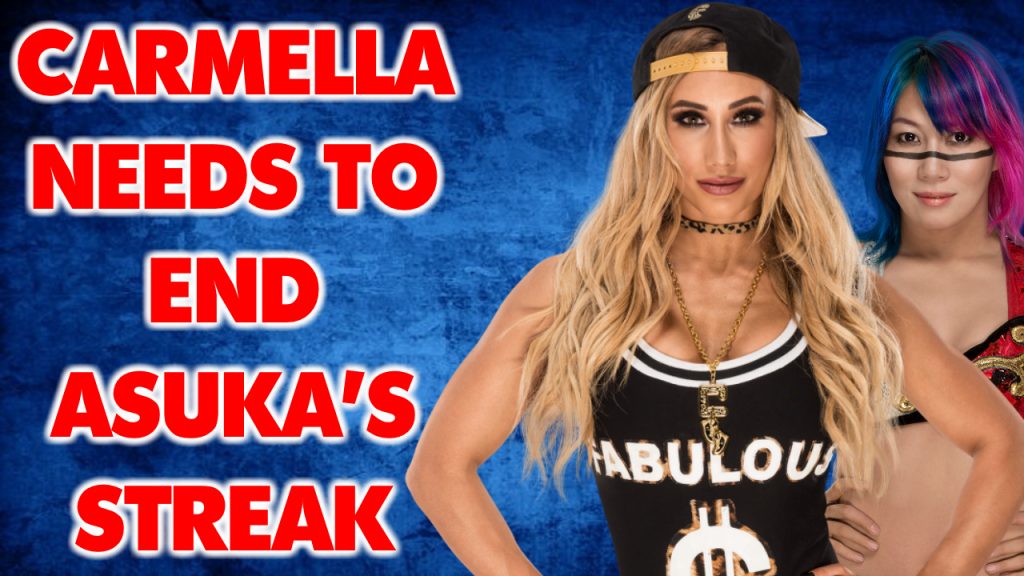 The 'Empress of Tomorrow', Asuka, has the longest undefeated streak in the history of WWE. She has been protected beyond belief in both NXT and so far in her main roster tenure. But, at some point, someone has to beat her… right? So who should that be? As you could probably tell by the title, I think it should be the 'Princess of Staten Island', Carmella and I'm going to do my best to explain what probably seems like the dumbest idea you've ever heard.
Let's get this out of the way first; I really, really like Asuka. She is a phenomenal in-ring performer and when handled correctly (i.e. not having her do interviews with Charly Caruso every week), she has an incomparable charisma and star presence. So why would I want someone like Carmella to be the one to end Asuka's streak? One word – HEAT.
Back in June 2017, Carmella controversially won the first ever Women's Money in the Bank Ladder Match, therefore guaranteeing her a Women's Title match whenever she feels like it.
And at Fastlane 2018, Charlotte Flair retained her SmackDown Women's Title before being confronted by 2018 Royal Rumble winner Asuka, who challenged her for the strap at WrestleMania 34.
That very match, Charlotte vs. Asuka, has all the makings of being the best women's wrestling match we have ever seen. A match that we have never seen before, with such sensational performers, on such a big stage, with such high stakes would be the ultimate representation of how far women's wrestling, and even women in society as a whole, have come.
So why not have it end with the ultimate heel act. After a gruelling match, Asuka wins the SmackDown Women's Championship and maintains her undefeated streak, only for Carmella to skip down the, probably about 17-mile-long, ramp, cash in her Money in the Bank contract and skip back down the hilariously outstretched walkway having taken the title for herself and ended Asuka's streak. Granted, it's not exactly the same, but we know how awesome it was when Seth Rollins did the same thing about three years ago at WrestleMania 31.
At the very start of this article I said that "Someone has to beat her… right?". And you might be sat there thinking "No, they don't.". But that's where I disagree. Asuka is possibly the best in-ring women's performer in the world, which generally means, unless she's in there with a cardboard box, or possibly Lana, she puts on sensational matches – and as wrestling fans that's what we want. And for me, a good match is a match I can invest in. A match wherein I believe the two opponents are genuinely trying to hurt each other in order to come out on top.
Asuka's matches don't do that – I know she's going to win.
I'm writing this having just watched RAW and Asuka had a match against Mickie James. Two greats of the industry and future WWE Hall of Famers (not that that says much nowadays), had a match that should have been nothing short of good. Was it? I've got no idea – I skipped it. And that's not the first time I've skipped an Asuka match.
A couple of weeks ago she had a match against Sasha Banks – I skipped it. I went back and watched it after because I heard everyone waxing lyrical about it, but at the time, I had no interest in sitting and wasting about 20 minutes of my life watching a wrestling match where I knew who the winner was going to be. That one word, investment, is why Asuka's streak has to end.
But, why Carmella? Why not Sasha Banks? Why not Bayley? Why not Alexa? We could go on, and a genuine argument could be made for each of those women. There're a couple of reasons.
The first one I mentioned earlier – heat. Carmella is an outright heel, someone who the crowd usually genuinely dislike. Her constant disrespect of ultra-babyfaces like Charlotte Flair and Becky Lynch have contributed to that. Imagine the uproar if this blonde chick, who many believe isn't even that good a wrestler, were to ruin a beautiful moment like Asuka's WrestleMania crowning.
That leads me to my second point. Carmella is a criminally underrated in-ring worker. Admittedly, she does have the occasional misstep, but she's still very inexperienced and even the best make missteps sometimes – I've particularly noticed Charlotte making a few mini-errors recently but no-one really thinks anything of it. Carmella, for my money, is no worse than Naomi and she got a pretty decent title run in 2017.
Yet another reason is that Carmella isn't anywhere near the level of stardom of Charlotte Flair, Natalya, Becky Lynch and others. The rub and recognition she could get just from being there at the end of an Asuka vs. Charlotte classic would do her a world of good. This would lead to her becoming a bigger star and therefore increasing the overall stock of WWE's women's division.
And the final reason is circumstance. Carmella just happens to be the one who has that Money in the Bank contract. Do you think that WWE really planned this far ahead from June? If you watch their weekly product it often looks like they don't even plan one week ahead. If it were to have been Becky Lynch, or Natalya I'd probably be writing the exact same article, but about them instead.
I've also got the post-'Mania SmackDown in mind here. If Carmella were to cash in and beat Asuka at 'Mania, Asuka would have a rematch, and so would Charlotte. The perfect set up for a triple threat title match. You'd have the winner of the first ever women's Hell in a Cell match, Charlotte; against the winner of the first ever women's Royal Rumble match, Asuka; against the winner of the first ever women's Money in the Bank match, Carmella. The story writes itself. It could even very easily main event the show.
But how would I book from there onwards? I'd put the title right back on Asuka, and have her have a dominant run with the belt, but because she's already been beaten once before by 'Mella, it adds a lot more uncertainty as to whether she's going to keep winning – it comes back to that word – investment.
And the longer her title run would go on for, the bigger a star she becomes, and the bigger a star whoever beats her for it becomes. She can build back up to having the same aura as she did when she was undefeated, only we know she is beatable. Which reminds me, Asuka did actually lose a battle royal back in NXT in 2016, which Carmella herself won. Carmella could then claim to own two victories over Asuka.
Alternatively, you could have Carmella go on a semi-long run with the belt, making her feel like an increasingly bigger deal and essentially the female Miz (Credit to GavTheGothicChav for that!).
The only loser I can see in this scenario is Charlotte, but with a Superstar-Shake-Up imminent, that can be rectified by drafting her to RAW to have dream matches with the likes of Nia Jax or even Ronda Rousey – we know the history there.
And there we have it, through the power of words, I have proven to the world why Carmella should be the one to end Asuka's undefeated streak.
Wait, what do you mean you're not convinced? Fine. Shout at me in the comments or on Twitter, here. Also, check out the official WrestleTalk Twitter page for updates and notifications about articles on this very site, here. But most of all, I hope you enjoyed reading this (let me know if you did) and have a spiffing day.