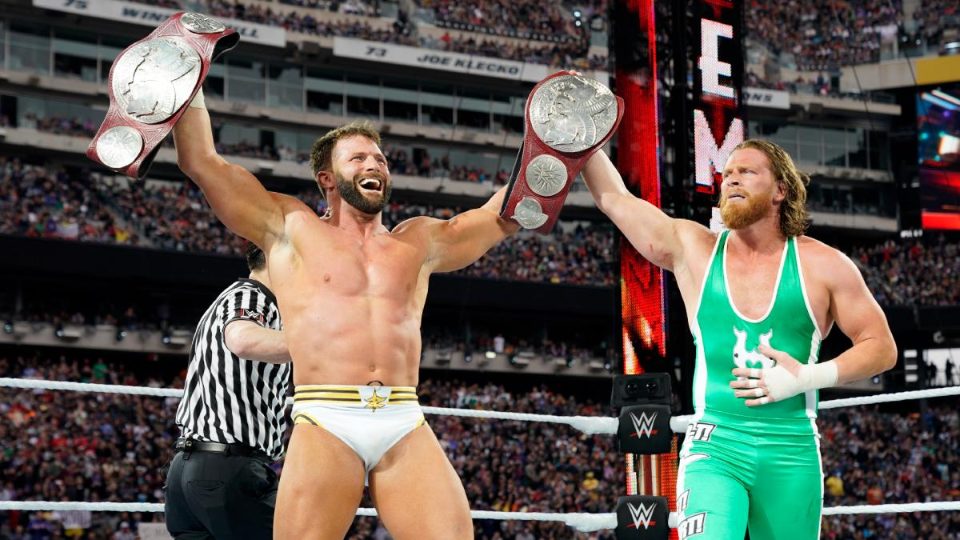 On April 15, 19 main roster WWE stars were released by WWE for cost cutting measures.
Today we look at their greatest moments during their tenure with the company and celebrate their career.
Most of them are now without a job, because there is no place to wrestle in the current climate. If you can, check out their merchandise stores and support them.
---
Kurt Angle: Beating HBK At WrestleMania 21

Picking the greatest moment for one of the greatest of all time isn't easy.
The Hall of Famer ended his in-ring career last year at WrestleMania 35 with a loss against Baron Corbin.
While this might be the exact opposite of his greatest moment, that also happened at WrestleMania.
In fact it's more a whole match than a moment. The match between 'Mr WrestleMania' Shawn Michaels and the 'Wrestling Machine' Kurt Angle is considered to be one of the greatest 'Mania matches of all time.
His victory over Michaels on the biggest stage of them all is something Angle can always look back on and be proud of.
---
Rusev: Entering WrestleMania With A Tank
In 2015, United States Champion Rusev was challenged by record-time WWE Champion John Cena for the title.
The match was set for that year's WrestleMania and the 'Bulgarian Brute' wanted to impress.
While DX are only claiming they invaded WCW with a tank, Rusev got the real thing on the stage of WrestleMania 31.
The match itself was great aswell, but to this day people remember Rusev and his big tank at the grand daddy.
---
Drake Maverick: Beating Mike Kanellis On 205 Live
For a long time, Drake Maverick was the General Manager of 205 Live.
While some might only remember him for the 24/7 title involvement, Maverick himself actually names this moment as his favourite.
In one of the best long-term programs of the brand he got involved in an intense rivarly with Mike Kanellis.
Kanellis claimed he wasn't given enough opportunities by Maverick and one day Drake just had enough of it.
The brutal unsanctioned match unfolded in July 2019 and is one the greatest matches the brand has ever produced.
But, Maverick's matches in the upcoming Cruiserweight Title tournament, his last matches for the company, just might top that.